The Perth Caravan and Camping Show is back for 2019. Running for five days 20th – 24th March, you can go along and check out all things camping and caravanning.
We went along on opening day in the hope that being midweek we would avoid the crowds, but although it was probably one of the quieter days it was still fairly busy and we were told that they were expecting a turn out of around 30,000 people over the five day period.
Of course being the showcase for the newest products on the market, there were hundreds of caravans to view, some of which cost serious money; one of the ones we looked at had a show special price of $118,500, but there were also vans that could get a family away on holiday in comfort for around $30,000.
My personal favourite was the new Airstream van that is just being launched by Jayco, I have always loved the classic, vintage look of the polished aluminium exterior of the original 1960's Airstreams and it would be my dream caravan if I had the $139,000 that is the cost of the new one ( keep buying the lotto tickets).
The show is not only for buyers and dreamers of caravans, there are also tents and camper trailers, and everything you could need for your next camping holiday; from pots, pans and cutlery to toilets, showers and air conditioning, and everything in between; you can even buy a car to tow your new caravan home with! There are live demonstrations and workshops running all day, whether you want tips on cooking on the road or driver safety workshops.
One new section that I have never seen in past years was the "Vintage Village" where there was a fabulous display of vintage caravans. It was a delight to see these vans that were so lovingly cared for, and as I am a lover of all things vintage, I think this was my favourite display.
The show is very large and it takes hours to look around, but if you can't last the distance, or if you are just wanting a bit of a rest from all of the walking, there are courtesy golf buggies to transport you from one section to another; this can come in helpful when you've finished shopping and you are loaded up with goodies.
Because it takes so long to see everything you might find yourself in need of refreshments, if that's the case, there are numerous food and beverage outlets around the Showgrounds, there are also toilets situated around the different areas.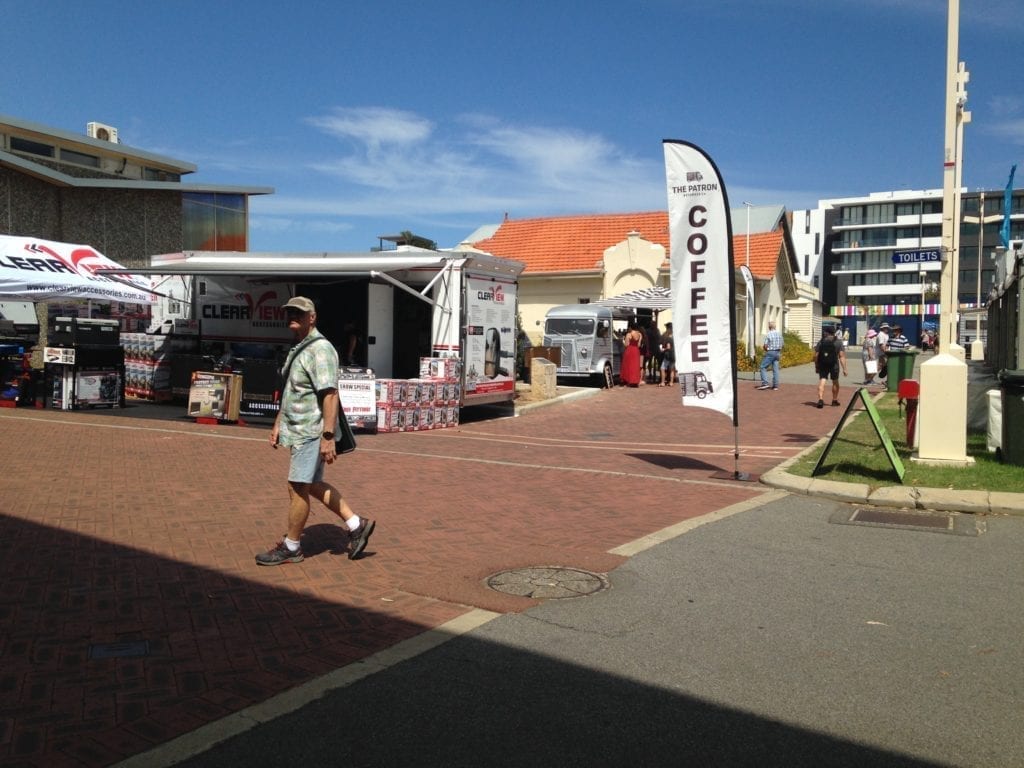 If you are planning on going along to the show, don't forget to pick up your Passport to Freedom entry form along with a show map at one of the information booths. You can stamp your entry at five special locations around the show, and when complete, drop it into one of the entry barrels to be in with a chance to win one of a great range of prizes. You never know you could be lucky and win the 1st prize of a Coromal Caravan or one of the many minor prizes; also as an added incentive, if you purchase your ticket online then you get automatic entry into a draw to win a PMX Camper trailer.
Parking is available onsite at a cost of $5, or if you purchase your tickets online, the cost of public transport is included in the ticket price, and the train station is within the Showgrounds.
Details:
Address: Claremont Showground, 1 Graylands Avenue, Claremont.
Opening Hours: 20th – 24th March, 9am – 5pm.
Website: www.caravanandcampingshow.com.au
Cost: Adults-               $20.00
Concession-       $15.00
Child (under 16)- Free entry with paying adult