If you have done all of the usual days out with the grandkids this school holidays then there is a new amusement on the block for you to try. Every school holidays it seems that there is a new, hot, must-do attraction and this Spring it is the Disney Pixar Putt. Anyone who is on top of the latest trends can be found putting their way around this quirky and fun course, and Grandad may have a handicap of 15 on the golf course, but that doesn't mean that he's not going to get his butt kicked by the kids on this one!
There is a choice of 9 or 18 holes to play depending on your little one's skill and attention span; my
grandchildren
are aged between 6 and 10 and I have to admit that it was more of a challenge for the younger ones, whilst the 10-year-old completed most holes in under 3 shots.
Each of the holes is based around a Pixar film and is bright and colourful to spark children's imagination and there is also an accompanying soundtrack from the many different films; our youngest one was quite taken with the music and danced her way around the course.
Of course being
school holidays
it was very busy, with most morning sessions sold out; if possible, I would recommend going with little ones during school term when it should be quieter. We took on the challenge of the 18 hole course and it took us around 1.5 hours to complete, if you prefer to do the shorter 9 hole course it should take around 45-50 minutes.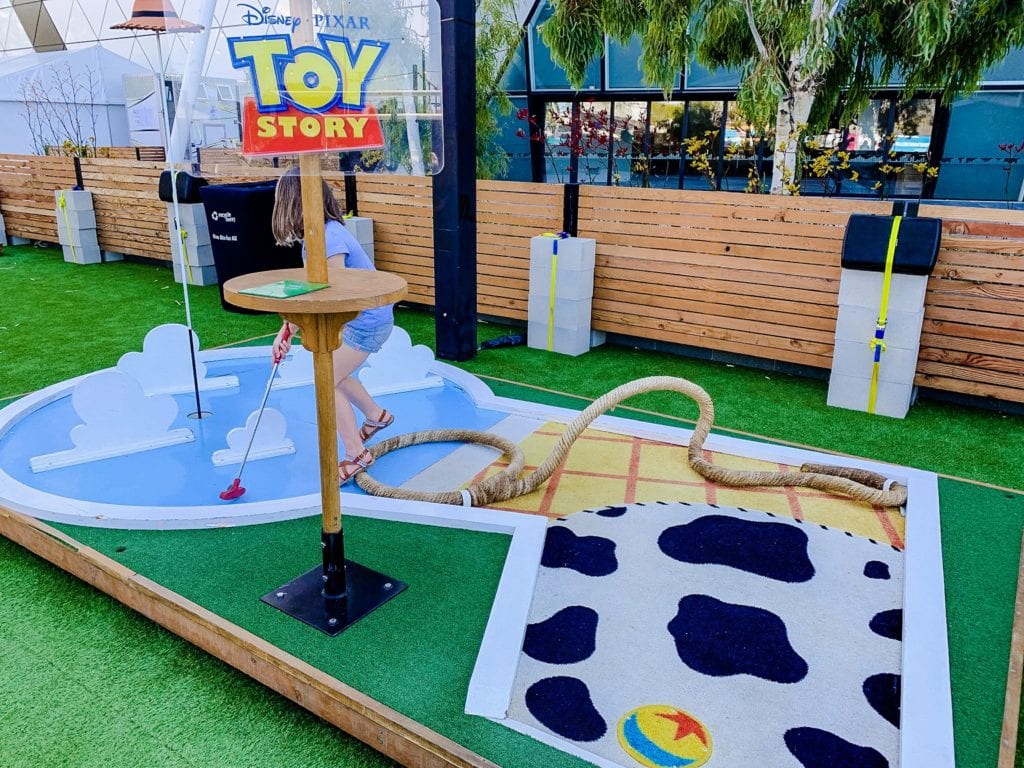 A few things to be aware of is that there is very little shade on the course, and being in the middle of the city it can get quite warm, so a hat and sunscreen is recommended on a sunny day. Another thing to keep in mind is that the courses are quite compact and close together, meaning that it is not really suitable for pram or wheelchair access, and you will need to be of reasonable fitness, as there is no seating around the course. Most people carry their own water bottles, but if you do forget, there is a free water station provided.
Details;
 THE PLAZA, RAC ARENA – PERTH
27 SEPTEMBER – 3 NOVEMBER
Opening Hours
MONDAY to WEDNESDAY: 10am – 8pm (last entry 6.45pm)
THURSDAY, FRIDAY & SATURDAY 10am – 10pm (last entry 8.45pm)
 SUNDAY 10am – 8pm (last entry 6.45pm)
7pm onwards is 'After Dark' for Adults Only
  TICKET PRICES
 9 Holes Adult $24.90
 9 Holes Junior $19.90
 9 Holes Family of 4 $79.60
 18 Holes Adult $39.90
 18 Holes Junior $29.90
 18 Holes Family $119.60