SensAtion Gallery is Sensational!. It is fun and interactive with visually stunning artworks, 20 plus installations and a few surprises. All your senses of touch, sight, sound, taste, smell and fun are stimulated. My family including 5
grandchildren
, all 6 yrs and under, had a blast. You will need to allow about an hour to walk through 5 rooms over a number of buildings. My family were having so much fun that we were there for 1.5 hours. We literally had to drag the children out. The gallery is all about how our senses interact with the brain. It is presented by MSWA with the help of dynamic local Perth artists. SensAtion Gallery is located at 3 De Vlamingh Ave, East Perth ( Opposite Queens Gardens). The exhibition runs through to the 23rd December 2019.
In Room 1 you will find a wall filled with black and white framed art pieces. Mike, one of the friendly staff, asked us to download the app Eyejack on our mobiles. Once installed, you hold your mobile over each artwork, one at a time, and it comes to life exploding with animations and colour. Just amazing!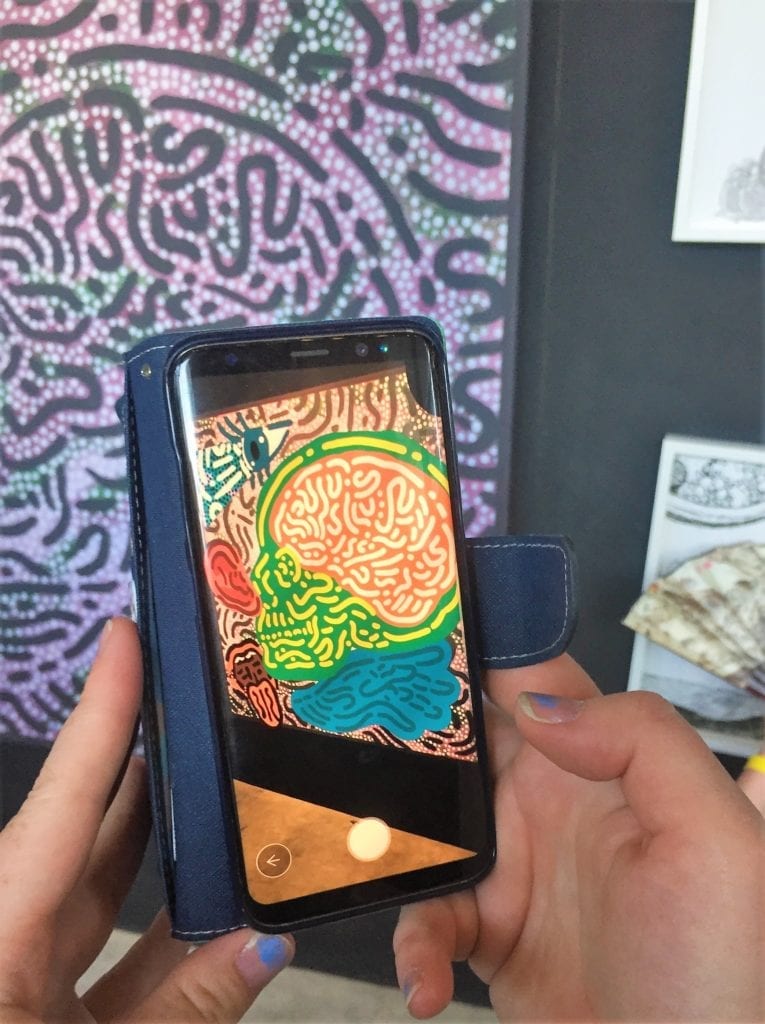 Around the corner is the Neon room and Pacman games
Room 2 – Sensation Bay . In this room you will find an L shaped pit ball with an ocean theme. Allowing you to float and relax in the blue ocean.
You won't be able to get the children out of this, so I suggest you do this one last.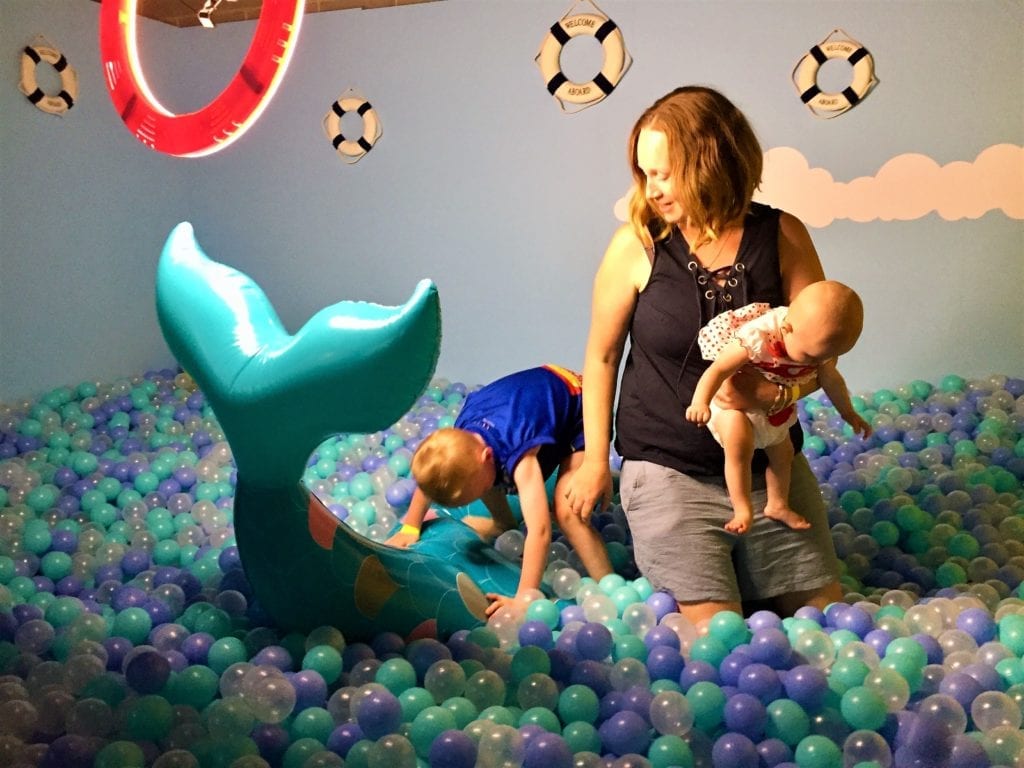 Room 2 has a 2nd installation about the sensation of sight. Check behind the curtains. You will find a painted black and white room, which is all out of balance with angles and patterns. Turn off the lights and see yourself under the violet lights.
Room 3. Is devoted to sound therapy. Lie down on the hammocks, put on your headphones on and listen to the relaxing WASO sound tracks.
For people with MS fatigue is common. Listening to calming music can reduce stress and help one to relax.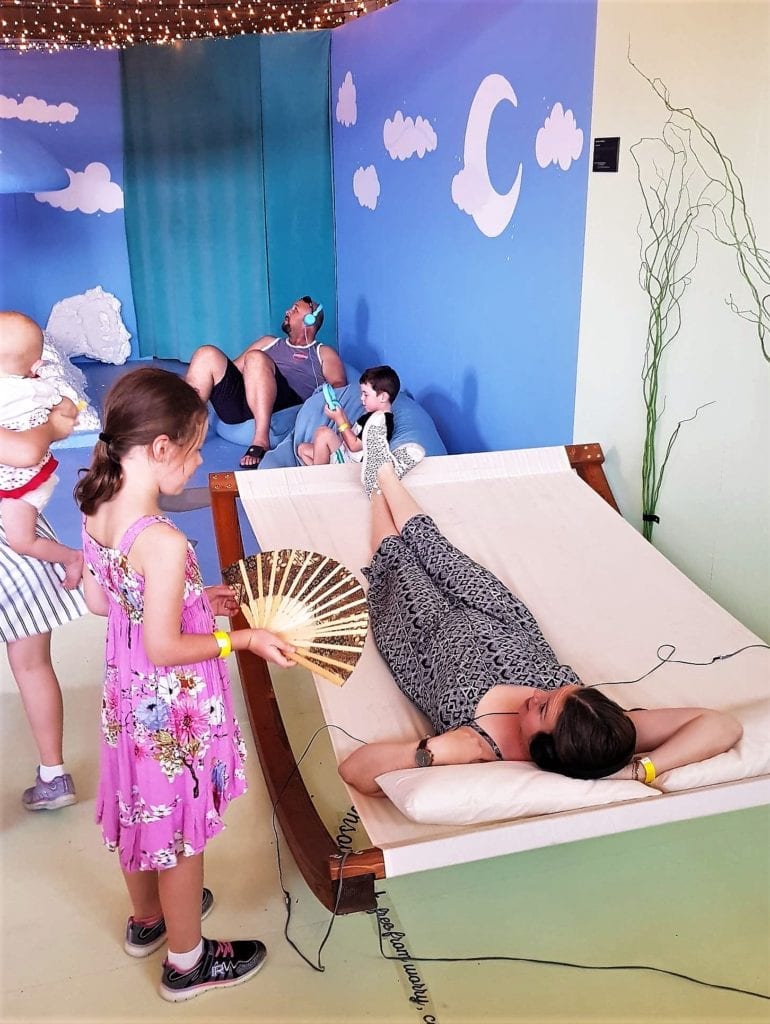 Room 4 has a number of exhibitions. Say "Cheese". The cheese board is just for display, however, look around the corner.
The Sensation of Touch. As you pass the cheese board, turn to your right and you will find a yellow wall with holes in it. Put your hand through the holes, if you dare, and feel what is inside. There is a black curtain over the hole, so when you put your hand in you won't be able to see what objects are inside.  You don't know what slimy, squishy things you might feel.
This room is decorated with dangling, multicoloured lights. The grandchildren loved running through the ever-changing coloured lights. Adults use your Eyejack app on the wall on the left-hand side. This room represents the firing of the synapses of the brain.
The green room is a jungle theme. It has the sensations of rain, animal sounds, wind and tropical greenery. It is so peaceful, cool and relaxing.
Room 5 displays a large, beautiful, vibrant yellow kitchen with lots of utensils for the grandchildren to play with and have fun.
We went on Friday night for the 6pm – 9pm session. In room 5 the adults were treated to a refreshing cider tasting and there was a bar available where you could purchase refreshments. Ahhh, the sensation of taste!
Grandchildren enjoyed the silent disco. With headphones on, in a dimly lit room, they danced on the dance floor.
The Hollywood mirror makeup was a success. Lots of glittery eye shadow.
All in all, both young and old thoroughly enjoyed over 20 interactive installations which stimulated all our senses.
"It was Awesome, I had the best time," said my granddaughter.
Just be aware, only a couple of rooms have airconditioning and all the other rooms have fans.
Sensation Gallery
Limited season till 25th January
Phone:  08  64543131
Addr: 3 De Vlamingh Ave, East Perth WA
Open: Tuesday – Sunday 10am – 5 pm
Friday addition session 6pm -9pm