Summer Sundays in Perth and its surrounds are bursting with events and activities, and many of these are free. There is nothing better than getting out and about in the sunshine with family and friends and enjoying what our city has to offer.
The Fremantle Arts Centre has started its Summer series of free music concerts in the front garden area, and these are running from October through to March, each Sunday 2 – 4pm. Every weekend showcases a different local or touring act, with a variety of styles represented from Bluegrass, Blues and Roots, Pop and even African.
Fremantle Arts Centre Sunday Music Concerts" width="768″ height="1024″ />
We went along this Sunday to check it out. We arrived at around 2.30pm and the lawn was already full of groups of people lounging on picnic blankets and low chairs enjoying the warm spring afternoon. The band was already in full swing and everyone looked to be having a ball. Lots of families had brought along their own picnics but there are also wood-fired pizzas available to purchase and a bar for drinks. The Canvas Cafe is also open if you prefer to have a sit-down meal or even if you just want to grab a coffee; we saw a few people with tea trays on the lawn. There are a few tables and chairs in the garden but these get snatched up pretty quickly so if you are planning on going along I would suggest you take your own seating.
The music concerts are so popular that the crowd spills out around the side of the building and up on to the upper lawn, so if you want a good view of the stage you need to get there early; but even without a stage view what better way is there to spend a summer afternoon than enjoying the company of friends along with a bottle of wine, a picnic and good music.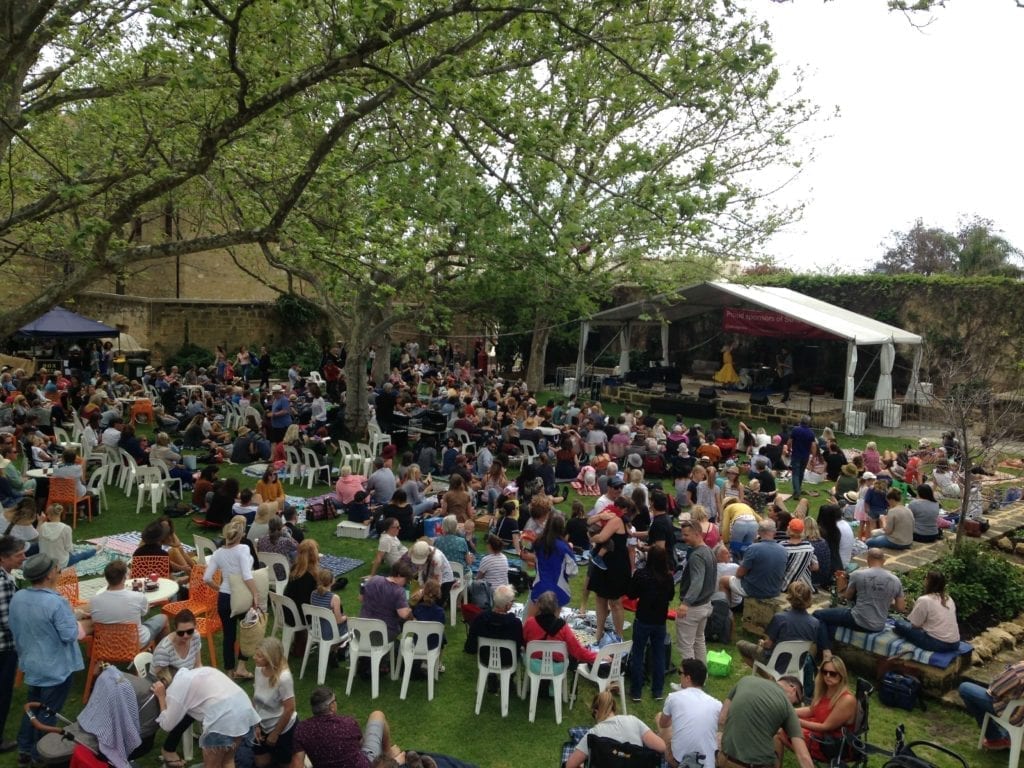 Details:
Fremantle Arts Centre
1 Finnerty Street, Fremantle
PH: 9432 9555
Parking: Street parking available
Public Transport: Free CAT bus from Fremantle Train Station
Cost: Free
Dog Friendly: No dogs allowed
For more information visit www.fac.org.au/whats-on/events/