You know how the saying goes breakfast is the most important meal of the day! That is why all-day breakfast as a brunch option is a gift sent from heaven. Brunch is now one of the most popular things in Fremantle right now. More than a meal, brunch in Fremantle has almost become a way of life at this point.
Luckily, Fremantle is no stranger to excellent cafes and restaurants. In fact, there are almost endless amounts of them lining every single street. This list is for those who are looking for the perfect spot to enjoy a great brunch.
Head over to Fremantle for your next brunch meal and enjoy all that this beautiful part of the world has to offer. Let's take a look at the best brunch spots around Fremantle.
Brunch Spots in Fremantle, WA
Duck Duck Bruce
Placed perfectly in a beach shack home with plenty of character, Duck Duck Bruce is a very popular spot to catch up for brunch. In fact, Duck Duck Bruce has often been described as a foodie's dream that will keep you coming back for more. Here, you can find multiple classic brekkie favourites such as Eggs Benedict, Smashed avo, and so much more.
However, every meal here does tend to be slightly elevated and outside of the norm. You will find the ultimate spicy flavour combinations, ginger crumble, drops of elderflower, and even the addition of burnt butter! Duck Duck Bruce is most certainly one of the top places in Fremantle to enjoy a flavoursome brunch meal.
While it may seem crazy to say that this is one of the top brunch destinations, as soon as you smell the aromas coming from this place, you will see why in no time.
Read our review of Duck Duck Bruce
Location: 18 Collie St, Fremantle, 6160
Moore & Moore
Moore & Moore is packed full of deliciousness and good vibes. In fact, it encapsulates all the important things about Fremantle such as the heritage, sustainability, and the overall hipster ambience. While you may not notice this awesome place from the outside as it blends perfectly with the heritage buildings, once you step inside, you will be transported to a whole different world.
This ex-horse stable is now an awesome place to sit down and enjoy a hearty brunch. With stunning brown leather couches, timber tables, and wicked artwork on the exposed limestone and brick walls, you will quickly understand why this is such a popular destination in general.
The menu has plenty of organic, healthy, and delicious meals. Better yet, they're so delicious, you won't even know that they're healthy! Some of their most popular meals include things such as Bircher muesli with lemon myrtle, chilli eggs on Turkish bread with halloumi and harissa, and their famous vegan nachos.
Once you're finished having brunch, head on over to the gorgeous contemporary art gallery next door to enjoy the latest art exhibition. The art gallery next door is the sister gallery to the Fremantle Arts Centre.
They go above and beyond to promote an eco-conscious ethos which shows in the fact that they make their very own almond milk, Perth-made cold-pressed juices, and kombucha.
Read our review of Moore and Moore Cafe
Location: 46 Henry St, Fremantle, 6160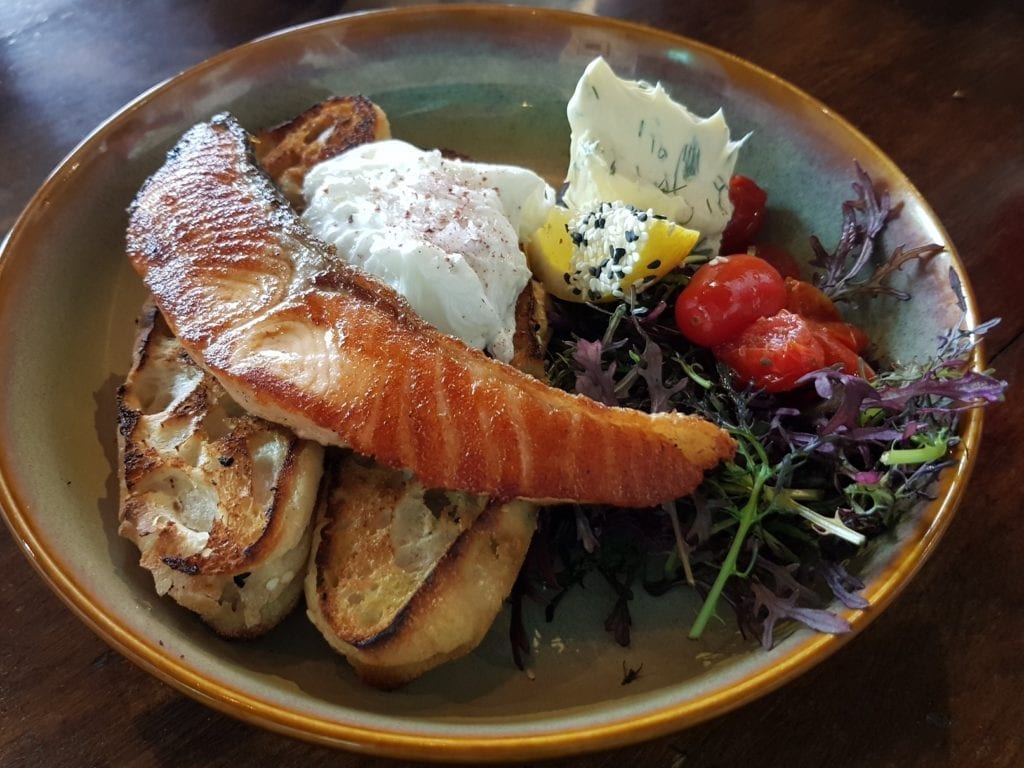 Bib & Tucker
Since opening to the public back in 2013, Bib & Tucker has become an extremely popular go-to brunch destination. This is perhaps due to the panoramic ocean views, expansive menu, and delightful open-plan dining area. The menu changes every single season and is full of sustainably grown local produce and can be enjoyed out in the alfresco dining area.
Everything is prepared in-house to further promote sustainability. On the brunch menu, you will usually find things such as buttermilk banana pancakes, yoghurt and burnt honey panna cotta, pecans and Tasmanian cream, and Mexican baked eggs with herbed sourdough and whipped fetta. You can eat off the brunch menu until 11 am.
You can pair your delicious brunch with a cold-pressed juice or a cocktail to enjoy the full brunch experience. This North Fremantle café is absolutely everything!
Read our review of Bib & Tucker
Location: 18 Leighton Beach Blvd, North Fremantle, 6159
Ootong & Lincoln
Ootong and Lincoln was previously a very charming antique store based in South Fremantle. However, nowadays it is a stunning café with a cute vintage edge and retro fit-out. This café has gorgeous hanging lights, 1950 diner-style chairs, and wicked wall art.
When it comes to food, you can expect to find some pretty delicious waffles with whipped vanilla mascarpone and macadamia crumble, banana bread-flavoured French toast, green pesto omelette, and spicy tomato shakshuka. Better yet, they also offer plenty of brunch specials.
If you prefer a simple snack, the glass cabinet has plenty of smaller things such as savoury wraps and sweets. You can even bring your canine companion along and take them out on a walk before or after.
Location: 258 South Terrace, South Fremantle, 6162
Bread in Common
Bread in Common is all about bread and carbs. This is further proven by their in-house ovens and in-house baked fresh loaves. Many people love this bake-to-plate option for the carbs, good vibes, and chilled atmosphere.
Bread in Common is situated in a stunning heritage-listed building that has been lovingly restored. The building dates all the way back to the late 1890s with stunning brick walls and long tables situated under hanging pendant lights. The aesthetic in there is just magnificent.
Weekend brunch at Bread in Common begins at 8 am and they have plenty of delicious plates on offer. You can enjoy meals such as smoked salmon scrambled eggs, poached eggs, and so much more. All of these classics have been spiced up a little to ensure that they are a little different.
If you're looking for something a little simpler, you can try out the fruit toast with house-made butter. Better yet, you can also take home the loaves of bread they sell and make on-site at this awesome little cafe.
Location: 43 Pakenham St, Fremantle, 6160
View this post on Instagram
Peggy's
Peggy's is an awesome sandwich servery that makes some of the best toasties you will ever find. They offer made-to-order toasties every day from 7 am or 9 am on weekends. They make for a quick and easy brunch if you want delicious food in a hurry.
They offer a famous sausage and egg English muffin with cheese and onion that puts McDonald's to shame time and time again. From 10 am onwards, they offer up larger sandwiches such as The Antipasti which includes ham, mortadella, sopressa, provolone cheese, and marinated veggies.
They have so many great toasties and sandwiches on offer. They are a sandwich lovers' paradise in the heart of Fremantle. This quaint little corner shop always has lines out the door so make sure you get in early to secure some delicious eats.
Location: 35 Market St, Fremantle, 6160
View this post on Instagram
Chalkys Espresso Bar
Fremantle is almost always full of the hustle and bustle lifestyle. That is why it is so important to know where to go when you're trying to find brunch away from the craziness. Chalkys Espresso Bar is an absolutely charming little location in Fremantle's west end that offers a stunning and historic view at all times.
This cute little bar sits under the almighty shadow of the Roundhouse and offers an all day breakfast menu full of loveable classics. They offer pancakes with slow-cooked chai apple and date salted caramel, chilli and feta scrambled eggs with black truffle aioli, vegan options, and so much more.
The vegan options are absolutely insane and exceptionally delicious. The coffee here is so good that you can pair it with the ultimate brunch meal for the best morning jolt possible. You have to try brunch here at least once to enjoy the atmosphere. It is one of Perth's best and most ideal places for all-day brunch.
The fresh and seasonal all-day breakfast menu is destined to be a crowd favourite. Enjoy this huge all-day breakfast menu washed down with a great coffee.
Location: Shop 4/1 High St, Fremantle, 6160
View this post on Instagram
Little Lefroy's
As one of Fremantle's most favourite eateries, Little Lefroy's in south freo is almost always recommended as the number one brunch spot in Fremantle. You can pair any of their insanely fancy breakfast options with cocktails that will blow your mind. It is the perfect place to go when you're looking for a luxurious brunch and some booze on the side.
You will feel like you're in some sort of tv show when you visit this perfect part of Fremantle. The team here are highly professional and passionate and takes inspiration from all over the world to create a café that is full of good vibes with an excellent atmosphere. They are absolutely obsessed with upcycling considering that the bar itself was built from an old bride.
They have also made tables out of recycles pallets and the lights feature awesome recycled wine bottles. You can choose from multiple different options such as Rustica Bene, pancakes of the day, and so much more. The delicious breakfast dishes that come out of this kitchen are absolutely insane.
You will be in foodie heaven at this South Fremantle cafe it is the perfect brunch spot. Just grab a table, settle in, and enjoy your meal between breakfast and lunch.
Location: 310 South Terrace, South Fremantle, 6162
View this post on Instagram
Breaks
Sometimes you just want a no-nonsense, down-to-earth, and classic breakfast after a long week. When you're in search of this, Breaks is the place you need to go. Breaks is a simple little café that sits right around the corner from the main Fremantle strip.
It has a super inviting interior full of stunning décor, and a lovely upstairs area for you to enjoy. They offer plenty of great all-day brunch menu options that are super affordable and extra delicious. You can enjoy eggs benedict, a fancy pancake stack, and vegetarian options too!
The Canadian French toast here is said to be absolutely impeccable. They have the highest quality local produce on each plate and provide large portions to ensure that you leave with a warm and full belly. They only want you to have the best brunch experience possible.
Location: 85 High St, Fremantle, 6160
View this post on Instagram
The Cool Room
While this location is a little closer towards East Fremantle, The Cool Room is a super elegant little café right next to the popular vintage store Old Values. You will be charmed the moment you step into this retro-themed restaurant.
With retro Formica tables, brightly coloured umbrellas, and gorgeous, healthy plants, you will absolutely love the vibe of this place. It is a super chilled-out destination that provides some absolutely amazing meals. Even with only a small kitchen for brunch, they produce meals that could rival all of the restaurants in Fremantle easily.
In pure Fremantle style, they also offer vegan options!
Location: 2/114 Holland St, Fremantle, 6160
View this post on Instagram
Hush Specialty Coffee
Hush is a special little destination that has been a stalwart for caffeine fiends for years upon years. Realistically, it isn't hard to see why this is the case. They offer up the best coffee. The Five Senses coffee here is smooth, rich, and absolutely delicious.
They pair this with a crowd-pleasing menu full of classics. If you're feeling hungry, you have to head to Hush Specialty Coffee to try out some of their eats and treats. After all, who doesn't love coffee and breakfast.
Location: 68 High St, Fremantle, 6160
View this post on Instagram
South Beach Café
South Beach Café is a rustic yet charming little shack-like space. It delivers some super hearty and delicious brunch meals that you can enjoy straight after your swim down at the beach. You are more than welcome to walk in with your sandy feet, choose a table, and enjoy some great food and drinks.
They open at 5:30 am. You can order straight from the counter and choose your seating while waiting to devour your meal. They offer Spanish omelettes, Eggs Benedict, poached eggs, and so much more.
No matter what you're craving, South Beach Café probably has it on the menu. They also offer smoothies, fresh juices, coffee, and more lovely drinks. This café has a great location and an awesome menu, and lovely staff.
Location: 9 Ocean Rd, South Fremantle WA 6162
View this post on Instagram
The Bistrot Café
The lovely Bistrot Café is now situated on the prime corner of Henry Street and Marine Terrace overlooking the Esplanade. They offer an all-day breakfast menu that combines great Aussie classic dishes like smashed avo and European delights such as cheesy crepes, garlic mushrooms, and so much more.
If you think a Parisian café feel is your thing, this café offers exactly that. Enjoy marble tabletops with stunning gold trimmings and bistro seating. The leafy courtyard is a must-visit as it is just lovely. It is the perfect place to enjoy some food, coffee, and people-watching before you head out to the Fremantle Markets.
Some even say it is the best brunch in Fremantle.
Location: 30 Marine Terrace, Fremantle, 6160
View this post on Instagram
Check out some of these best cafes in Fremantle and let us know what you think in the comments below! We highly recommend checking out these places for the best breakfast and brunch Fremantle serves up.
Find the best bottomless brunches in Perth