Oakover grounds is in a lovely setting just off the Great Northern Highway in the Swan Valley. With lush grounds and a small lake, it is the ideal place to bring grandchildren for a day out. Use the free paddle boats on the lake or play games on the grass; there is plenty of room for little ones to run around. There is also a giant game of Connect Four and totem tennis racquets provided as well as a nature hunt that all the family can enjoy.
Picnics are not allowed but Oakover has a cafe and Smokehouse to ensure a full day out. There are outside tables so guests can enjoy the lovely views.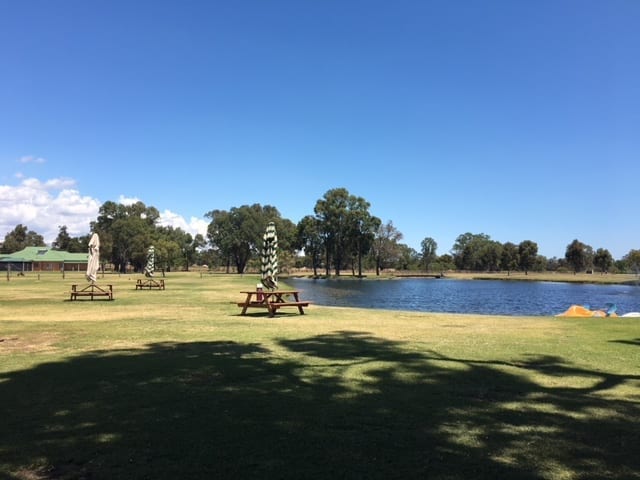 We visited on a Friday afternoon intending to try the Smokehouse but it is only open at weekends from 11:30. It is first come, first served at the Smokehouse but bookings are available in the Grounds cafe.
The cafe is part of a large barn renovation and is best described as industrial style. Certainly, there is an industrial feel to the area which also houses a coffee area, the cellar door tasting area and a gift shop. The tables in the cafe are all wood as were some of chairs that were quite uncomfortable and reminiscent of a 1970s schoolroom. Pick a chair with cushions!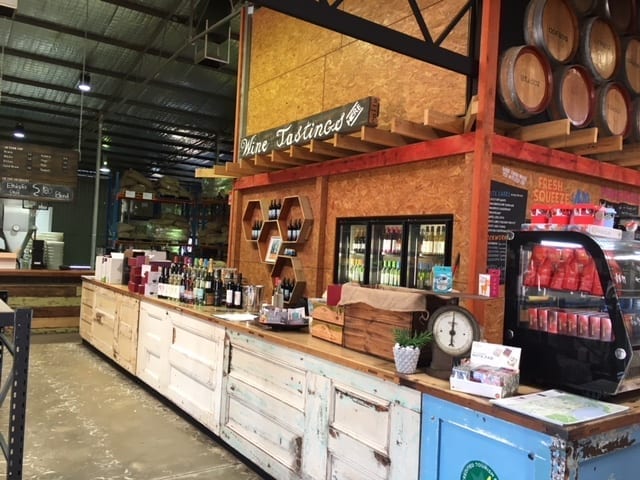 Service was slow, very slow, considering we were the only customers at 12:30. However all the staff members were pleasant and friendly.
We ordered a sharing deli platter which I felt wasn't great value for money. Two large slices of toasted bread, a handful of salad leaves, a small amount of olives and an equally small amount of pepper relish was served with four slices of salami, a few slices of prosciutto and a chunk of Brie. I expected more for $32. Luckily we had added a bowl of chips ($9), which made the offering slightly more substantial.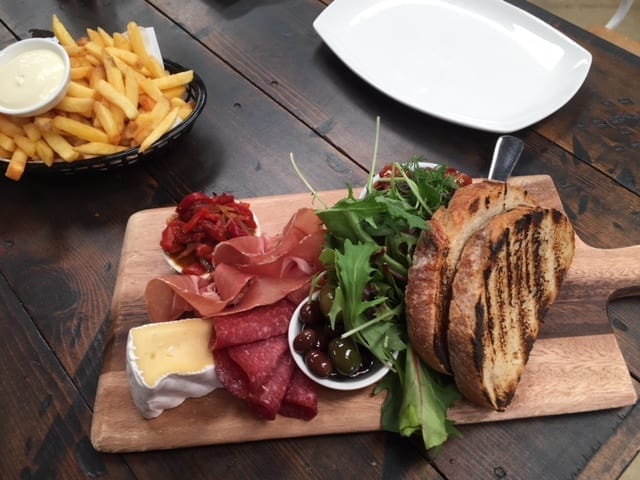 Other menu items include Scotch fillet, potato and leek gratin and green beans ($32), roast pork belly with an Asian salad ($25.5) and an Angus beef burger with chips ($26)
My husband enjoyed the Fiori coffee (roasted on site) and I enjoyed a glass of Oakover's sparkling wine. We will go back to try the Smokehouse and perhaps a hot meal from the cafe.
Oakover is also open for breakfast.
There is plenty of parking available.
Address: 14 Yukich Close, Middle Swan
Phone: 08 9374 8000
Reservations: Restaurant only
Opening hours: Wednesday – Sunday – breakfast from 8am, lunch from 11:30. Closed Monday and Tuesday.
Gluten-free options: Yes
Vegetarian options: Yes
Entertainment Book: No
Website: https://oakovergrounds.com.au/grounds-cafe
Find more restaurants in Perth