Yagan Square in Perth city is becoming a destination point for tourists and we locals enjoy a visit there to try some of the square's many cafes and restaurants.
After a hot Friday visit to the Perth Camping and Caravan show, my husband and I decided to try Shy John Brewery and Yum Cha above Horseshow Lane at the back of Yagan Square.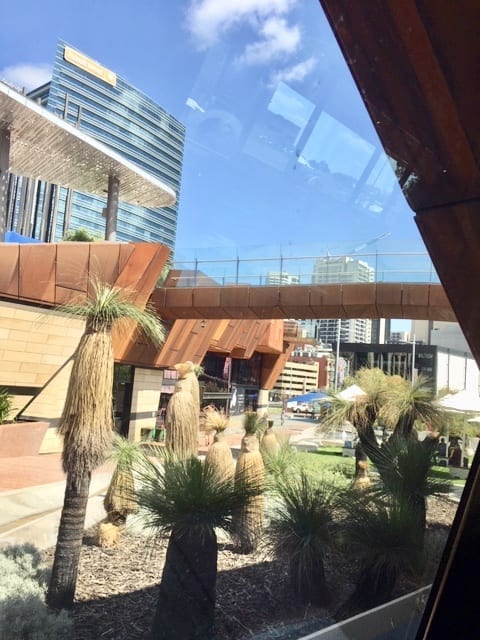 This venue opened last year to plaudits from the critics and it was busy when we arrived about 1pm. There is a downstairs area that styles itself the Street Eats area and the restaurant is upstairs – accessible by stairs or a lift outside the building however the toilets are downstairs.
It is light and airy but the tables and chairs are quite close together. The outside area is most popular but views over Yagan Square can be seen throughout the restaurant.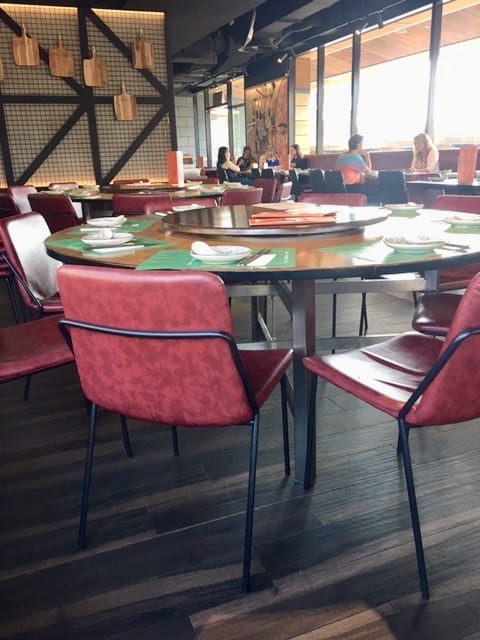 As explained by our server, patrons are given a menu and should write (with a supplied pencil) what they would like to eat beside the described menu item. The menu is then taken by the server and brought back after the food is ordered in the kitchen. Perhaps this is to forestall any arguments about what was actually ordered. It seemed an odd system for an upscale restaurant.
My husband chose the set lunch, served Monday to Friday between 11am and 2:30 pm which comes with a $5 pint of Shy John's brew (normally $9).
There are three options ranging in price from $16.80 to $22.80. He chose Lunch Set 2 ($18.80) that consisted of Shy John's signature fried rice (excellent) chicken and sweetcorn soup (good), Kung po chicken (excellent) and 4 pieces of xiao long bao. The xiao long bao, which used to be called Shanghai dumplings, should have a lovely rich broth taste but these were just tasteless.
I decided on the Dim Sum menu and went for the duck spring roll (7 pieces $7.50), pork and chive dumplings (3 pieces $7.50), pork gua bao (2 pieces $8.50) and the Shy John signature prawn dumplings (4 pieces $8.50). It was a mixed bag of offerings. The pork and chive dumplings were delicious as were the duck spring rolls. The bao bun was another Shy John signature dish in black and was overcooked and dry but the filling was excellent. Neither my husband nor myself enjoyed the prawn dumplings that seemed to be missing any seasoning.
We will go again and try other items on the menu. It is a handy place for lunch, right next to the train station. It was good value and some of the food was really good but others were left on our plates.
The restaurant's name is in honour of Perth's first Chinese-born settler – John Pong Shying who arrived in Western Australia in 1818.
Parking is available in Roe Street or at the State Library building.
Address: Horseshoe Lane, Yagan Square, Perth
Phone: 08 9226 0617
Reservations: Yes
Opening hours: Mon-Thu 11am-10pm, Fri, Sat and Sun 11am until late. Closed on public holidays.
Gluten-free options: On request
Vegetarian options: Yes
Entertainment Book: No
Website: www.shyjohn.com.au