The Greenwood Hotel is a well-established neighbourhood favourite in Warwick. It has a restaurant, sports bar and function room.
Graziers Steakhouse restaurant is a large, open space which provides table service and a large pub-style menu. We have been for lunch several times and always enjoyed it but I cannot recommend its new breakfast venture.
I arrived at the Greenwood on a very cold and wet winter morning looking forward to a warming cup of tea before breakfast. The server at the desk saw me coming towards her but walked over to the bar to chat to another server before showing me to my table. Strike one.
My friend was late and it was about ten minutes before another server brought water and asked if I wanted anything while I was waiting. Strike two,
We both ordered the Big Breaky ($22.90) which was a full plate of bacon, sausages, baked beans, mushrooms, hash brown, roasted cherry tomatoes, sourdough toast and two eggs, cooked to your preference. We also ordered coffee and tea. I asked for extra hot water. (I am one of those people who like very weak tea!)
Service was friendly enough but slow and not efficient. The tea did come but without the extra hot water and breakfast was delivered well before the hot water arrived. Strike three.
Food – the bacon was tasty, eggs were fine, mushrooms were okay, hash browns were greasy, cherry tomatoes very good, sausages flavourless and the baked beans were baked beans. Strike four.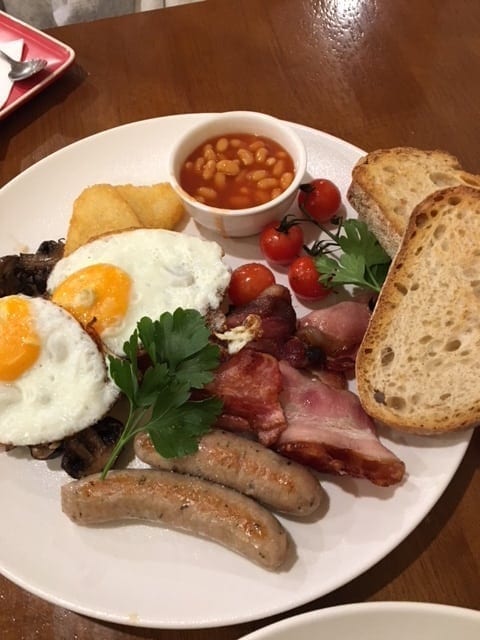 During our breakfast a big boxing match was being shown live from Las Vegas. Not everybody was interested in the boxing but everyone in the restaurant knew what was happening because the television volume was so high. Strike five.
We did complain when we went to the desk to pay for our meal and while the cashier was apologetic, he shrugged and just said it was inevitable when the bar and restaurant were so close together.
Very disappointed in the Greenwood's breakfast and won't be trying it again but would still recommend it for lunch and dinner.
There is plenty of parking around the Greenwood Hotel with an overflow car park at the rear.
Address: 349 Warwick Road, Greenwood
Phone: 08 9246 9711
Reservations: Yes
Opening hours: Seven days from 10 am
Seniors card: Seniors lunch available
Gluten-free options: Yes
Entertainment Card: 25% off total bill up to $40
Website: www.greenwoodhotel.com.au