Our Seniors group was very disappointed when the Covid 19 pandemic put paid to our much-anticipated cruise to Melbourne and our visit to Flemington to watch the Melbourne Cup.
However the old adage of every cloud proved correct and our silver lining was a trip to Busselton and a stay at the Abbey Beach Resort.
Abbey Beach has more than a 180 rooms including one, two and three-bedroom apartments. We all chose a studio spa suite, booking directly with the hotel for $161 per night.
Reception is open 24 hours and the check-in process was quick and easy. As there are around 500 parking spaces, we didn't have any problems parking near our suites. There is a lift to the second and third floors.
The rooms were clean although quite dated and in need of some TLC but perfectly fine for us. Rooms were serviced early every day. Our suite was a good size and had a balcony overlooking the outdoor pool, a dining table and two chairs, sofa, queen bed, TV with free Foxtel channels, reverse cycle air conditioning and a coffee table. A kitchenette provided the basics – crockery and cutlery for two people, barbecue utensils, a fridge and a microwave but who wants to cook on holiday? We did use one of the resort's six barbecues on the night we arrived.
Facilities are good: tennis courts, squash courts, a children's playground, a 25 metre indoor heated pool, a sauna, a small gym, two outdoor pools with lots of outdoor seating and sun loungers.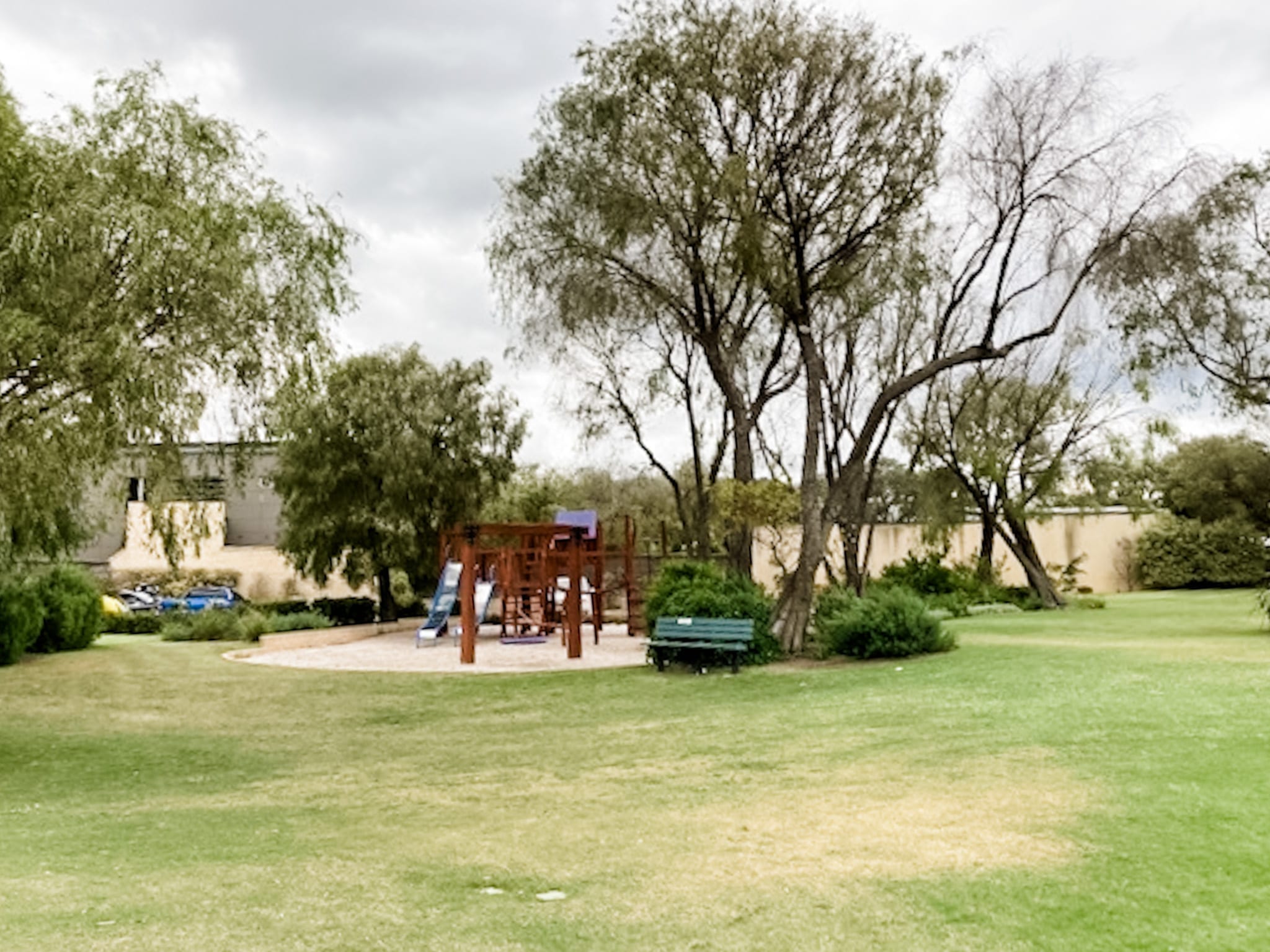 Several members of our group enjoyed the indoor swimming pool and the sauna. One couple even attempted to cut themselves some slack on the calorie front by using the gym but only on one morning – they are not fitness fanatics!
My husband and I had breakfast one morning in the Reflections Restaurant. The server on duty was cheerful and friendly but the restaurant was obviously understaffed. Food was average but service slow.
Reflections is open seven days a week for breakfast and lunch. The Atrium restaurant is also open seven days a week for dinner. The lounge and bar are only open on Fridays and Saturdays from 5pm onwards.
A lovely beach at the back of the resort looks onto Geographe Bay and a cycle/walkway connects to the Busselton jetty – a 7km walk. Abbey Beach is a fair way out of Busselton Town Centre but with the easy availability of Busselton Taxis maxi cab we had no problems with transport.
The weather was quite cold on the day we arrived and on the next day but the following three days were sunny and warm – not quite warm enough to tempt us into the outdoor pool but certainly warm enough to enjoy reading under the shady umbrellas on the sun loungers by the pool.
An interesting feature at Abbey Beach is the Artist-in-Residence. Paul Dowe is an award-winning landscape photographer and his portfolio includes many iconic WA scenes. His gallery is open Monday to Saturday from 11:30am to 5:30 pm.
Abbey Beach Resort is a good choice for a Busselton holiday. It will suit many Seniors on their own holidays or travelling with their grandchildren, Book early and book through the resort website. Third party websites such as booking.com and Expedia do not offer such good deals.
Address: 595 Bussel Highway
Phone: 08 9755 4600
Website: www.abbeybeach.com.au
Find more things to do in Busselton