Family owned Cellar d'Or Wine Tours in Busselton came highly recommended by the Margaret River Visitor Centre and more than 600 excellent ratings on Trip Advisor.
As we had eight people in our group we booked a private tour at a cost of $135 per person, which included lunch.
Our driver, Stuart, picked us up at our accommodation on time and we had a pleasant scenic drive to our first winery. Bottled water is supplied on board. Stuart seemed very knowledgeable about the areas we were passing through, however only the two people in the front seat could hear what he was saying as he had no headset microphone.
First stop was Jarvis Estate, which is a small winery at Bramley. Jarvis grows and ferment their own grapes and also bottle the wine on the premises. The wine is vegan-friendly. Vivacious assistant wine-maker Sara took us through the tasting and behind the scenes to sample wine from the barrels.
Jarvis has some small items such as handbags and wooden bowls for sale and visitors can bring their own food to eat in an upstairs area.
Next up was Evoi Wines. Kiwi owner and winemaker Nigel shared his huge passion for winemaking, which started in 2007 with two barrels of chardonnay. Since then Evoi has garnered many awards including the 2015 Western Australia winery of the Year and has been named in the top 10% of Australian wineries by the Halliday guide. We also went behind the scenes to look at the vats. Evoi has its own bottling plant.
It's in a lovely setting next to a lake and there are beanbags and picnic areas available. There is also a small children's playground.
Lunch was next at the Black Brewing Company in Wilyabrup. Lunch was good but the wine tasting process indifferent.
Then it was on to Willespie Wines also in Wilyabrup. One of the oldest wineries in Margaret River, it was again a pretty setting with the second-floor tasting room overlooking the vines. All the vines on the estate are non-irrigated and rely on rainfall. One of the Willespie team had had an accident so our driver Stuart stepped in to guide us through the tasting. He proved very well informed about the complexities of the wine and the effect of ageing.
Although we had agreed on an itinerary with Cellar d'Or which included a chocolate and a cheese factory, Stuart informed us that there were no tastings at the cheese factory due to Covid-19 restrictions and that we probably wouldn't want to visit the chocolate factory as the chocolate was full of chemicals. He didn't however reckon on the chocolate-loving ladies in our group so we had a quick visit. Unsurprisingly set up very similarly to the Margaret River Chocolate Factory in the Swan Valley – chocolate tasting is now done much more safely – no more grabbing handfuls of chocolate buttons from a communal bowl. We happily went back on the bus having purchased truffle chocolates for an after-dinner treat!
Following on from the factory, we arrived at Bettenays in Cowaramup, a beautiful area next to a lake set up with Adirondack chairs for guests to enjoy.
Staff member Randall was very enthusiastic and funny. We tasted the wines then moved onto Bettenay's other production – nougat. Although Bettenays make a big deal of their closely guarded, secret nougat recipe, patrons can take a peek at the product being made through a viewing window.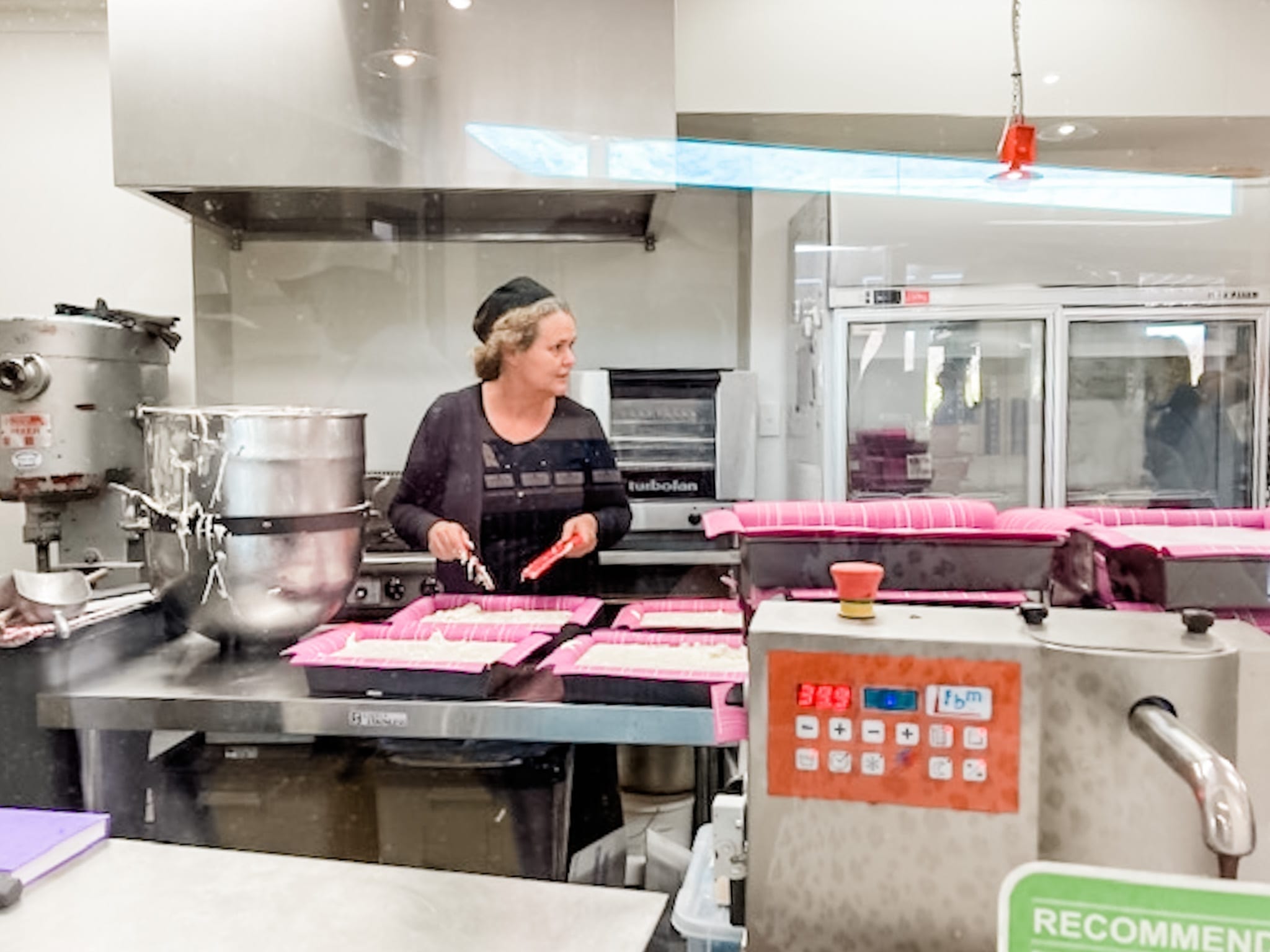 Suffice to say the sales were high for both wine and nougat – I recommend the cranberry nougat and the salted caramel nougat. Our last stop was at The Beer Farm in Metricup. No tasting just a relaxing beer at the end of the tour. Every place we visited had accessible restrooms.
Stuart was very helpful in loading all our wine purchases onto the minibus. I can tell that you are wondering how many purchases we made during our tour. Let's just say that we bought something from every stop and had to use the lift in our accommodation to transport the liquid goodies!
Cellar d'Or Wine Tours was a good choice as we visited some lovely boutique wineries that we would never have found on our own and enjoyed them all. And all our stops were quiet without the usual hordes of people that arrive at the better-known wineries. However it would have been so much better with a commentary that could be heard by everyone on our minibus.
Phone: 0428 179 729
Website: cellardortours.com.au
Find more places to visit in the Margaret River Region