Not nearly as well known as the Swan Valley or the Margaret River region, the Ferguson Valley has a charm all of its own and is well worth a visit.
On a recent visit to our state's southwest, we went to the Ferguson Valley – an easy two-hour drive from Perth. In this area is the quirky Gnomesville, a King Jarrah Tree which is estimated to be around 300 to 500 years old, the Wellington National Park and of course numerous wineries.
Our first port of call was to the Wellington Dam. This massive mural on the dam wall is magnificent and a definite, 'must-do'.
Green Door Wines on Henty Road was our first winery visit. Green Door Wines is heavily Spanish influenced and an imported Moorish green door is a focal point of the Cellar Door and restaurant. Established in 2006, Green Door serves a mixture of grazing platters, which can be ordered, as picnic boxes. The wines themselves are $3 tastings of three wines served in mini carafes.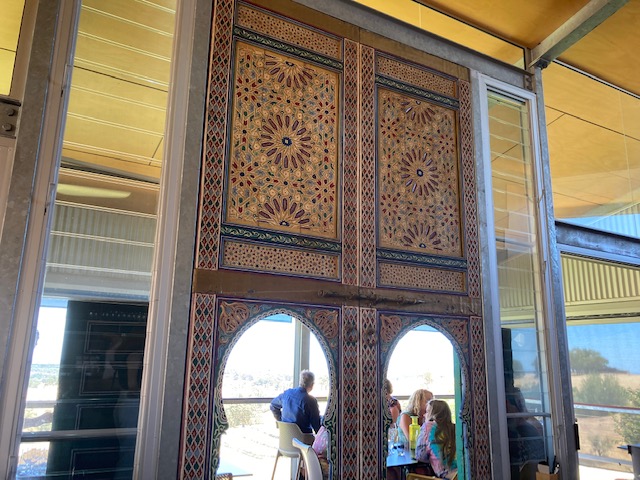 I enjoyed the tastings and my husband, as designated driver of the day, enjoyed his coffee. The staff were courteous, friendly and knowledgeable. Be sure to make a reservation in high season as the balcony and outside tables overlooking the Darling Scarp are much in demand. Opening hours Thursday to Sunday 11am- 4:30pm.
Next up was the Willow Bridge Estate on Gardincourt Drive. This 180-hectare vineyard is obviously a popular stop as it was very busy.
There are stairs to the Cellar Door so not suited to those with mobility problems. Wine tasting is free and I loved their Dragonfly Range. The Cellar Door assistant certainly knew her products and she was very friendly and helpful with our purchases.  Opens weekdays, 8:30 am – 4:30pm, weekends 10:30am – 4:30pm.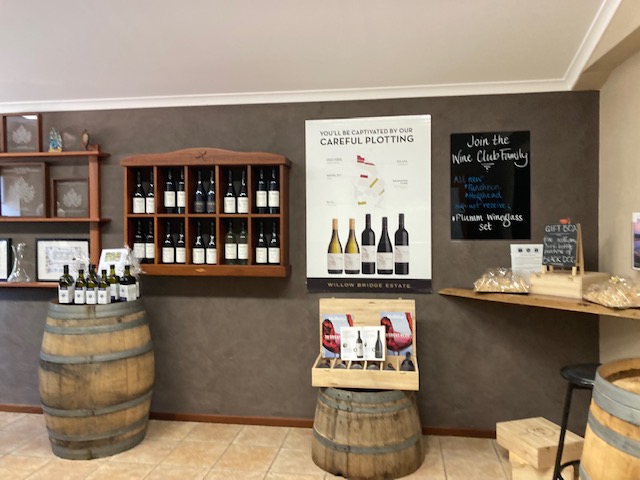 Don't miss the metal dragonfly sculpture in the car park.
Our final winery was the Ferguson Falls Estate on Pile Road, reputed to have the best pizza in the area. Outside the wine café's main door a sign reads that 4130 (and counting) customers have told staff that the pizza is the best they have ever had.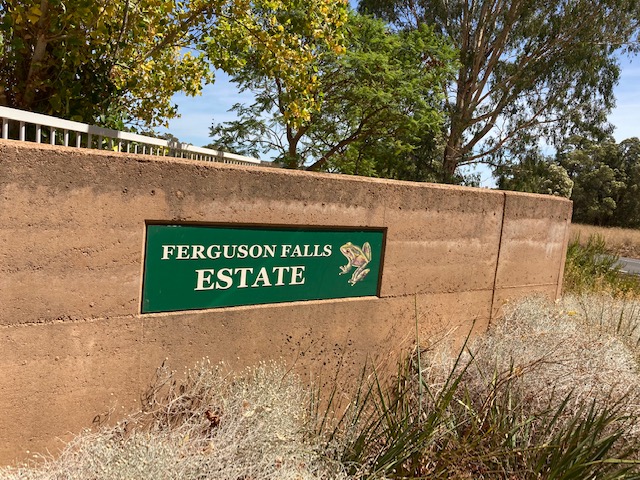 Ferguson Falls Estate planted the first vineyard in the Ferguson Valley. Five wine tastings plus a small bowl of pretzels cost $7.50.  The café is large with inside and outside seating and is a great place for families to enjoy. As well as pizzas, Ferguson Falls offers tasting platters, salads and desserts. Open Friday, Saturday and Sundays from 10am until 4pm.
All three wineries had large parking areas as well as clean and accessible restrooms. Green Door wines and Ferguson Falls Wine Café offer vegetarian and gluten-free options on their menus.
We just spent a few hours in the Ferguson Valley but there is so much more to see and do including breweries, more wineries, hiking in the National Park, swimming and kayaking at Honeymoon Pool and checking out the artwork at the Ferguson Hart Estate.
Find out more about the Ferguson Valley by visiting fergusonvalley.net.au
 Read more of our travel reviews