From March 4th to 21st the 18th Annual Sculpture by the Sea decorates the Cottesloe Beach and grass foreshore area. It's the largest free public sculpture exhibition with works 70 sculptures from around the world including Australia.
There are a few different ways to enjoy the artworks at Sculpture by the Sea, you can wander around the pieces or jump in on a guided tour.
There are a few different ways to enjoy the artworks at Sculpture by the Sea, you can wander around the pieces or jump in on a guided tour.
Every weekend between 10am – 3pm there will be free artists talks. There will be a few sessions each Saturday & Sunday to run for about 10-20 minutes. Look out for the red bean bags and feather banners installed at various locations on the day. The talks also include an AUSLAN Interpreter. More information on which artist will be presenting can be found at sculpturebythesea.com/cottesloe/artist-talks/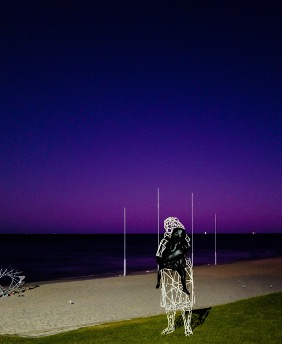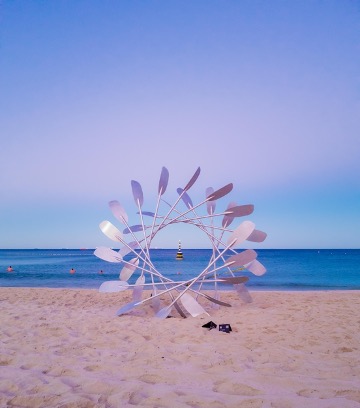 This year there is a GPS enabled app that offers a free & interactive way for visitors to find their way around the exhibits and find out details about the works & artists.
It includes a map, catalogue details of the artists, photos and award announcements. For a $2.99 donation, it unlocks audio tours of selected sculptures.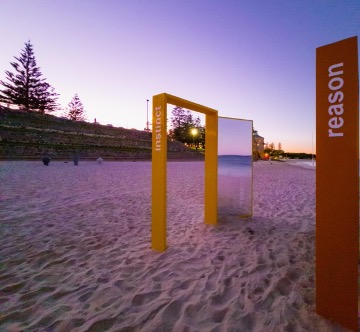 Sculpture by the Sea is an all-inclusive event, LotteryWest and DADAA have come together to allow as many people as possible access to the event.
TACTILE TOURS
Tactile Tours are designed to introduce visitors with a disability to new ways of experiencing and enjoying contemporary sculpture through informed discussion and touch. The works selected for each tour have been nominated by both the Artists and the Sculpture by the Sea Site Manager as being safe to touch. The sculptures are located inaccessible areas.
Verbal descriptions of sculptures visited during the tours are offered to participants who are blind or vision-impaired. A Tactile Tour lasts approximately one hour. To book advance  email andreat@dadaa.org.au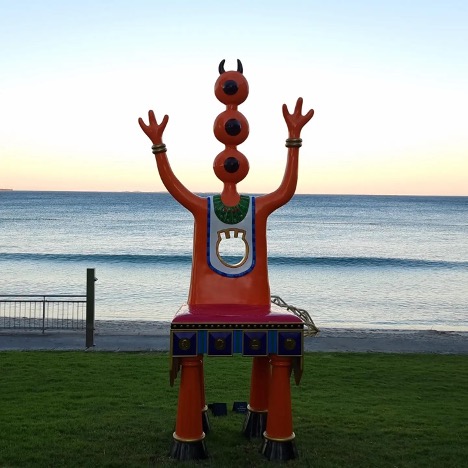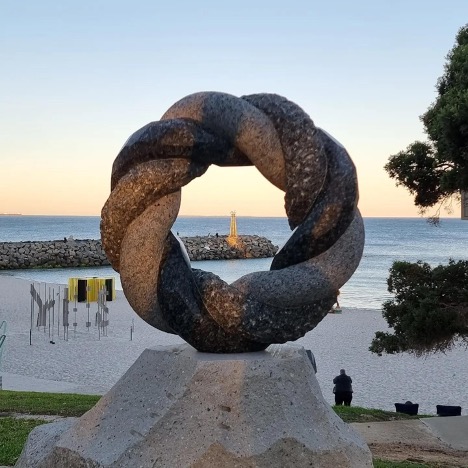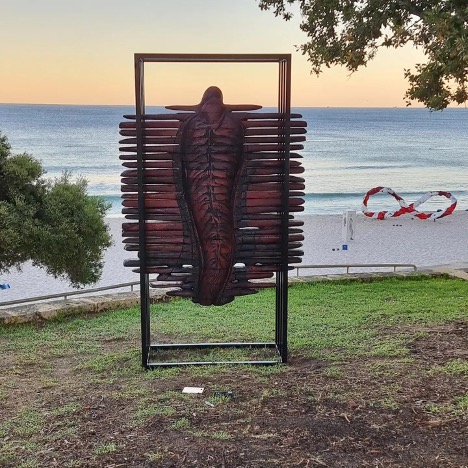 BEACH WHEELCHAIRS
A beach wheelchair and a manual wheelchair will be available for visitors with a disability to use during their visit. These are located at the exhibition site office.
Contact: 02 8399 0233 for information and to make a booking.
SCULPTURES INSIDE
As well as the impressive art pieces outside, don't forget to head into the Cottesloe Golf Course for the Sculptures Inside displays.
DATES                   Friday 4 March – Sunday 20 March, 2022
TIME                      9am to 5.30pm
LOCATION          Sea View Golf Club, Main Clubhouse, Jarrad Street, Cottesloe
(enter at the intersection of Jarrad Street and Broome Street), or catch the free daily 'Cott Cat' beach to rail shuttle bus
ENQUIRIES        Davina Corti, Director Sculpture Sales, davina.corti@sculpturebythesea.com
CONTACT US     + 61 2 8399 0233 (Western Australia re-directed)
Visitor service staff will be available to assist and inform visitors  from 10.00am- 7.00pm each day. Shaded areas on the beach will be provided and additional first aid support will be on-site nearby.
Sculpture by the Sea is on now until 20th March. For more information visit sculpturebythesea.com