Blasta is derived from the Scottish Gaelic word for delicious or tasty and that's what the owners have set out to do with their food and beer at Blasta Brewing Company in Burswood– make everything delicious.
The beer formula is obviously working as a handful of trophies from the 2020 Perth Royal food awards are displayed on the bar including the champion beer award where the Blasta team triumphed over more than 300 entries nationwide.
With its close proximity to Optus Stadium and the Crown Resort, Blasta is a popular place with locals and visitors.
A stunning painting of a unicorn, Scotland's national animal, greets patrons in the car park and the unicorn logo is used on walls throughout the area
A former warehouse, Blasta is not just a brewery it also boasts a coffee shop, a beer hall, and an alfresco area.
The coffee shop is open from 7am on weekdays and 8am on weekends. A full café menu is available on Fridays, Saturdays and Sundays with a selection of house made treats from Monday to Thursday.
A sandpit takes up a corner of the large alfresco area which is dotted with picnic tables and mature trees – an ideal spot for families. The alfresco area is pet-friendly.
The beer hall has various levels of seating mainly long shared wooden tables with huge circular chandeliers above. There are also high tables and several booths. An open kitchen and wraparound bar with the brewery vats behind it complete the huge room.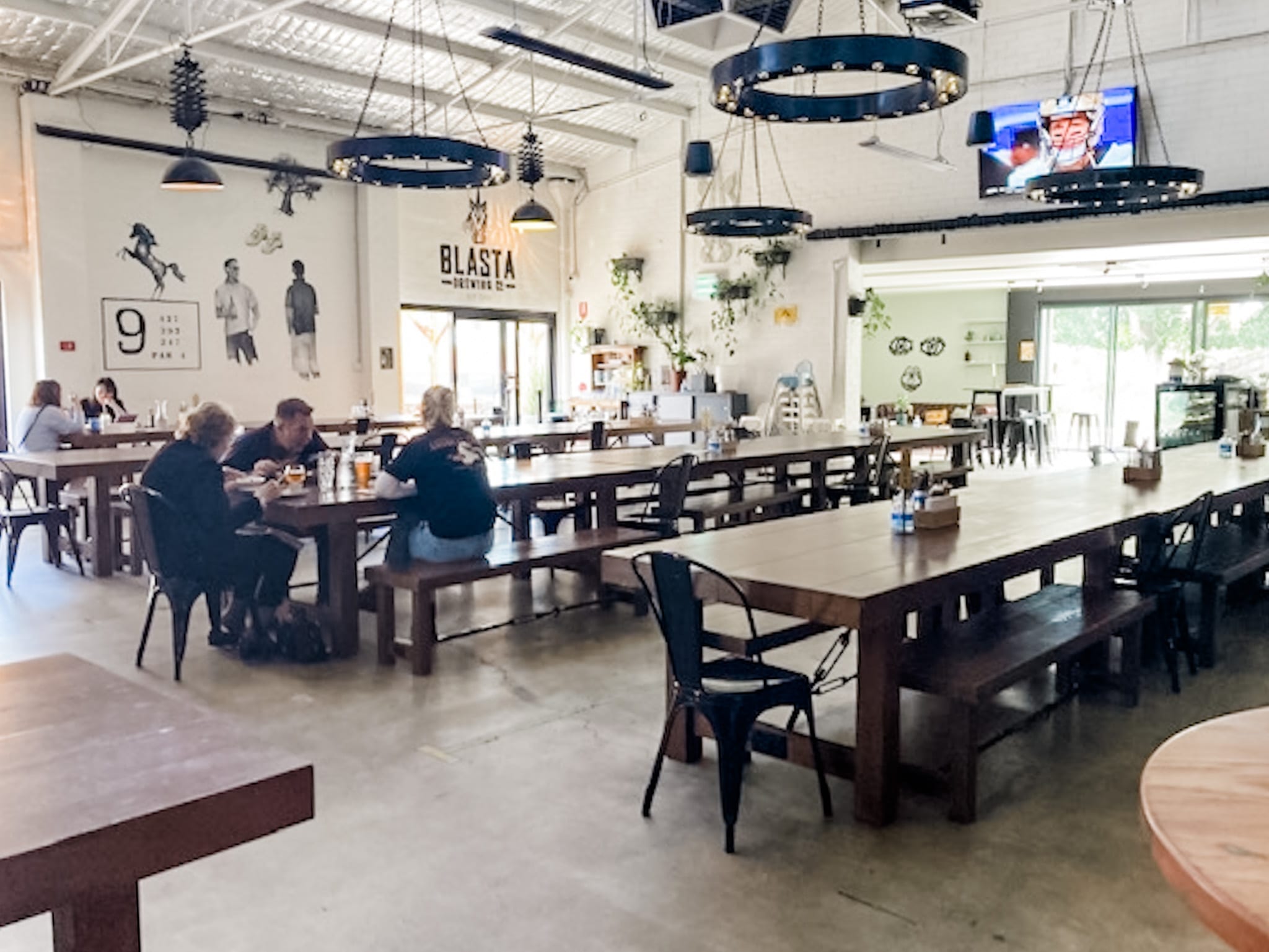 With a capacity of 350 in the beer hall and 500 overall, Blasta also caters for functions.
We were seated in a booth. Table service is available if patrons set up a tab or you can just order from the bar.
We decided to share haggis spring rolls ($14) for our starter and they came beautifully presented but they were slightly disappointing. Nice enough tasting but too much greenery inside and not enough haggis. The accompanying peach chutney was excellent although a whiskey sauce would have worked well.
For mains, I ordered a Black Angus burger ($24), two of our group had fish and chips ($26) and one had a steak sandwich ($25).  The fish and chips got unanimous approval – good chips, crispy non-greasy batter and very good whiting. The steak sandwich had a great flavour but was slightly tough. My burger was very tasty with a nice pickle but the burger was only lukewarm. The chips were crispy and plentiful.
Now we come to the beer. One of our group had a schooner of 'Unleash the Beast' (alcohol content of 7.4%) and enjoyed it very much. My husband ordered a pint of Grimster Rocks pale ale (alcohol content 5.4%) and said it was very good. In fact, he liked it so much he bought some cans to take home!
He was not the only one to take something home from Blasta – one of our group also bought a lovely sweatshirt from the merchandise section.
Blasta is an interesting concept, we enjoyed our time there and will be back.
There are only around 25 parking spaces at Blasta but parking is available on the side streets. It is about a five-minute walk from the Burswood Train Station.
Address: 84 Goodwood Parade, Burswood, Perth
Phone: 08 6102 4130
Reservations: Yes
Opening hours: Monday-Thursday 7am – 10pm, Saturday 8am-11pm, Sunday 8am – midnight
Gluten-free options: Yes
Vegetarian options: Yes
Restrooms: Clean with a separate unisex parents room that is wheelchair accessible.
Website: www.blastabrewing.com