We will be going, 'Wandering out Yonder', soon but in the meantime my husband and I decided to have a staycation in Perth city. We chose the QT hotel on Murray Street – a hotel we enjoyed staying in a couple of years ago. It is in a good location and has a restaurant that won the West Australian Good Food Guide's, Restaurant of the Year in 2019.
Santini Grill is obviously popular. We couldn't get a reservation any later than 6pm and there is a two-hour limit for the first sitting. The Santini Bar is just across the corridor from the restaurant and was filled with lots of mainly younger people, enjoying themselves.
But the Santini Grill is no slouch in attracting the locals, in a variety of age groups. The place was buzzing when we arrived and it was a great place to be an armchair fashion critic – enjoying the steady parade of up to the minute outfits going in and out of the Grill.
However, we were there to eat!
In pre-pandemic times the Santini Grill boasts a 32 page wine menu but obviously when menus are one-use items it would be far too expensive to give every diner a huge wine menu. So we were presented with a printed page that listed Santini's most popular wines and a mini ipad with the rest of the available wine.
The food menu was large and covered a wide variety of items with an emphasis on Italian cooking.
We decided to start with the Grand Santini Breadbasket ($7). It almost looked like a meal in itself with a wood-fired, tomato and onion foccine, a lemon olive oil schiacciata (Italian flat bread), sesame grissini and house-made salted butter. It was all excellent. We paired the bread with a beautifully presented Mortadella, served warm and heavily sprinkled with Pecorini cheese ($19), a match made in heaven.
For mains, we both opted for the Rib-eye steak. A Black Angus grain-fed monster at 320g  ($58). The menu stated that the steak came with shoestrings and a smoked, tomato butter. I asked the server if the shoestrings were shoestring fries and she assured me that it was shoestring onions so we also ordered a side dish of crisp Italian potatoes ($10).
When our steaks arrived so did two overflowing plates of……shoestring potatoes! The extra potatoes were whisked away and the charge did not appear on our bill.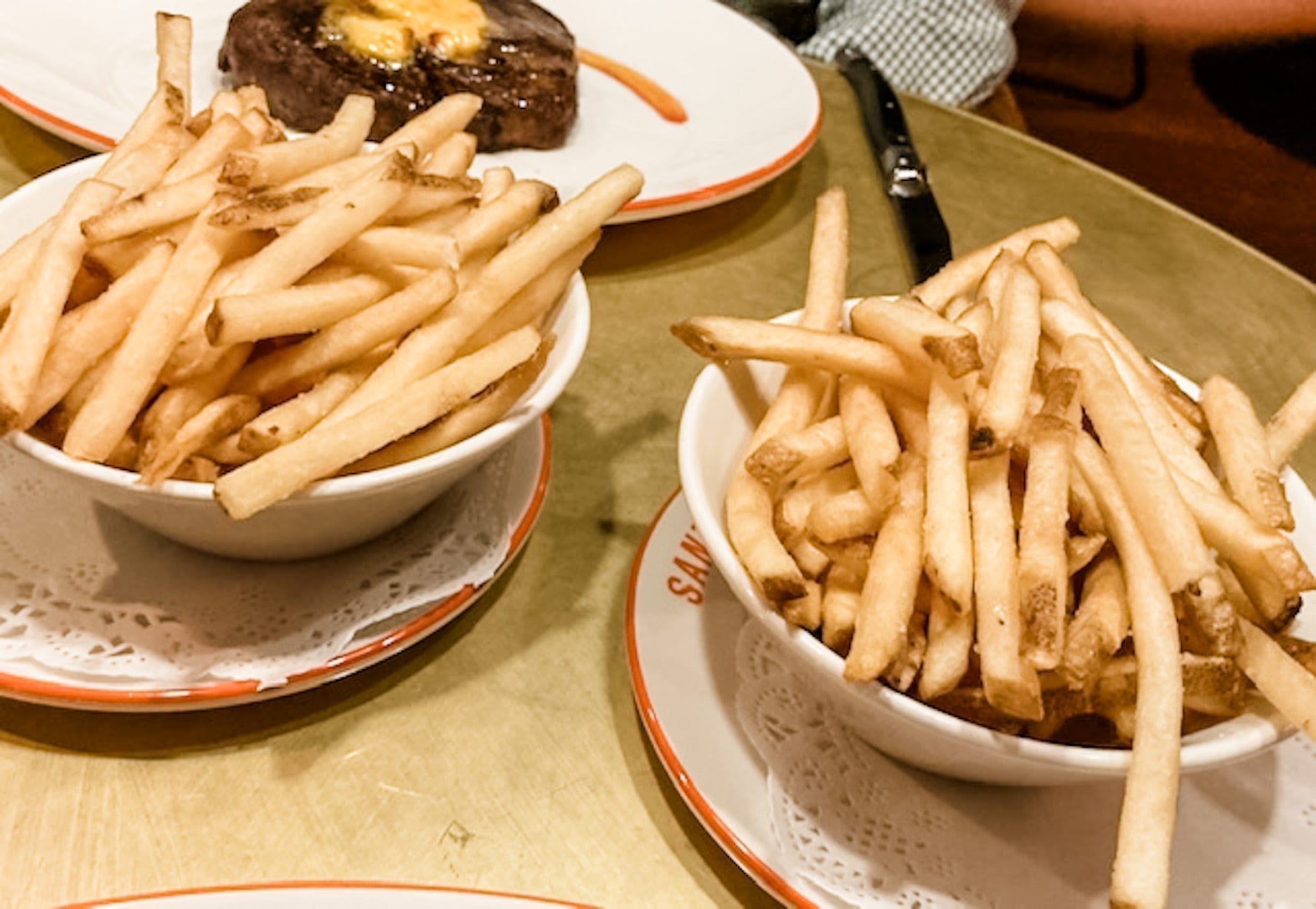 The steak had one of the best crusts I have ever tasted and the seasoning was perfect but we both found the flavour of the steak to be very average. We were disappointed which just goes to show that wining and dining really is subjective. Our neighbours at the next table had chosen pasta that they were raving about and which looked really good. The lesson we learned from that is to go with the dishes from the restaurant's cuisine instead of our favourites! Santini's also do a range of wood-fired pizzas ($24-28).
Apart from the slight mix-up with the shoestrings, we couldn't fault the staff who were attentive without being intrusive. Seating in the restaurant is currently limited to 100 patrons due to Covid-19 restrictions so tables are nicely spread out and seating is very comfortable. There is an open kitchen and lots of mirrors that made the space look even larger. Ambulant toilets are just outside the Santini Bar.
Parking is available under the hotel ($25), depending on space. The city of Perth Pier Street car park is just around the corner and parking is $4 per hour.
Address: 133 Murray Street
Phone: 08 9243 0323
Reservations: Essential
Opening hours: Breakfast: Saturday and Sunday: 6:30am-10:30am, Lunch: Fridays only: 12-4pm, dinner: Thursday, Friday, Saturday: 5:30pm -11pm
Gluten-free options: Yes
Vegetarian options: Yes
Entertainment Book: No
Website: https://www.santinibarandgrill.com.au