The Ascot Racing carnival opened on October 20 and closes on January 5, featuring nine race days. We opted to attend the Irish Day and enjoyed it so much that we will be going back before the carnival is over.
Ascot Racecourse is about eight kilometers outside the Perth CBD and easy to access with six public car parks around the course. On Saturday race days, a shuttle bus runs from Burswood train station to Ascot between 10am and 1pm. Return shuttles start at 4pm until 6:30 pm. Cost is $2.00 each way. Buses 998 and 999 also take punters to the Racecourse.
There is a two-tier grandstand opposite the winning post with lots of seats to watch your favourite horse romp home. Ascot also sets out tables and chairs, with sun umbrellas, on a grassed area close to the actual course. Be in early to snaffle some of this sought-after seating. Punters will not go hungry or thirsty at Ascot as there are 15 restaurants, casual dining options and bars.
The Racecourse offers hospitality packages for each race day carnival. We opted for a Terrace Restaurant upper-level package that includes admission and a race day book. For $70 each, we enjoyed a four-course buffet lunch at our reserved table. Lunch was very good – prawns, smoked salmon, charcuterie and bread to start, with an excellent carvery and vegetables as well as several other dishes such as butter chicken for the main course. Dessert was very decadent with lots of small cakes, tarts and chocolate items with cream.
Large TV screens peppered the walls but every reserved table also has a small television where we could watch the races. There are several self-service betting machines in the restaurant and also a dedicated TAB counter. We had an excellent view of the course and the winning post as the front of the restaurant is all glass. Out of our table of four we managed two winners, three seconds and a third. As our wagers were quite modest our winnings were sadly not enough to quit the day jobs but we had so much fun!
Of course, we didn't stay in the restaurant all afternoon. We enjoyed the live music, watching the horses parade before and after the races and sampling the Gin Parlour as well as the Mumm (Champagne) Balloon Bar.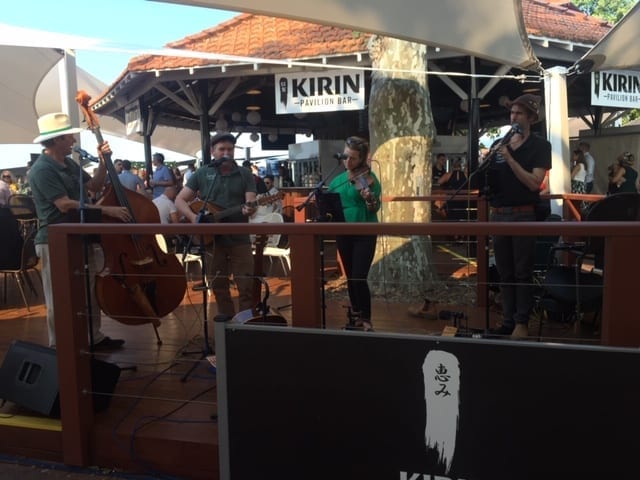 Unlike it's Royal namesake, Ascot does not insist on top hats for gentlemen but there is a dress code especially for the inside restaurants. Men are asked to dress smartly in keeping with contemporary racing style with tailored slacks or dress shorts and a tucked-in collared shirt. Jackets and ties are encouraged. Closed in dress shoes are required. Ladies are asked to dress smartly and encouraged to wear hats or fascinators. I only saw three ladies who did not have any headwear in the restaurant. And it is fun to dress up occasionally!
Ascot Racecourse is such a great day out as long as you don't bet the mortgage on the 3:30 – so take advantage of this seasonal Perth institution and head off to the races.
Upcoming programme:
Champion Fillies Day – Saturday, November 17
Railway Stakes Day – Saturday, November 24
Winterbottom Stakes Day – Saturday December 1
Kingston Town Classic Day – Saturday, December 8
Perth Cup -Saturday January 5
Address: 70 Grandstand Road, Ascot
Phone: 08 9277 0777
Reservations:Yes
Vegetarian options: Yes
Entertainment Book: No
Website: https://www.perthracing.org.au/racing/ascot-racing-carnival