Uluru, the red centre of Australia, is one of the most beautiful and culturally alive places in the world. This is why it comes as no surprise that so many travellers want to visit this gorgeous landmark and its surrounding areas in the National Park. However, many tours do involve long walks, strenuous activity, or physical exercise.
While this is great for some people, those specific tours aren't really suitable for seniors. This is why we have put together a list of the best Uluru tours for seniors from Ayers Rock and Alice Springs. With these accessible tours, seniors can enjoy this beautiful landmark without having to overexert themselves.
Let's take a look below!
Uluru Tours for Seniors
1 Day Uluru & Kata Tjuta Tour
The Best All-Around Tour
The 1 Day Uluru and Kata Tjuta Tour is said to be the best all-around tour of Uluru. This is more suitable for more active seniors who can stand a small amount of walking. On this tour, you can experience the true wonders of Kata Tjuta and Uluru when you're venturing around the Northern Territory.
This tour allows you to travel in complete comfort in an air-conditioned vehicle as you listen to intriguing stories and learn the deep secrets of this famous aboriginal landmark. Meals, beverages, and snacks are provided on this tour. This means that all you have to do is focus on the beautiful scenery surrounding you.
This tour creates a stunning combination of luxury mixed with discovery. This tour is definitely one of the most popular things to do when you're enjoying an authentic outback holiday.
This tour includes the following:
·      Air-conditioned vehicle
·      Experienced tour guides
·      Accredited tour guides
·      A sunset BBQ with sparkling wine
·      Transport to and from accommodation
·      Uluru Park entrance fee
·      Food, drinks, and snacks
This trip fills up extremely fast so make sure you book as soon as you possibly can to enjoy this stunning part of Australia amongst unique flora. You can book this tour here.
Uluru Sunrise Tour
The Best Tour to Start the Day
If you're looking to start your day right, you have to try out this Uluru Sunrise Tour! It operates daily and departs and ends at the Ayers Rock Resort. Get up, out, and about before the sun and watch as the day breaks over the majestic cultural landmark known as Uluru.
You will never forget this once-in-a-lifetime experience. The way the colours change as dawn spreads across this beautiful part of the world is something you will never forget. Depending on the time of year, you will usually depart roughly 90 minutes before the sun rises from the awesome Ayers Rock Resort.
From there, you will travel to the sunrise viewing area of Talinguru Nyakunytjaku, near Uluru. Before you witness the very first glimpse of sunlight, you will enjoy a light breakfast. Afterwards, you will watch the sunlight slowly make its way over the horizon and touch the sacred land.
After sunrise, you will be returned to your hotel by bus. Book the Uluru Sunrise Tour here. This is one of the best tours in Australia and around Uluru.
Uluru Sunset BBQ
The Best Dining Experience in Uluru
Named as the best dining experience in Uluru, this tour operates daily and departs and ends at Ayers Rock Resort. If an item on your bucket list is to watch an absolutely epic sunset, this is the tour to go on. The sunset you will experience while on this tour is something you will never be able to forget as it is simply unforgettable.
Prepare to be completely enchanted and in awe throughout the entire experience. It all begins when you travel from your destination in the comfort of an air-conditioned vehicle. This tour is suitable for all age groups and also caters to a range of diets including dairy-free, vegetarian, and gluten-free.
Your Uluru Sunset Tour includes:
·      Shopping opportunities from local artists
·      BBQ at sunset
·      Transport to and from Ayers Rock Resort
Book your Uluru Sunset BBQ here.
Uluru Field of Light Sunrise Tour with Hot Drinks
The Once-In-A-Lifetime Experience in Uluru
Find yourself getting lost in the striking Field of Light by talented artist Bruce Munro. The work itself was inspired by a trip to Uluru. You can view this gorgeous artwork in a remote part of the desert within view of the world-famous landmark.
Take the time to take in this stunning installation while enjoying this once-in-a-lifetime experience. Your tour guides will provide you with plenty of information and an introduction to the art and Uluru itself. When you go on this tour, you can wander through paths of over 50,000 handcrafted, frosted glass spheres.
Enjoy a warm beverage with snacks as the sunrise creeps across the stunning, culturally enlightened land. Under the darkness, the spheres of light will keep you comfortable before you make your way up the hill to the Dune Top viewing area. From there, you can watch as the sky changes colours dramatically while the desert wakes.
You will simply stare in awe as the sun creeps over Uluru in the distance. The sunlight spreading across cultural ground is something you'll never forget. This tour includes entry to the installation, coffee, tea, or hot chocolate, an experienced tour guide, and travel in a luxury coach.
You can book this experience here.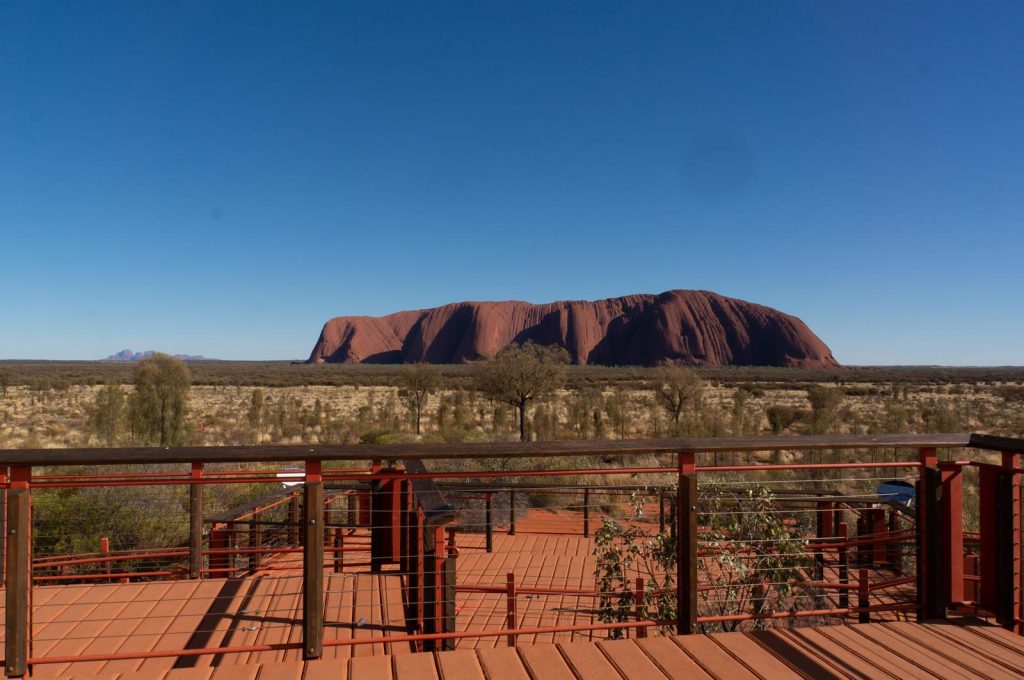 Uluru 15-Minute Helicopter Experience
A Birds-Eye-View of Uluru
Even when you venture on foot, you simply won't be able to capture the true beauty of Uluru. If you truly want to take in and appreciate this amazing monolith, you have to see it from the air. While in the helicopter, you will be able to take photos through unique bubble windows and stare in awe at this massive spectacle in the desert.
You will be picked up from your hotel in a luxurious coach and taken to the Ayers Rock Airport. From there, the experienced crew will brief you on the helicopter safety protocol before you are allowed to board the helicopter. After you board the helicopter, you will be flown over the gorgeous scenery provided by Uluru and the surrounding areas.
The viewing is absolutely stunning from up above. You can witness some of the most breathtaking views in history and the stunning contrast of the Australian desert landscape. Book your experience here.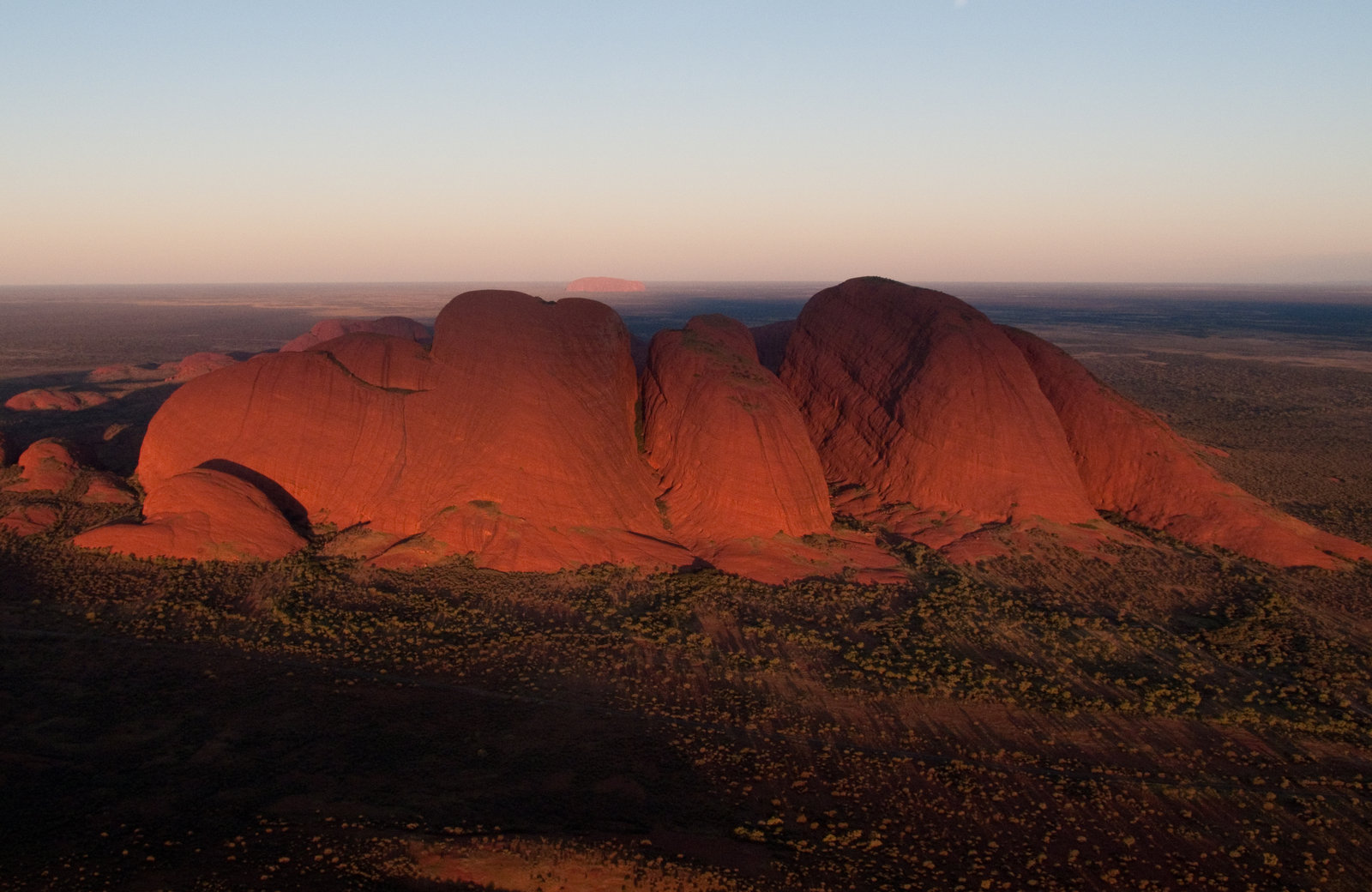 If you're a senior planning to visit Uluru, make sure you book a tour to get the most out of your trip. The indigenous culture and ancient aboriginal stories in the amazing outback here will broaden your mind and leave you in awe of Australia's aboriginal people.