Part of the Marriott International Group, The Westin Perth opened its doors in 2018. It is in one of the trendier places in Perth – Hibernian Place and very close to St Mary's Cathedral.
As the hotel has 368 guestrooms, I had not expected it to be full when my husband and I checked in at the weekend but it was. Catering for a wedding and a conference, The Westin is obviously a popular choice so I was glad that we had made our reservations several weeks in advance. Check-in and out was seamless and every staff member we met was friendly and helpful.
I had expected the public areas to be busy with so many people in the hotel but I was pleasantly surprised that we had no problems in finding seats in The Haven Lounge in the lobby area. I was even more surprised to see that the Cake of the Day, a mandarin and yuzu cheesecake, was $14. However we decided to order one with our tea and coffee and ask for two forks! Good decision – it was a Masterchef-worthy cake and tasted superb.
Lots of decadent items are not really on The Haven's menu (except for the afternoon tea priced from $55-75) as The Westin prides itself on its healthy living outlook, which includes wellness programmes and Eat Well menus. It also boasts an in-house spa/wellness retreat – the Bodhi J brand, winner of the 2019 Australia's best luxury spa award.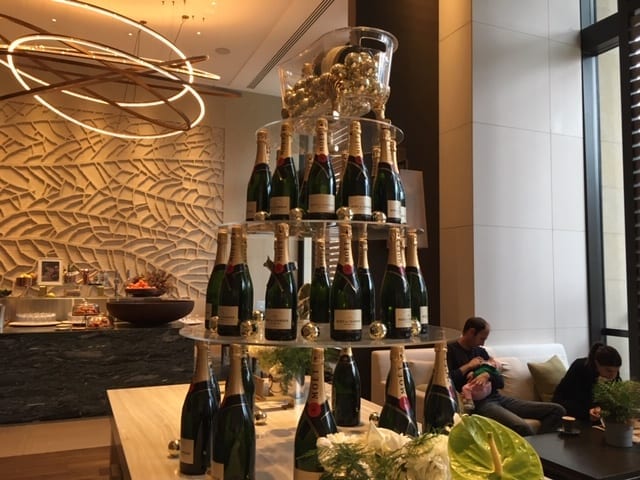 The hotel has a 24-hour fitness centre and a heated swimming pool. Fear not if you have forgotten your workout clothes – The Westin will lend you New Balance shoes and workout gear for the princely sum of $5.
Our deluxe king room ($239 per night) was on the 25th floor and was very nice. It was spacious with several seating options including a sofa, two chairs (and a table) and a long bench.  The bathroom area was large with a separate toilet and a walk-in rain shower, no bath.  Tea and coffee facilities, a fridge, iron and ironing board, hair dryer and safe were provided together with fluffy robes and towels and an extremely comfortable bed. As part of the Marriott loyalty programme we had two small bottles of water in our room. We could also purchase large bottles of water at an outrageous price of $7 – needless to say, we didn't bother. Lighting was good which is only to be expected of a five star hotel.
We could see part of Elizabeth Quay and the Swan from our window as well as a commanding view of the CBD at night.
The Westin's signature restaurant, Garum offers breakfast, lunch and dinner seven days a week.
Parking is an expensive item with valet parking at $55, allowing guests to take and return their cars as many times as wanted and self-parking at $45 with an extra $45 charge every time the car is taken out. A Wilson car park is adjacent to the hotel.
The Westin is a bit out of the CBD but still within walking distance, there are plenty of food choices in the area and its facilities, as well as its pastries, are top-notch – it's a good choice for a staycation.
Address: Hibernian Place, 480 Hay Street, Perth
Phone: 08 6559 1888
Entertainment Book: No
Website: www.marriott.com.au