Keeping it real for the future is the philosophy of Beerfarm at Metricup in the Margaret River region. The owners are committed to reducing water and energy consumption, recycling, upcycling and composting. Sustainable local produce is the order of the day and rescued fruit is used for some of Beerfarm's beers.
Established on 80 acres of an old dairy farm, the company's herd of Black Angus cattle graze in full view of Beerfarm giving it a pastoral outlook next to the water. A children's playground is close to some of the outside tables.
The building is huge – licensed for 430 people. Beerfarm has a welcome for everyone, encouraging children and dogs as well as an increasing amount of locals and visitors. Décor is rustic with lots of wood and murals.
We visited on a Thursday afternoon at the end of a wine tour and found it a very relaxing space – not too busy at that time and very peaceful but I understand that peaceful is not the word to use when the venue is full.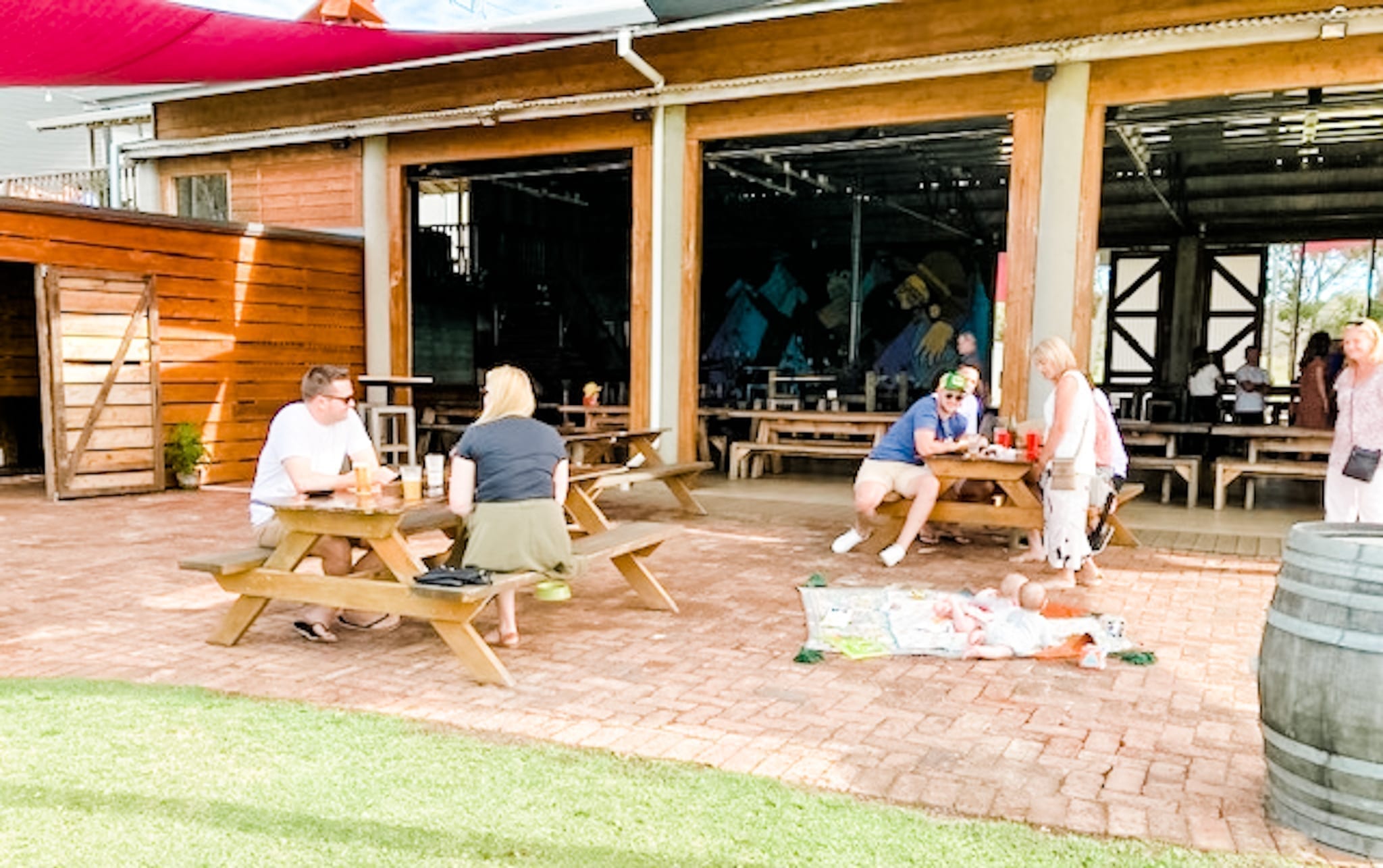 Friday is the most popular day of the week as that's when succulent steaks from the Black Angus herd or a local butchery are served from 5pm to 8pm. The kitchen is open from 11 am every day, closing at 3pm Monday to Friday (chips are available from 3pm to 5pm on a Friday) and 4pm on Sundays. Beerfarm plays host to music events as well as functions.
It was also in demand for weddings but shutting the entire venue was disappointing for other customers and it now only hosts wedding recoveries. Wedding recoveries? Yes, apparently that is now a 'thing'. Instead of feeling that the day after your wedding is a bit of an anti-climax – newly married couples can now relive the memories, hear stories they may have missed in the excitement of the wedding day and enjoy spending time with a smaller crowd of family and friends. Who knew?

And of course, there is the all-important range of beers. Together with the traditional staples of India pale ale and lager, Beerfarm has several interesting beers on hand. There is the Asam Boi Gose, made in collaboration with a pub in Singapore – providing a balance of sweet and sour beer, the low alcohol Calm Ya Farm and there is also the Milk Stout. Seniors of a certain age – like me – will only associate milk stout with Ena Sharples in Coronation Street. It was a revelation to find that it is now trendy!
Beerfarm sells merchandise such as t-shirts, hoodies, caps and towels from the bar and online. It also has a Farm Club where members can get discounted beers delivered to their homes.
There are lots of quirky, original items in and around the buildings, such as plants growing out of old toilet bowls, a milking shed and some lovely pit boss-type smokers presumably for Friday night steaks.
Lots of parking is available although visitors are warned about leaving their cars in no parking areas – vehicles will be crushed and turned into beer cans!
Address: 177 Gale Road, Metricup
Phone: 08 9780 5911
Reservations: Essential on a Friday.
Opening hours: Sunday-Thursday:
Gluten-free options: Yes
Vegetarian options: Yes
Restrooms: Clean and accessible
Website:www.beerfarm.com.au
Find more places to visit in Margaret River