Billed as the restaurant in the sky, the C Restaurant lives up to the hype with revolving panoramic views of Perth city and its surrounds.
We visited on a very busy Saturday afternoon to celebrate a friend's 70th birthday with a sumptuous high tea.
Sitting on the lower tier of the restaurant right next to a window, we had fun identifying well-known landmarks from a different perspective.
High tea on a Saturday runs from 1pm until 2:30pm but patrons don't have to leave until 4pm.  The table was set beautifully with five flower design teacups and saucers. However, as this was a celebration we decided to keep the tea and coffee for later and started off with the wine!
Our high tea was the Bottomless Wine High Tea ($74) per person. The C Restaurant serves Yalumba Sauvignon Blanc or Yalumba Shiraz from the Barossa Valley.
A nice touch, before we started our High Tea, was the delivery of a large decorated plate with a chocolate truffle punctured by a sparkler for our birthday girl.
Food arrived on a three-tier stand. There was one of each item for every diner. The bottom tier had savoury items – a quiche, a brioche bun filled with roast beef, an egg and cucumber sandwich and a beef pie complete with a gimmicky test tube full of gravy which we injected into our pie. One of our group is a vegetarian and was provided with alternative savoury items – an arancini ball, an egg and cucumber sandwich and a brioche bun filled with a delicious mixture of Brie and relish.
Two scones – one fruit and one plain for each person, were nestled with jam and cream containers on the top tier.  Our server was happy to provide butter on request.
The middle tier was our sweet selection – a chocolate cake topped with salted caramel popcorn, a tiered mousse type sponge slice and a macaron each.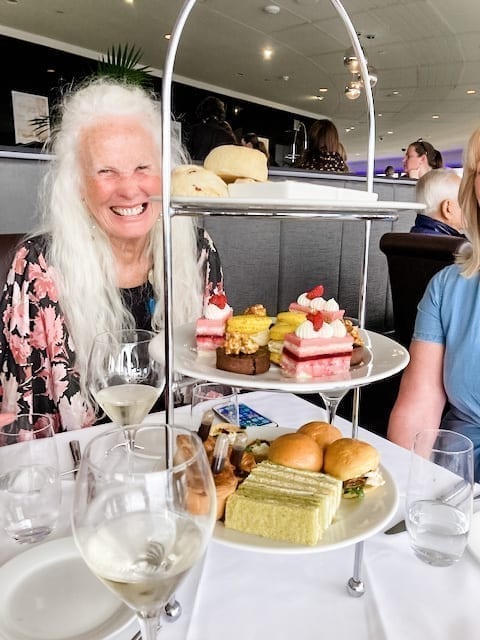 We had chosen the C Restaurant for our New Year meal, 2019 into 2020 and the food was outstanding – the high tea not so much. I would describe it as good but patchy. The beef pie was lukewarm and the quiche slightly dry but the brioche bun was excellent. The sandwiches were fine and we enjoyed the scones. The salted caramel popcorn was a brilliant addition to the heavy chocolate cake and everyone enjoyed the mousse slice.
Service was very good with staff obviously being trained to silver service standard although we perhaps drank our wine a little faster than the norm and had to ask for refills! Water is also provided. We also enjoyed the tea and coffee – refills on request.
We finished off our drinks in the lounge as the staff had to prepare the dining area for an influx of 200 guests at 5pm.
The C Restaurant is definitely a go-to place to take visitors or enjoy a special lunch or dinner. Views are spectacular and the staff is excellent.
Other high tea options include:
Moet and Chandon Champagne High Tea – the same food selection with endless cups of tea or coffee and a glass of champagne ($69) Sparkling High Tea – food selection, endless cups of tea or coffee and a glass of Australian sparkling wine ($60)
Classic High Tea – food selection with endless cups of tea and coffee ($49)
Children's High Tea (for children aged 12 and under) with a smaller selection of food served with tea, coffee or soft drink ($39).
Access is by a lift in the St Martin's Centre building to floor 33.
Address: 44 St Georges Terrace, Perth
Phone: 08 92208333
Reservations: Yes – essential for High Tea
Opening hours: Seven days – Lunch: 12pm-1:45pm.  Dinner: Sunday to Friday 6pm onwards, Saturday 5pm onwards
High Tea: Monday to Friday 12:30pm -3:30pm, Saturday 1pm-2:30pm Sunday 2pm -3:30pm
Gluten-free options: On request
Vegetarian options: On request
Restrooms: Very clean but be sure to remember where your table is as the restrooms are in an area that does not revolve
Website: www.crestaurant.com.au
 Find more restaurants in Perth