If you are intending to drive to the Wheatbelt to do a wildflower tour or just see a different part of the State, I can highly recommend a stay at the Mukinbudin Caravan Park.
Our seniors' group spent some time there recently. My husband and I could only stay three nights but other members of our group stayed for seven nights.
The caravan park has 29 powered sites, nine unpowered sites and several cabins and houses on-site.
Our group was allocated five sites together for the princely sum of $20 per night. The normal fee is $30 per night but for those staying three nights there is a discount. A discount also applies to the cabins, units and houses in the park.
The sites are large and the camp kitchen and ablution blocks are very central. So if the need to cook or visit the restrooms occurs during the night – there is not far to travel!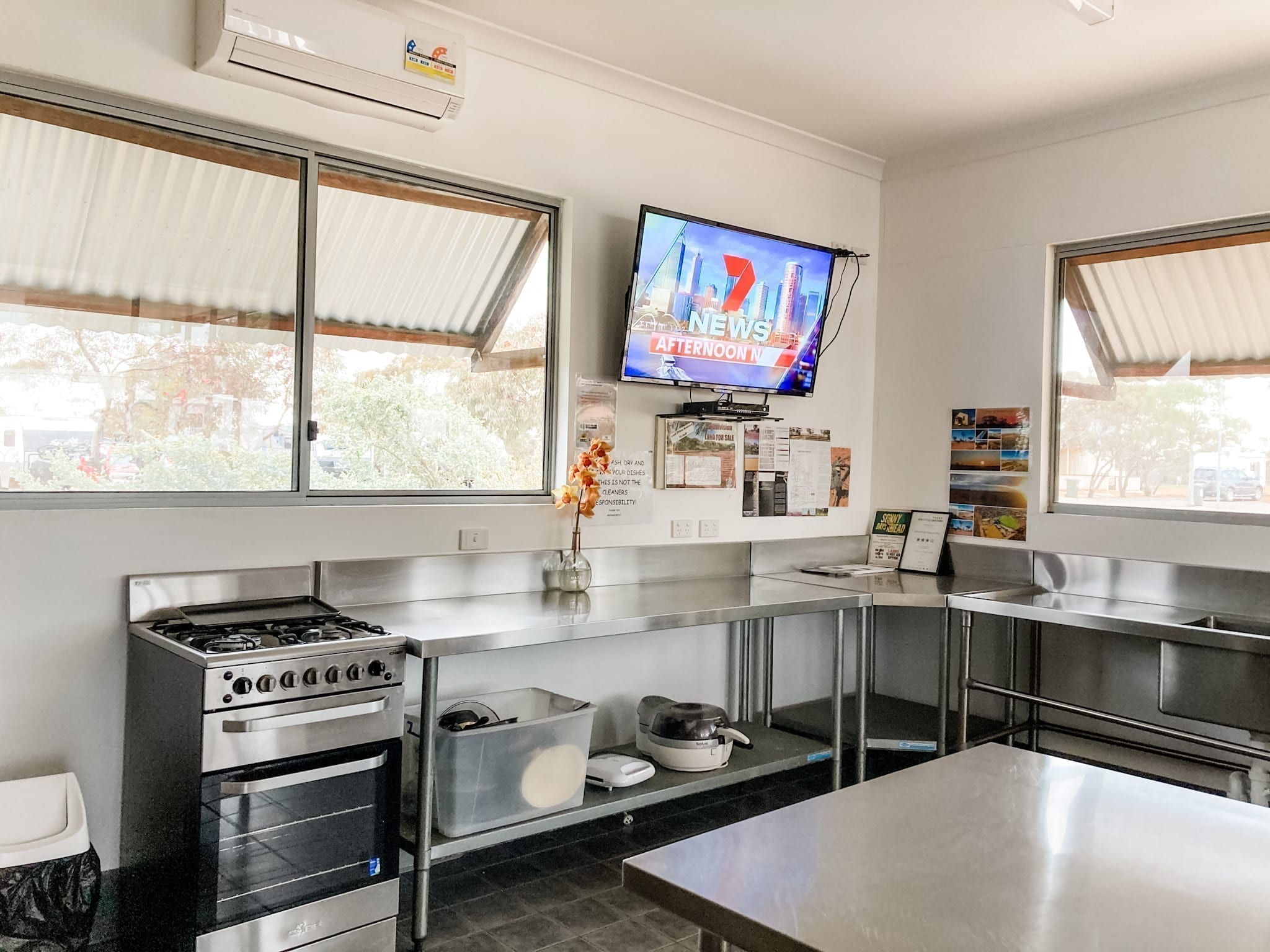 Entry to the kitchen is by a ramp so it is suitable for wheelchairs. The kitchen is not huge but it is well organised with an oven, stovetop, microwave and many kitchen utensils available. There is a television and sofa inside the kitchen and a large table just outside. The large table was ideal for our group of ten and as it is sheltered from the elements, it was a great place to spend time together.
En-suite rooms in the ablution block were a hit with everyone. Each room had a shower, toilet, sink and a wooden seat. Soap and disinfectant were provided. The rooms were very clean – kudos to the manager and staff for providing such good facilities.
There are more privacy and more space in these ensuite rooms than in the facilities at larger campsites. There are laundry facilities and a bbq area on site.
Saturday night is campfire night at Mukinbudin Caravan Park. The large fire pit was lit and local musician Mike Loewen provided us with entertainment.  There was something for everyone including old Irish songs and foot-tapping rock and roll that had at least two members of our group showing off their jiving skills.
Just a ten minute walk brings campers to the Mukinbudin Hotel or as it is affectionately known, the Muka pub. One of the campers told us that the day before we arrived the chef had walked out of the pub but two locals jumped in to save the day, cooking pasta and pizza for hungry travellers.
People in the pub were friendly and a chef must have been found quickly as all the good pub grub such as chicken parmi and fish and chips, were on the menu.  Décor is a bit dated but there is a relaxed and welcoming atmosphere. One of the locals even volunteered to get a lemon from his tree for the gin and tonics! Prices are similar to Perth prices which we were pleased about but surprised as normally freight charges mean a higher price in the countryside.
Mukinbudin boasts an IGA store but it closes at 5pm, so make sure you have all the supplies you need by that time.
The Mukinbudin Aquatic Centre is right next door to the caravan park and is open from November 1 until Easter.  There is a 50m pool, a wading pool and a paddling pool. Entry is $4 for adults and $2.50 for children.
Facilities for caravanners include wifi and a disposal area for emptying toilet cassettes.
Mukinbudin is fairly central to many attractions and we all felt that basing ourselves at the caravan site and driving to the sights worked out well.
Address: 25 Cruickshank Road, Mukinbudin
Phone: 0429 471 103
Reservations: Yes
Facebook page: hwww.facebook.com/mukinbudincaravanpark/