Is a Gin Tour in the same category as a chick flick, a high tea and book club? Well the ladies in our group decided that our men wouldn't be too interested so we booked ourselves on a Gin Tour of the Swan Valley run by a local club through d'Vine Tours.
We left from Marmion at 10am on a Saturday morning, with twenty people on board the comfortable, air-conditioned small bus. Rod, our driver was early at the pick-up venue, courteous at all times – even when herding some tardy drinkers out of a winery and very safe on the road.
Our first stop was at Old Young's Distillery on West Swan Road. Self-styled Gin God, James Young opened his business in 2016, on the site of the old West Swan winery.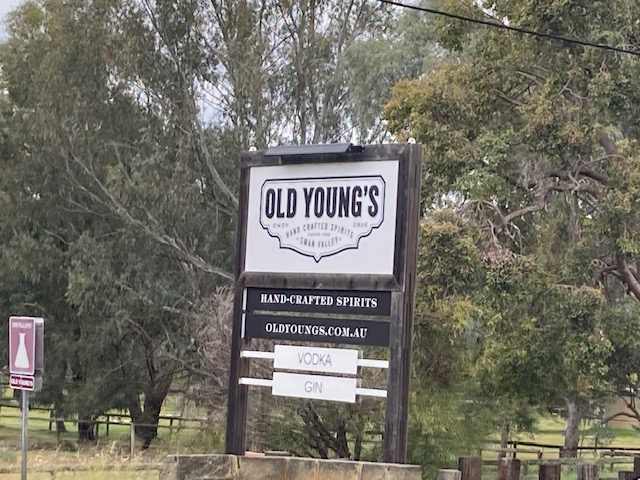 Our host, CJ, was very entertaining, regaling us with larger-than-life stories about James Young's passion for gin and vodka. We tasted four gins and three vodkas – each one had an interesting story behind its creation. We were given the choice of tasting the products neat or with mixers. One of my friends is a huge fan of gin but vodka? Not so much. When tasting a particularly potent blend, she said, "If you lit a match on my tongue, I would be on fire!' My particular vodka favourite was the pavlova vodka, which is popular overseas. Everybody else liked the Gingin gin best.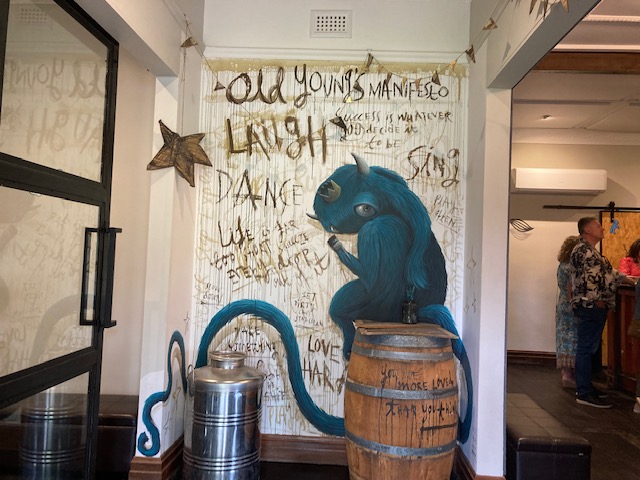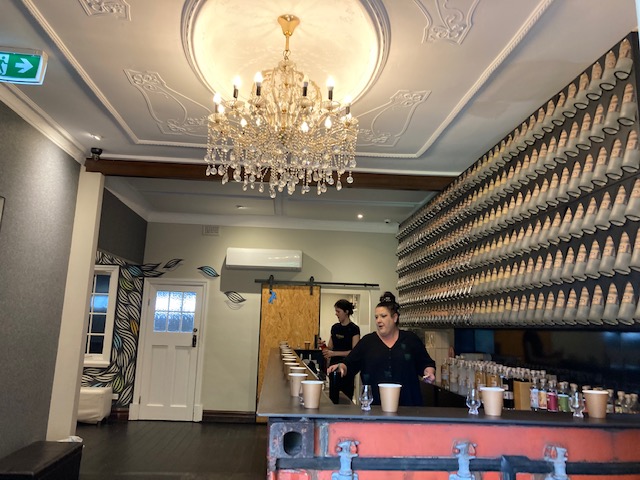 Next up was lunch at Funk 2.0. This is Funk cider's second venue in the Swan Valley, and it is a very pleasant place to visit. Much more upmarket than the original Funk, and it has lots of outdoor tables.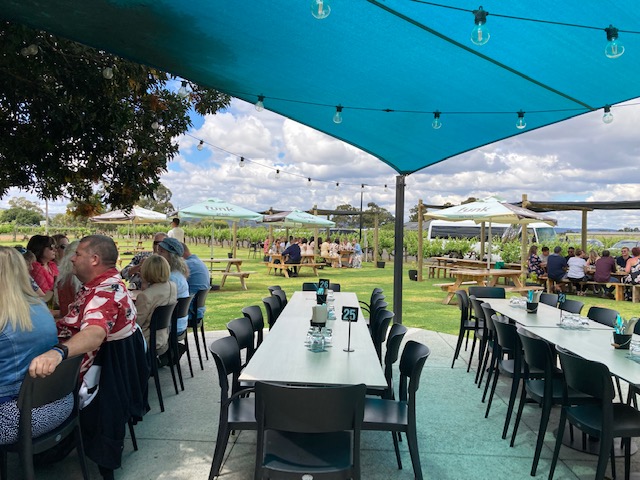 One full drink was included in our tour price and we had two tastings to see what we wanted. Our server was very helpful.
Did I like cider? Not particularly.
Did I drink wine? Yes.
Dry white? Yes.
So one of my tastings was a wine cider, and I also went for a coconut cider. Both were pleasant and easy to drink. There were heaps of flavours to try including Pineapple, Rose, Perth and Sex Machine (I didn't ask!). Funk 2.0 also specialises in craft beers.
Our pre-ordered lunches were served promptly. I had Red Emperor with Persian gnocchi, confit tomatoes and zucchini, while one of my friends had a Chicken breast stuffed with blue cheese and served with fennel/celery remoulade and buffalo butter. Both dishes were tasty and served hot, although under-seasoned.
We had plenty of time to relax in the sunshine after our meals before heading to the Sin Gin distillery at the Swan Settlers Market. We had a wander around the busy market before settling into our tasting chairs.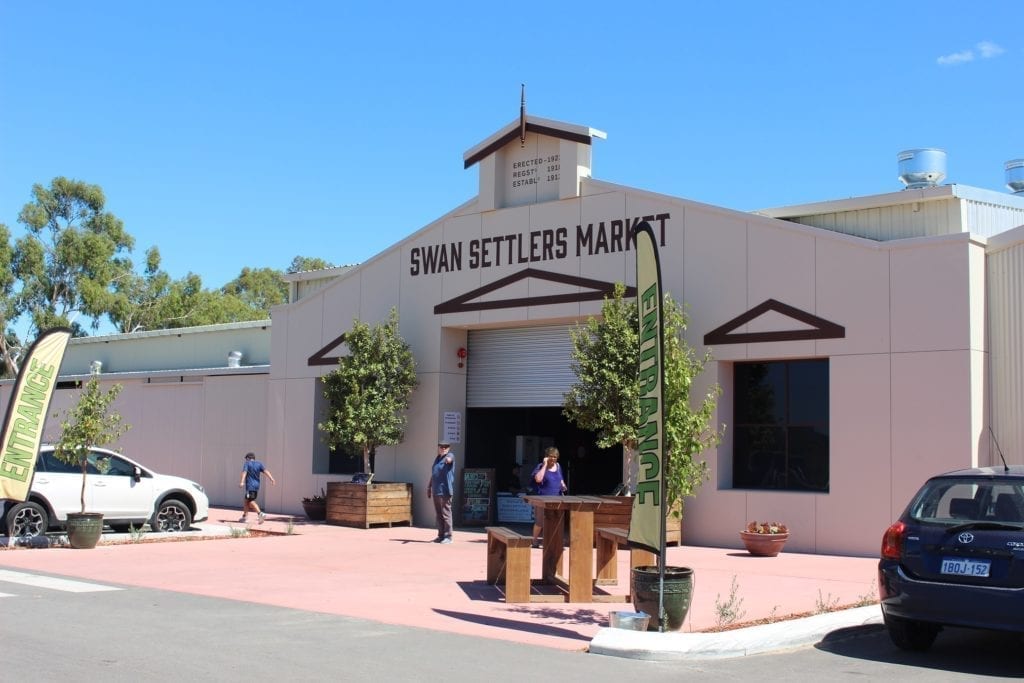 Our host, Tess, was extremely knowledgeable about the products, which included gins named for the Seven Deadly Sins. She also advised that those of us who were not too keen on having our gin neat should use the gecko tasting technique as in flicking our tongues at the top of the gin to get an idea of its strength before diluting it with soda or tonic. Greed turned to be the 'ginniest gin', new release Mutiny was the one to clear out our sinuses and sloe gin the most popular with our group. Sin Gin will be tripling in size in the next few months having taken over the adjoining space in the Market.
Our final stop was in Baskerville at Txoko Brewing for hot chips and yet another beverage included in the tour price.
Txoko is a very family-friendly place with a large playground and lots of space for children to run around. Indoor and alfresco dining areas look out onto vines and the distant Darling Ranges.  Txoko is next door to the Faber Vineyard – an interesting place that several of our group managed to find! It was a very pleasant way to finish off the afternoon.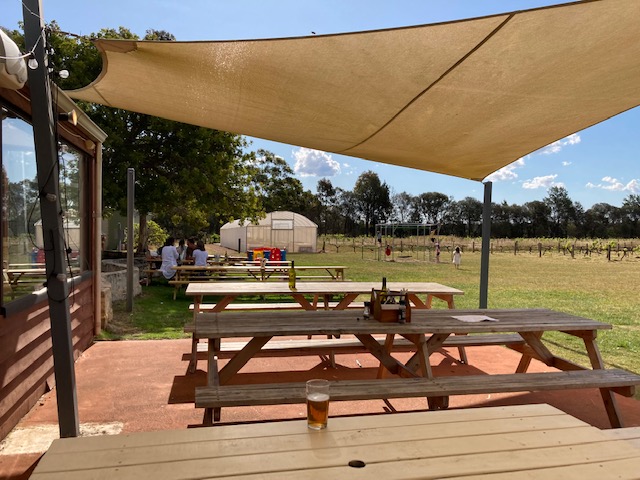 We arrived back at our start point at 4:45 with our accommodating driver turning up the music so we could all sing-along to old favourites like Thunderstruck, Poison and of course Sweet Caroline!
d'Vine run several tours to the Swan Valley including half and full day tours as well as private tours.
d'Vine
Phone:  08 9244 5323
Website: dvinetours.com.au