Pickering Brook is home to many vibrant and diverse restaurants. There is a place for everyone in Pickering Brook no matter their mood or palate. Pickering Brook has an expansive range of restaurant options which can make it pretty difficult to narrow it down to a list.
However, no matter what you're looking for, one of these restaurants will suit your needs. Spend an enjoyable night out or enjoy some lunch at one of these excellent restaurants in Pickering Brook. Let's take a look!
Pickering Brook Restaurants 
Core Cider
Core Cider is the absolute ideal destination for lunch in the rolling hills. You can also enjoy their seasonal fruit picking while you're there! If the weather is a little rainy, you can head to the orchard bistro.
However, if you want to get the best out of the experience, head to the Cider Garden, set up a blanket, and enjoy the view from the lawn. It is a beautiful place to enjoy great food and nice scenery. Hop online and make a booking today to find the best food, drinks, and so much more at Core Cider House.
Location: 35 Merrivale Road, Pickering Brook
Read our review of Core Cider House

La Fattoria
When you enter the doors at La Fattoria, the hills come alive with the rich Sicilian food and all of the Italian wine you could ever drink. At La Fattoria in Pickering Brook, you can enjoy a delicious lunch that tastes like something out of Nonna's cookbook.
The vino here is absolutely outstanding and you'll want to come back again and again. Don't forget to pick some delicious fresh fruit and veggies from the orchard as you head out. This gorgeous working orchard in the hills is only just up the road from Core Cider so you can visit them both and make a day of it.
Enjoy traditional food, great wine, and delightful views over the vines, orchard, and lawn. It is perfect for families, couples, and even those looking to enjoy some alone time and see areas in and near Pickering Brook.
Location: 211 Merrivale Road, Pickering Brook
Read our review of La Fattoria
Bean 2 Brook
Bean 2 Brook is an amazing little location that is easy to get to, even during rush hour. According to visitors, this little location serves up the very best tea, coffee, and food you could ever wish for. The eats here are absolutely insane.
It is full of lovely décor where everyone can relax and enjoy great food and drinks. It is even dog-friendly and horse friendly with a convenient drive-through window. If you enjoy speaking to friendly staff and enjoying some seriously good coffee, you have to check out this awesome little location in Pickering Brook, Western Australia.
Location: 1 Pickering Brook Road, Pickering Brook
Read our review of Bean 2 Brook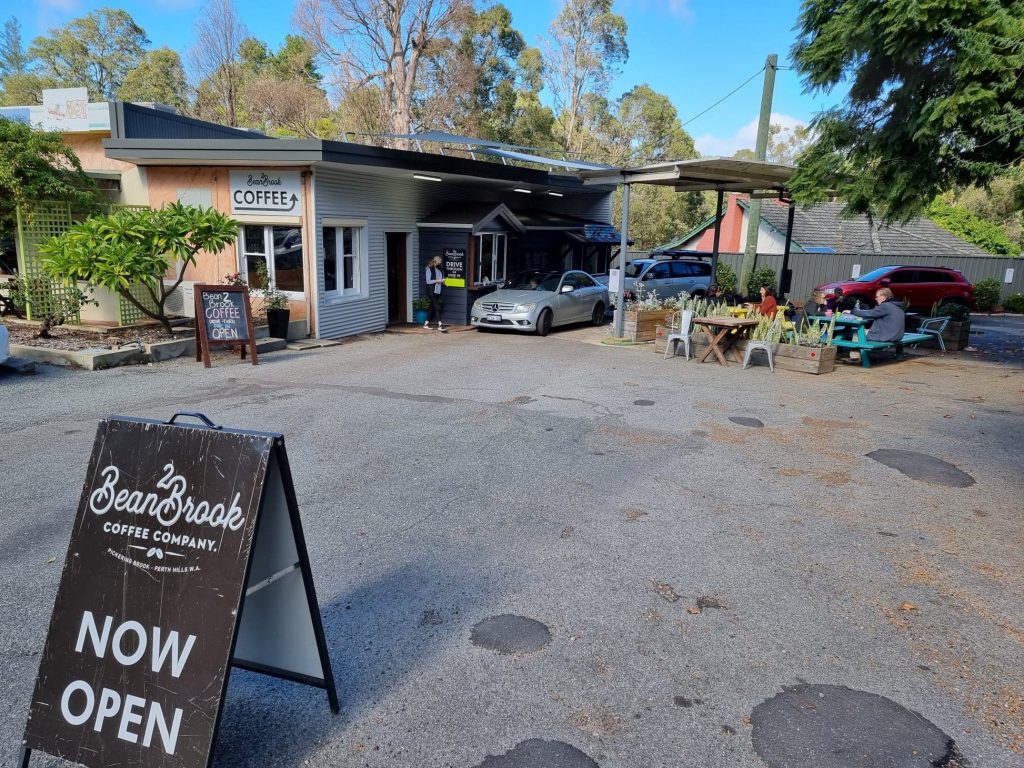 Carmel Tea Rooms
This is a great little spot in the middle of the hidden valley. Inside a well-placed old house, you can find excellent food, dense cakes, and smooth coffee! There is also wine available.
The staff here are very friendly which makes the experience that much better! Often known as the sweetest café in Perth hills, this location provides stunning vineyard views from dusk until dawn! There are plenty of tables both inside and outside for you to pick from.
Enjoy great views, friendly staff, and delicious food and drinks at Carmel Tea Rooms. Don't forget to order some tasty desserts from the menu or have it takeaway. Trust us, the dessert is absolutely insane.
Location: 101 Union Road, Carmel
Read our review of Carmel Tea Rooms
Naked Apple Cider House
This is the place where the banter flows, good times roll, and the tunes are soulful. You can also enjoy the friendly staff! Set on 6.4 hectares of native bushland and lush gardens, Naked Apple Cider House is a family venue where you can relax and enjoy your free time. Open 5 days a week from Wednesday to Sunday, you can even bring your canine companions along for the trip.
You can choose from four main areas, the deck, the restaurant, the courtyard, and the large gardens. You can also wander around and do some adventuring before you select the spot in which you want to sit back and relax. There are tables and chairs all over the property for those who prefer their own space.
You are even welcome to sprawl out across the grassed area for a little nap after you've filled your tummy. Try to cast your eye over the property and take in the stunning view that this location has to offer. We are sure that every person will love the view!
Location: 1088 Brookton Highway, Karragullen
Read our review of the Naked Apple Cider House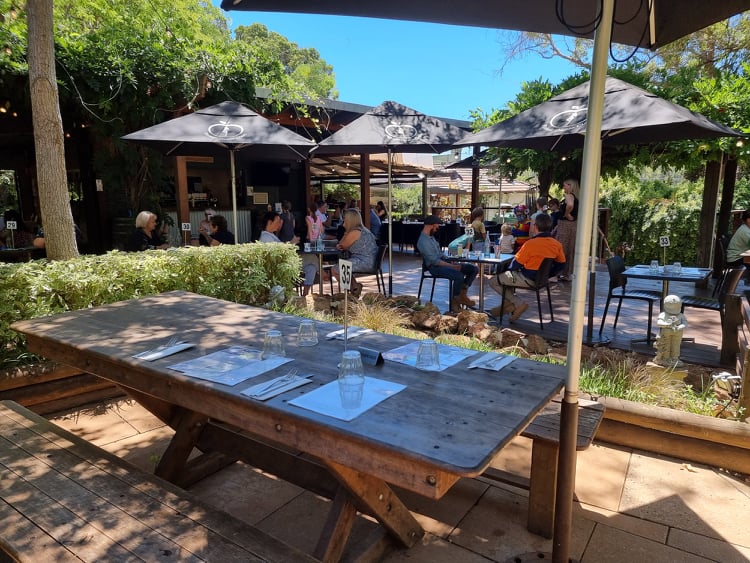 Fairbrossen
Fairbrossen is a small family business. They own and farm 3 different vineyard sites in Western Australia's southwest region. In the Bickley Valley, Perth Hills, they have a cute little tasting room perched over the vineyard.
From this view, you can take in the beautiful forest views. This gorgeous winery and the surrounding vineyards are the perfect places to enjoy some amazing food and drinks. No matter what you're craving, this location will serve up something simply amazing that you just can't resist.
If you are in search of the best Pickering Brook Restaurants, Fairbrossen certainly deserves a special mention. This great little location has plenty of great reviews and a menu to match! Head to the website to read more about this excellent location and what you can expect when it comes to their great service.
Location: 51 Carmel Road, Carmel
Have you ever visited any of the places listed above? If so, let us know about your experience in the comments below! We can't wait to hear about these great spots!