New kid on the Hillarys Boat Harbour block, The Local Shack is already attracting attention from the locals and also from tourists.
The fifth Local Shack in Perth, the others are in Scarborough, Joondalup, Forestfield and Mandurah, this business has been around in Western Australia since 2010.
Billing itself as a hang-out, this franchise operation's star attraction is the burgers, once touted as the best in Perth, which is the most ordered item on the menu. The Local Shack also serves all-day breakfast, salads, steaks, chicken and desserts as well as other items in a huge menu. It is fully licensed and is also open for morning coffee and tea. A big attraction and one I saw several seniors taking advantage of is that kids eat free. For every adult meal priced at over $20, children may choose a meal from the Little Gremlins menu that comes with chips, sauce and a drink.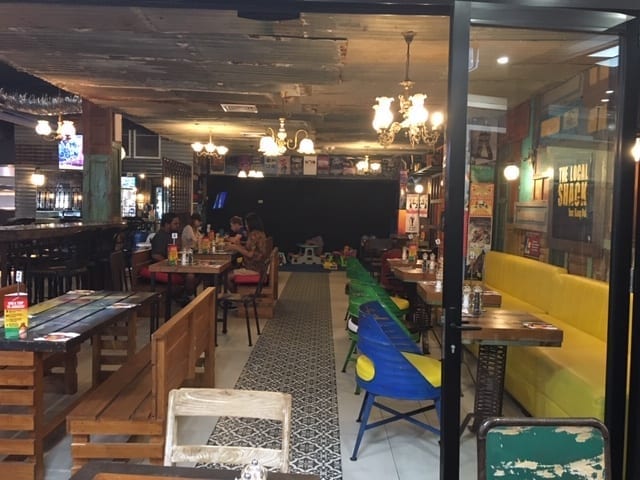 Specials are available every night. If you are a red meat fan, head down on Monday night for $15.99 steaks and Tuesday if you like the sound of the $15.99 Chicken Parmy. Or if you prefer your calories in liquid form, make your way to The Local Shack on a Friday for $12.99 cocktails. Friday night is also billed as Ladies Night.
We were there for lunch and my son-in-law enjoyed the extreme cheese Nachos ($18) which had heaps of mozzarella, chilli con carne, jalapenos and sour cream. My daughter opted for the Shack basket ($18.50) with salt and pepper calamari, seasoned snapper, garlic bread, tartare sauce and chips. Both seafood items were very good. I decided to snack on chips and aioli (small portion $4), while also trying out the other two plates. The Shack's 'famous' chips were disappointing as the seasoning overpowered any flavour – far too much rosemary used on the preparation.
The walls, floors, tables and ceiling all seem to be made of recycled wood, steel and corrugated iron which certainly emphasised The Local Shack's green credentials but perhaps not to the extent of cancelling out the 'fast food' label.
There are plenty of sitting options from sofas and booths to high tables. Games such as Connect 4 and Jenga on tables make it easier to entertain grandchildren and adults alike.
I only found two downsides – service was friendly but patchy and there are no toilets in the restaurant. Patrons can use the nearby public facilities within Sorrento Quay. There is plenty of parking at the Boat Harbour.
Address: Sorrento Quay, 58 Southside Drive, Hillarys
Phone: 08 9448 7669
Reservations: Yes
Opening hours: Sunday-Thursday 7am-9pm, Friday and Saturday 7am -11pm
Gluten-free options: Yes
Vegetarian options: Yes
Entertainment Book: No
Website: thelocalshack.com.au