We love delicious, piping-hot golden fish and chips in Perth! Do you like to eat them oceanside or at Fremantle's iconic Fishing Boat Harbour? Well, we have covered all bases in our guide. So if you're wondering "where's the best fish and chips near me?"… Look no further, Seniorocity has a huge list on the best fish and chips shops to enjoy fresh and tasty seafood in WA!
Fish and Chips in Perth South of the River
Kailis Fish Market Cafe, Fremantle
Kailis Fish Market Cafe has long been a Freo favourite for casual fish and chips. You can see in the cabinets that the freshest seafood is available and the fishing boats are parked at the door. Sometimes it can be difficult to find a spare picnic table overlooking the harbour. There is 10% off menu with your senior's card (bar menu and retail fish market purchases excluded).
Read all about it in the Seniorocity review.
Find Kailis Fish Market Café at 46 Mews Road, Fremantle.
Mandurah Cruises, Fish n Chip Dolphin Cruise
What better way to see Mandurah, built on a beautiful estuary, than by boat! We love the Mandurah Cruises dolphin tour. Did you know for an additional charge, you can enjoy deliciously piping hot fresh fish and chips on board the boat during the cruise?
Read all about it in the Seniorocity review.
Find the Mandurah Cruises Booking Office and Gift Shop at 73 Mandurah Terrace, Mandurah.
Another Fishing Boat Harbour staple is Cicerello's. Dine inside the large seafood restaurant or tuck into your fish and chips under an umbrella on the Cicerello's Landing boardwalk. Enjoy fresh local fish in light, crispy batter, or try the grilled fish option.
Find Cicerello's at 44 Mews Road, Fremantle.
Fish Boss, East Victoria Park and Inglewood
Fish Boss is a local Perth fish and chips shop committed to delivering certified sustainable and local seafood. Their fish is sustainably sourced from local Australian fisherman, growers and suppliers. This business is famous for their fish tacos, and promises you'll "walk away satisfied, but always wanting more!" The
menu
includes classics such as squid and chips or crispy panko crumbed prawns with chips, in addition to a healthier range, tacos and burgers, and kids options.
Find Fish Boss at 789 Albany Highway, East Victoria Park, and at 882 Beaufort Street, Inglewood.
South Perth Fish & Chips, South Perth
Fancy fish 'n' chips by the South Perth Jetty? Why not enjoy your fish with a city view from Sir James Mitchell Park? This group of WA cooks offer fresh fish every day. The menu includes traditional options served with hot chips in addition to their fish burger and fish taco, as well as a range of sides to keep you coming back. They even have fried Mars Bars for dessert!
Tankk Fish and Chips, Winthrop, Melville, Como and Churchlands
Tankk Fish and Chips
has a passion for local seafood and supporting the WA Community. Tankk's committed to giving their customers only the freshest fish from local suppliers. Dine on red spot emperor, salt and pepper calamari, lemon pepper grilled fish and more from Tankk gourmet fish range. Enjoy a free slushie while you wait, and maybe splurge on some churro bites for dessert!
Find Tankk Fish and Chips at Shop 14 Hatherley Parade, Winthrop, 262 Canning Highway, Como, 380 Canning Highway, Bicton, or at 5 Flynn Street, Churchlands.
Best Fish and Chips Near Me – Perth's North
Amberjacks, Cottesloe
Top spot in Cott, Amberjacks, is perfect for an easy takeaway meal to enjoy by the beach. Enjoy a meal from a Cottesloe institution. We discovered it after a dip in the ocean at Cottesloe beach, with our grandkids and we were on the lookout for a quick, casual and easy dinner. Their extensive menu includes sweet potato fries, wedges with sour cream or sweet chilli and a range of homemade salads.
Read all about it in the Seniorocity review.
Find Amber Jacks at 28/94 Marine Parade, Cottesloe.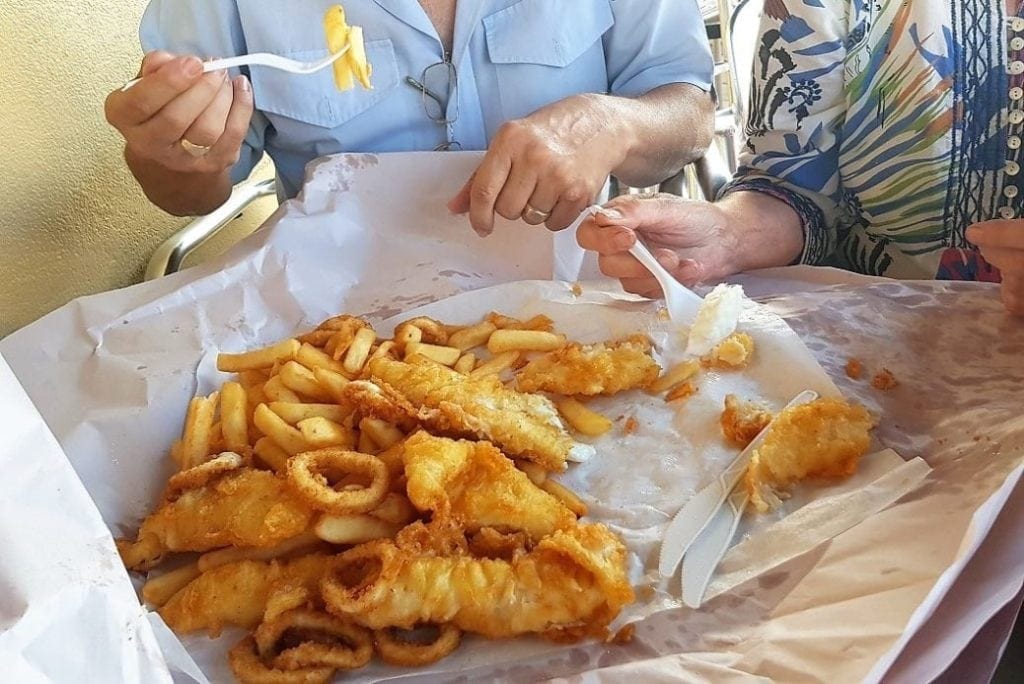 Clancy's Fish Bar, City Beach
If you're on the lookout for fish and chips at a seafood restaurant – be sure to head to Clancy's Fish Bar. Also found at Dunsborough, Canning Bridge and the original pub in Fremantle, sea views are enjoyed from every table. A sign over the entrance "sandy feet and thongs welcome" sums the venue up perfectly.
Read all about it in the Seniorocity review.
Find Clancy's Fish Bar at 195 Challenger Parade, City Beach.
Grand Lane Fish House, Perth CBD
As the name suggests, this tasty take away is found hidden on the mural covered Grand Lane (down the laneway behind Barrack Street). Easily the city's best fish and chip joint – their traditional fish and chips, as well as the huge fish tacos make this a popular lunch spot. Choose from North Atlantic Cod, NZ Hoki, Barramundi and more!
Find Grand Lane Fish House at 135 Barrack St, Perth.
The Groper and His Wife, City Beach
The popular The Groper and His Wife City Beach fish n chip shop is found at the Empire Village Shopping Centre. The casual spot has been operating for over twenty years and won many awards along the way. Also now open in Claremont. Read all about it in the Seniorocity review.
Find The Groper and His Wife at Empire Village, 14/31 Gayton Rd, City Beach.
Kailis Bros, Leederville
You're able to get your fish and chips fix near Perth city, at Kailis Bros in Leederville. The casual seafood restaurant has an array of local seafood's on offer, including Fremantle sardines. Afterwards, you can pick up some freshly caught seafood to take home, at the neighbouring fresh fish market.
Find Kailis Bros at 101 Oxford St in Leederville.
The British Chippy, Currambine, Butler and Karrinyup
The northern suburbs are brimming with British ex-pats. If you are craving a proper cod and chip supper, a trip to The British Chippy in Currambine is a little taste of home. I love their traditional style British fish and chips. They are a slightly different to what you're likely to find at Fremantle's Fishing Boat Harbour. They've also just opened a third outlet at the new Karrinyup Shopping Centre food deck. Read all about it in the Seniorocity review.
Find The British Chippy at Shop C3, Currambine Central, 1244 Marmion Avenue, Currambine.
Canteen, Trigg
If you're looking for a casual feed, with a million dollar view in the northern suburbs, try Canteen at Trigg Beach. Owned by the Kalis Group, the focus is on fast seafood. For people that prefer a healthier meal, Canteen offers poke-style salads too. Read all about it in the Seniorocity review.
Find Canteen at 364 West Coast Drive, Trigg.
Oh My Cod, Mount Lawley and Tuart Hill
Get into some glorious WA seafood! Enjoy dine in or takeaway at award winning Oh My Cod. This WA business sources a selection of local freshly caught fish. Dine on super fresh, crispy fried fish and chips, try their healthier options such as grilled seafood, or try something more gourmet to satisfy your tummy rumbles.
Find Oh My Cod at 649C Beaufort Street, Mt Lawley, near the corner of Walcott Street, or at 73 Royal Street, Tuart Hill.
Santorini Fish and Chips, Mount Hawthorn Bayswater and Forrestfield
Mount Hawthorn fish and chip shop, Santorini Fish and Chips, offer many types of fish to choose from. These include fresh snapper, hoki, barramundi and more! Not only can you get fish, but Santorini Fish and Chips serve a range of vegetarian options, delicious fried favourites, and desserts such as deep-fried oreos and fritters.
Find Santorini Fish and Chips at 148 Scarborough Beach Road Mount Hawthorn (inside Hawaiian's Mezz), 467 Guildford Road, Bayswater, and 20 Strekitzia Avenue, Forrestfield.
Lobster Shack, Cervantes
This is VERY north of Perth! If you visit Cervantes, the Lobster Shack is a tasty dining option. It's the place to go for a delicious lobster lunch – a ½ medium lobster with chips and salad is about $30. The Lobster Shack also holds factory tours around the live lobster processing plant, seal watching tours and fishing charter tours. Read all about it in the Seniorocity review.
Find Lobster Shack at 37 Catalonia Street, Cervantes.
Have you noticed we haven't included the "Perth's best Fish and Chips near me"? If we missed your favourite spot for finger licking fish and chips in Perth, let us know in the comments below!
Find more cafes and restaurants in Perth here.