When one of our seniors group suggested we go to a quiz night, I was initially a bit sceptical. None of us had been to a quiz night for years – what if all the questions were Kardashian and MAFS related? However, we decided to give it a go and headed to The Northshore Tavern in Whitfords City.
The Northshore has been around for a long time and enjoyed its status as Whitford City's only pub however the opening of the mall's food precinct, which included another pub, has probably impacted on the Northshore. Nevertheless, Northshore's huge space still attracts a large clientele with its sports bar, TAB and different dining areas including a good outdoor space.
First up for us was dinner – there was a reasonable size menu, which included salads as well as the usual pub grub, but pub grub was our preferred option. Two of us had burgers, one had the vegetarian burger and the other four went for the Thursday Daily special of a pint (or a glass of wine) and a parmy for $20.
The chicken parmigiana was a good size and came with chips and a small salad.
I went for the bacon burger and because I hadn't read the menu carefully enough, I ended up with the Bacon Behemoth ($26). Sandwiched in a large bun were two beef patties, caramelized onions, deep-fried bacon, cheese, sauce and more bacon. I was even more stunned when a server arrived and apologised on behalf of the chef – he had forgotten to add a fried egg on my bun and had made one separately for me! Needless to say, I could not finish the huge burger.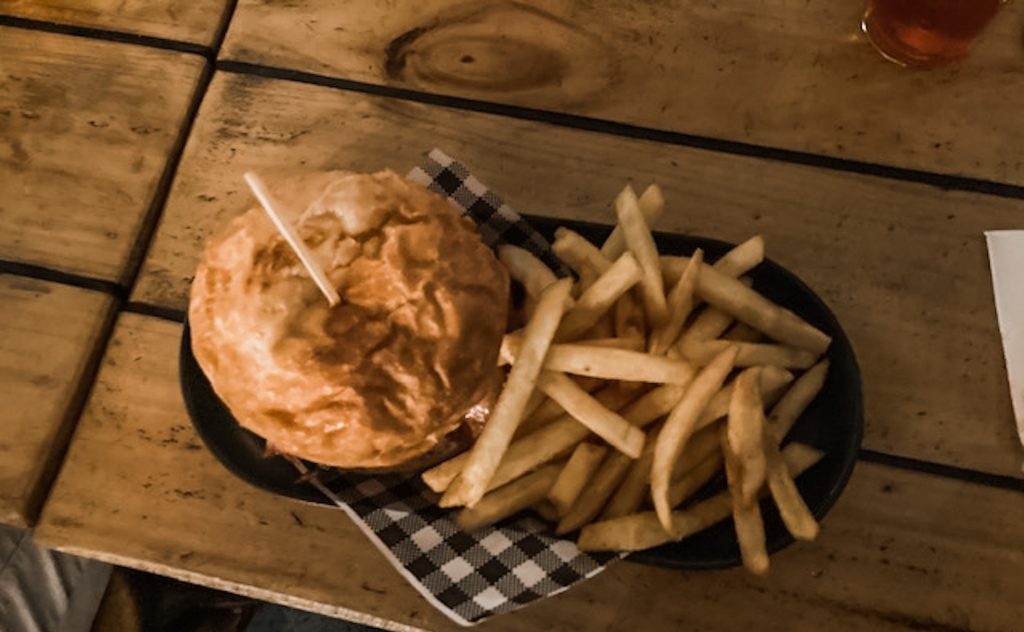 Our pescatarian friend enjoyed the Veggie Burger ($22) that contained grilled halloumi and a large salad. Haloumi can be tough if overcooked but this was done perfectly.
All staff members were friendly and we didn't have to wait long for our food to arrive but we all felt that more attention should have been paid to cleaning as tables were sticky and floor spills were not mopped up.
Now it was time for the quiz. Run by Perth's Bamboozled Quizmasters, all five teams were given a quiz sheet – ten rounds, two bonus questions and a piece of paper. Most of the rounds were general knowledge with some multi-choice questions. There was one music round and an observation question. Then we came to the piece of paper – each team had to make a paper plane and let it fly. The team whose plane travelled furthest won a point. We will gloss over our attempt as the last time paper planes were on our agenda was during our schooldays…
But we were not yet finished with the piece of paper. The next challenge was to tear the paper into an apple peel configuration. Our team came second – missing out to a young mum who managed to get a great length on her 'peel'.
The pace was unhurried with plenty of time to answer questions then we swopped papers with another team for marking.
Guess what? We won! Of course, we were all thrilled especially as the first prize was a $100 voucher. The team who came second won a $75 voucher and the third place getters took home a $50 voucher.
Quizzes are held every second Thursday. The Northshore has daily food and drink specials and also has function spaces.
Will we go back? You betcha – after all, we are the defending champions…
Address: Whitfords City, corner of Marmion and Whitfords Avenues.
Phone: 08 9307 4511
Reservations: Yes
Opening hours: Seven days. 11am – until late
Gluten-free options:
Vegetarian options: Yes
Restrooms: Clean and accessible
Parking: Lots of parking in the outside the Tavern and in the mall
Website:www.thenorthshoretavern.com.au
Find more places to dine out in Perth