The Watermans Bay Coastal Walk is a stunning place to pound the pavement on a sunny day. The coastal path is bustling with activity and stretches all the way up Perth's west coast from Munster (south of Fremantle) to Burns Beach in the north.
The section of pathway north of Lennard Street takes you along the road, then deviates off through the dunes and along the rocky cliffs of Watermans Bay. Along this part of the pathway there are covered lookout points, with benches to stop and enjoy the ocean view. For wildlife enthusiasts, there are birds and other native wildlife to be found living in the bushes. We often see blue-tonged lizards.
The beauty of this walk is that you can park anywhere and make any spot your starting point. There's plenty of street parking available. We like to park at the Marmion Marine Park's car park, which is a hidden spot off West Coast Drive, next to the Watermans Bay Playground (opposite Ada St). At peak times (summer weekends) it can get very busy.
We get a coffee from The Little Bay (Formerly Café 33) then walk north for about 20 minutes, to the Marmion Angling Club before turning back. This makes for a relatively easy 40 minute, 2.5km walk. If you prefer to walk or cycle further, a round trip north to Hillarys Boat Harbour (6kms) or south to Trigg (6kms) will challenge you further.
The dual use path is very popular with walkers, joggers and cyclists, so it's important to keep left and keep an ear out for overtaking people on bicycles. The pathway is also a popular spot to take dogs for a walk, being close to the North Beach dog beach (between Castle and Margaret streets). There's bags and bins available along the pathway to pick up after your pooch.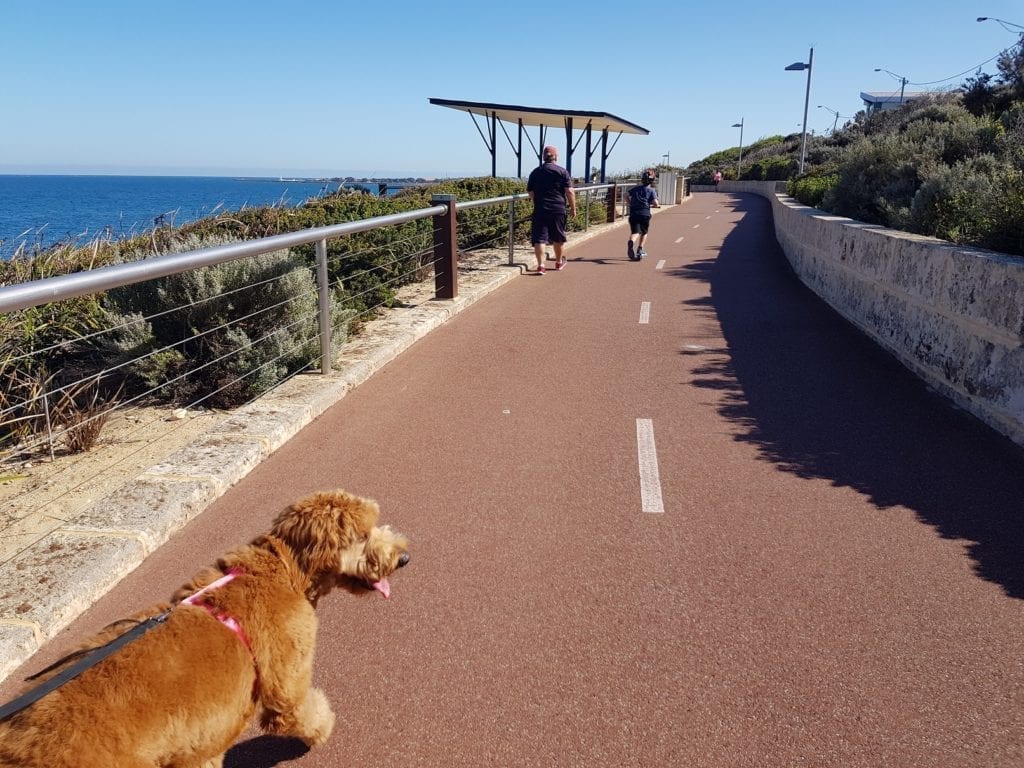 There are public toilets found at Watermans Beach, as well as Marmion Beach. At the Watermans Bay Playground there are shaded picnic tables, BBQs, a fenced and gated children's playground for grandkids and also a beautiful little beach down some steps if you'd like to cool off after a walk.
The path is mainly flat, with a few gentle hills, which are easy enough if you take the walk at your own pace. I recommend walking first thing in the morning, before the sea breeze comes in. An evening walk is also lovely if you enjoy a sunset.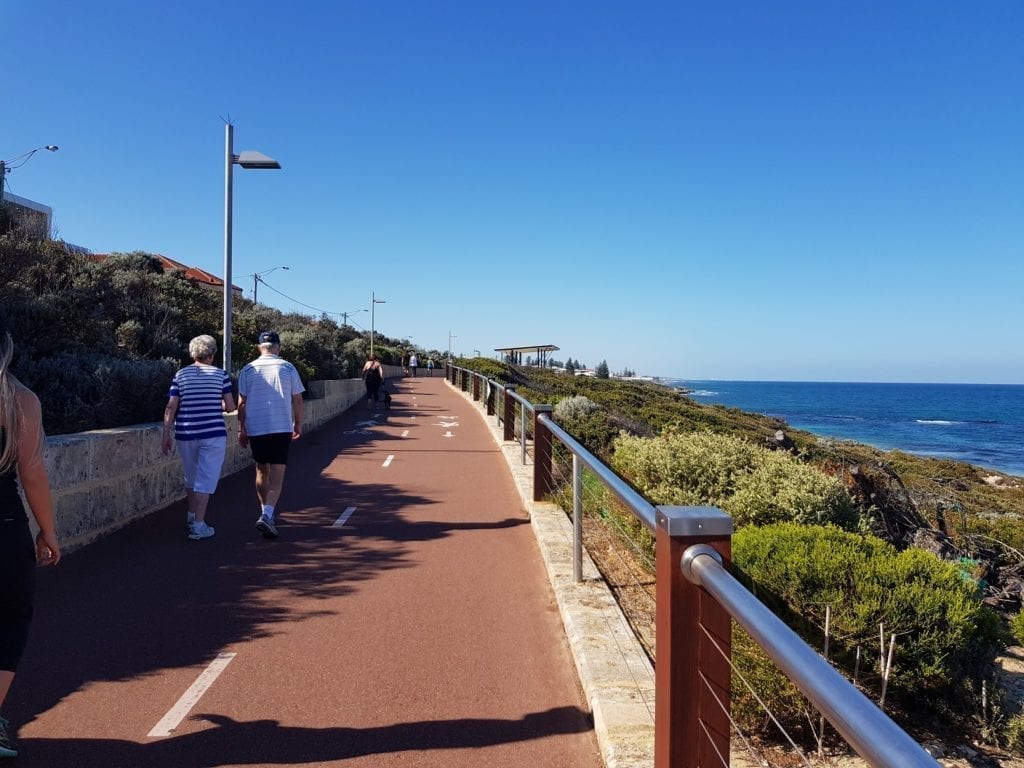 Love Walking? Find more ideas for places to walk in Perth here.