Every winter, many of our friends jet off to Bali in search of the sun, and enticed by the value for money. We've never yet been, though I'm sure that one day we will; but for the moment we prefer to do something a little bit different.
This year we decided to holiday in our own state of W.A. so we packed our bags and flew up to Kununurra for some adventure in outback Australia. I can hear you already protesting the cost of accommodation and airfares in W.A. and yes it's true that accommodation is expensive when compared to Asia and let's be frank, the flights can be extortionate; but we saved our airline reward points to pay for the flights, and with a little research it is possible to get a reasonable deal on accommodation.
The Kimberley region is remote and vast; home to the Bungle Bungles, the Cockburn Ranges, and the famous Gibb River Road. There are spectacular views of breathtaking gorges and towering waterfalls, freshwater swimming holes and crocodile-infested rivers; offering the chance of a unique wilderness holiday experience.
Kununurra meaning 'big water' in the language of the local Miriwoong Aborigines is the gateway to many of the surrounding must see places and areas in the Kimberleys. From Kununurra there are many places within easy reach to discover and explore. To get the best out of your holiday a 4WD is a must. Without a 4WD we would have missed so much, because although the major roads are sealed, once off the bitumen the roads and tracks are very rough.
There are a variety of accommodation options to choose from; whether you want to go your own way, camping; stay in hotels and motels, or travel further afield to the outback stations. We chose the latter, and spent a week Station hopping.
Adventure abounds at every turn, whether it be 4WD trips, horse riding, swimming with freshwater crocodiles, or under cascading waterfalls, hiking, or taking to the skies for a bird's eye view from a helicopter. We drove on the Gibb River Road, forded rivers to outback stations, swam in an infinity pool overlooking the spectacular Lake Argyle and hiked our way up to see towering waterfalls and amazing views.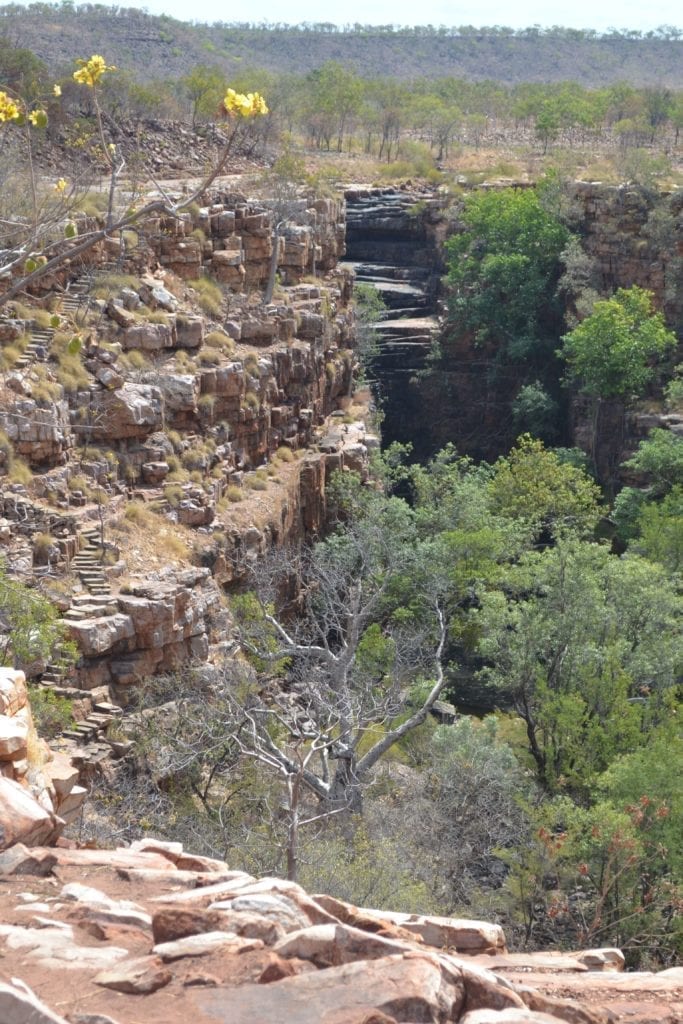 Don't make the mistake of thinking adventure is only for the young; judging by the number of 'grey nomads' everywhere we went, the Kimberleys is obviously on a lot of people's bucket list.
Before arriving I had the impression that there would not be a great deal to do in and around Kununurra- how wrong can a person be? The week flew by, and I think we only got a glimpse of what the Kimberley has to offer. Would I recommend this holiday? You bet your life I would!. Is it expensive? Yes in comparison to Bali, but I think it's one of those bucket list trips that I am so glad I got to do. On one of our outings, we bought a bumper sticker which read "The Kimberley- Adventure B-4 Dementia" and I think that just about describes our time in the Kimberley.