Situated on the border of the Swan Valley in Caversham, the Old Fig Tree Restaurant sits in grounds shared by Funk Cider and Ironbark Brewery.
The restaurant has a Mediterranean feel with an alfresco area as well as a more formal dining room.
We arrived on a miserable, rainy Sunday lunchtime, without a reservation, expecting to get a table without too much trouble due to the bad weather, but to our surprise, the restaurant had quite a lot of bookings for various celebrations. That said the waitstaff quickly pulled tables together to make space for our party of seven. We were seated in the dining room and were immediately handed menus, water for the table and colouring pages for the children. Drinks were ordered and the children's meal selections, whilst the adults took their time to browse the menu. For entree, we chose to share the Stuffed Jalapeños, $14.50. The jalapeños were filled with cheddar and cream cheese, crumbed, deep fried and served with sweet chilli dipping sauce. There were four to a serve, so two serves were plenty for the four of us to have a taste.
For the main course, the men ordered the Fillet Steak Open Sandwich $22.50 served on Turkish bread with melted cheese, bacon, mushroom sauce, spinach, sun dried tomatoes, aioli and a side of chips.
We ladies opted for the Fish of the Day $32.50 which on this day was Barramundi grilled, with roasted potatoes and salad. The men were very impressed with their steak sandwiches but we found our meals a little plain, although, to be fair the fish was cooked nicely.
The kids had Chicken Nuggets & Chips, and Cheeseburger & Chips, both $10.50 and good sizes for children.
We had a selection of desserts; Peppermint Crisp Tart, Sticky Fig Pudding and cheesecake, and the kids had vanilla ice cream.
The restaurant was quite busy all through lunch service, but we found the staff very attentive and friendly.
The restaurant advertises $15 specials on weekdays, which I am sure must prove popular in today's financial climate.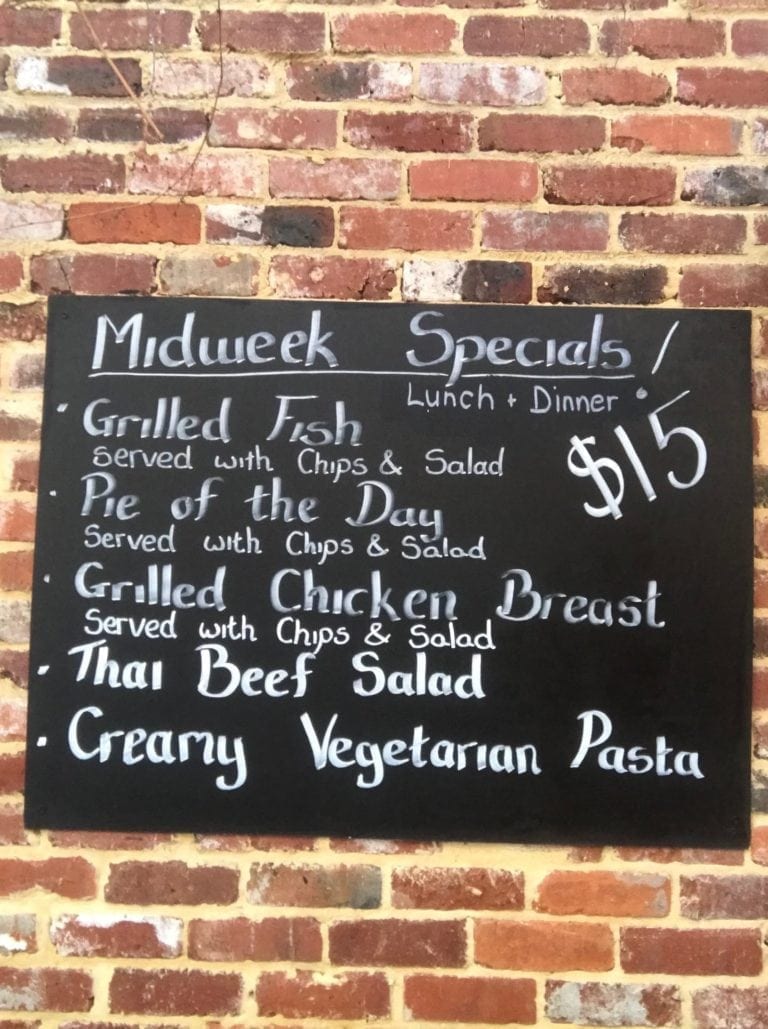 The overall vibe of the restaurant seems to lend itself to families and the more mature clientele rather than the trendy, hipster crowd. On this particular day there were anniversary celebrations and an 80th birthday party along with other various family celebrations.
The Old Fig Tree Restaurant, 55 Benara Road, Caversham PH:9377 7474
HOURS: Tuesday – Friday 10am-9pm
Saturday- 8am-9pm
Sunday & Public Holidays 8am-5pm
PARKING: Large, level carpark onsite
TOILETS: Toilet block shared by all 3 restaurants and a bit of a walk.