The Mallard Duck in the Swan Valley has recently been taken over by the same management as The Henley Brook. "The Duck" and "The Hen" are both popular venues, with the newest spot being geared more towards adults. It's strictly "adults only" on the weekends. We stopped by for lunch on a typically hot summers day. What I was surprised to find at The Mallard Duck, is that it is an outside venue. A temporary marquee-style dining room has lots of tables, though as it isn't air conditioned, we opted to sit outside where it was cooler. It was nice to sit under the big palm trees, overlooking ducks swimming on the dam.
There is a relaxed "young" feel. The background music, I was told by my 30-something daughter, was mainly chilled house (dance) style music. Think Ibiza by day. This seemed like an odd-fit, as on this mid-week lunch the average age of diner must have been about 60 years old. But perhaps a different aged crowd descends on the trendy spot during the weekends?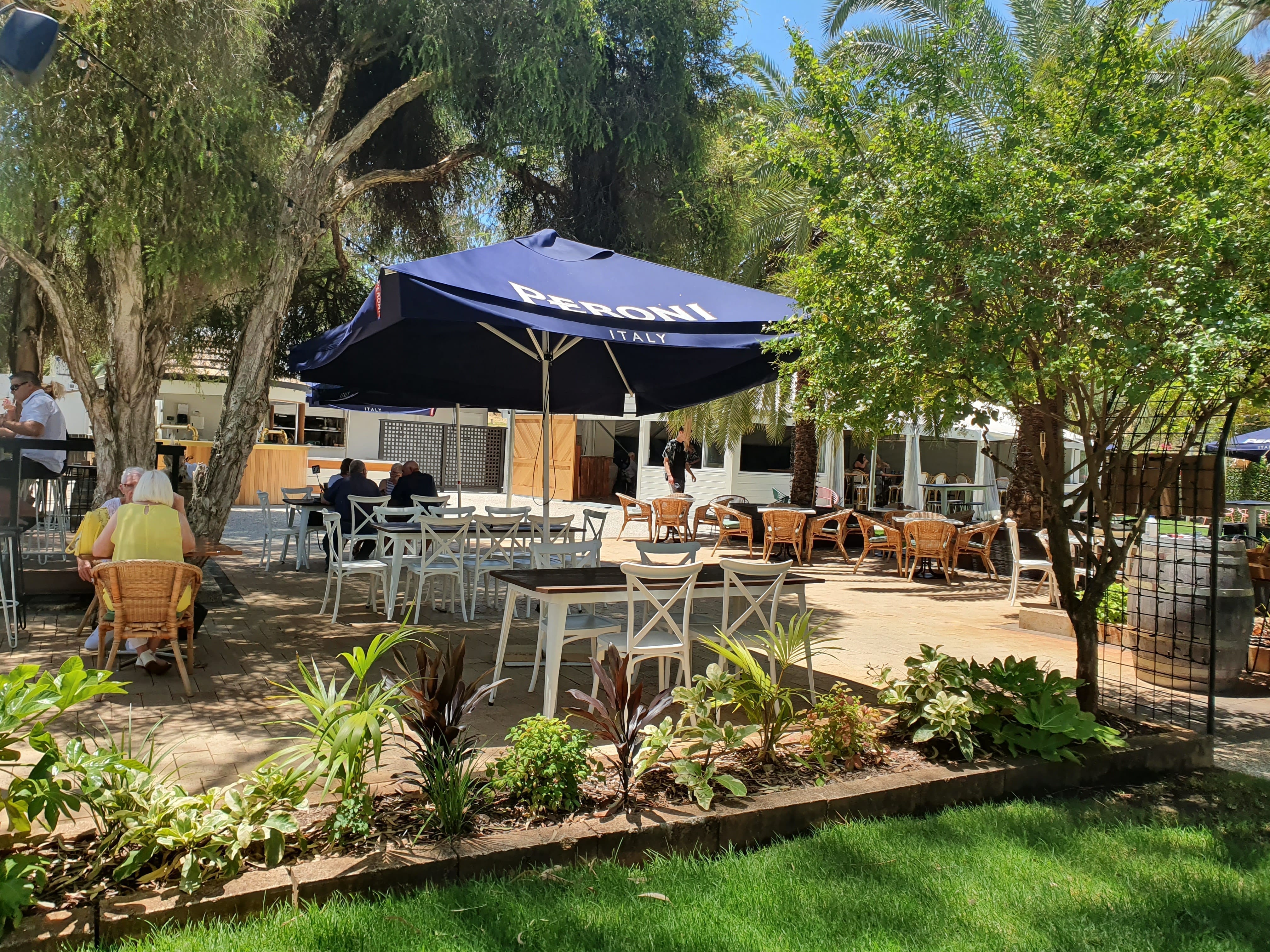 There's a decent drinks list, with plenty of choice and a focus on cocktails. The menu is designed to share, with small plates and more substantial dishes. The pancetta and manchego croquettes served with dill ranch were delicious and surprisingly gluten free. Much of the menu caters for those with gluten intolerances. A stand out share dish is the pork belly bites, with bbq caramel glaze and fried shallots. The pork was SO tasty! We love a bowl of chips and the hand cut chips, with smoked paprika aioli and kimchi ketchup was generous.
A more substantial share plate, the bbq beef brisket with smoky bourbon glaze is served with focaccia and a chicken skin butter.
There are a few salad and vegetable dishes to choose from too, I'd recommend the charred baby courgette, with butter leeks, broad beans, peas, asparagus and a fresh gremolata.
All in all, I'd head back to The Duck on a cooler day, for the excellent food and lovely setting. I wasn't keen on the background music, and thought it was a little loud, but that's just my age showing!
Find The Mallard Duck at 10 John Street (corner West Swan Road), Henley Brook.
Get more info on their website.
Discover more restaurants in Perth here.