Kings Park, in Perth, is 400 hectares of bush and manicured gardens overlooking the Swan River. The internationally renowned spot, one of the biggest inner-city parks in the world has stunning plant displays, spectacular views of Perth city and so much to see and do. It's the spot to take visitors to WA, for the uninterrupted views of the city, river and Perth hills. Kings Park is home to Botanic Gardens, cafes, playgrounds and more. See the Seniorocity guide to Kings Park and discover something new there today!
The Botanic Gardens
The Botanic Gardens are wonderful for a wander at any time of year, but come particular alive in early spring, during wildflower season (July to October). Here there's a beautiful display of WA's indigenous flora, as well as water features, gazebos, hidden nooks and trees. Throughout the gardens, there are lookout points along the river, as well as spots to learn about our Indigenous history.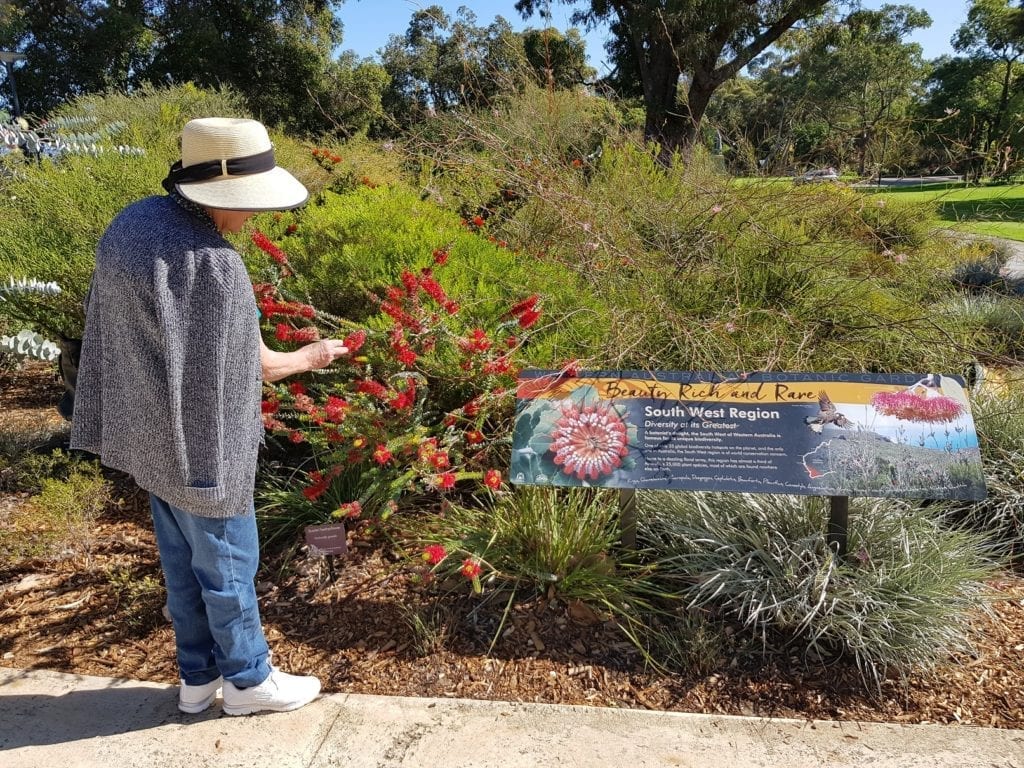 War Memorials
As well as the indigenous history, Kings Park has a big link to remembering the people that have fought for Australia in past wars. It is interesting to learn that Kings Park has more memorials, statues and honour avenues than any other park in Australia. The grand gum tree-lined Fraser Avenue, leads up to the State War Memorial. The nearby Flame of Remembrance burns continuously. The Ceremonial Walk pays tribute to the fallen and honours all Australian servicemen and women. There is a self-guided Memorials Walk, which is 1.7 km long and takes approximately one hour to walk.
Gallery and Shop
Near to the State War Memorial on Fraser Avenue, there is The Aspects of Kings Park Gallery Shop. The shop displays local art pieces for sale, as well as gifts, books and souvenirs. It's a great place to take visitors to find something unique to WA and locally made. Nearby is the Visitor Information Centre, which has helpful staff.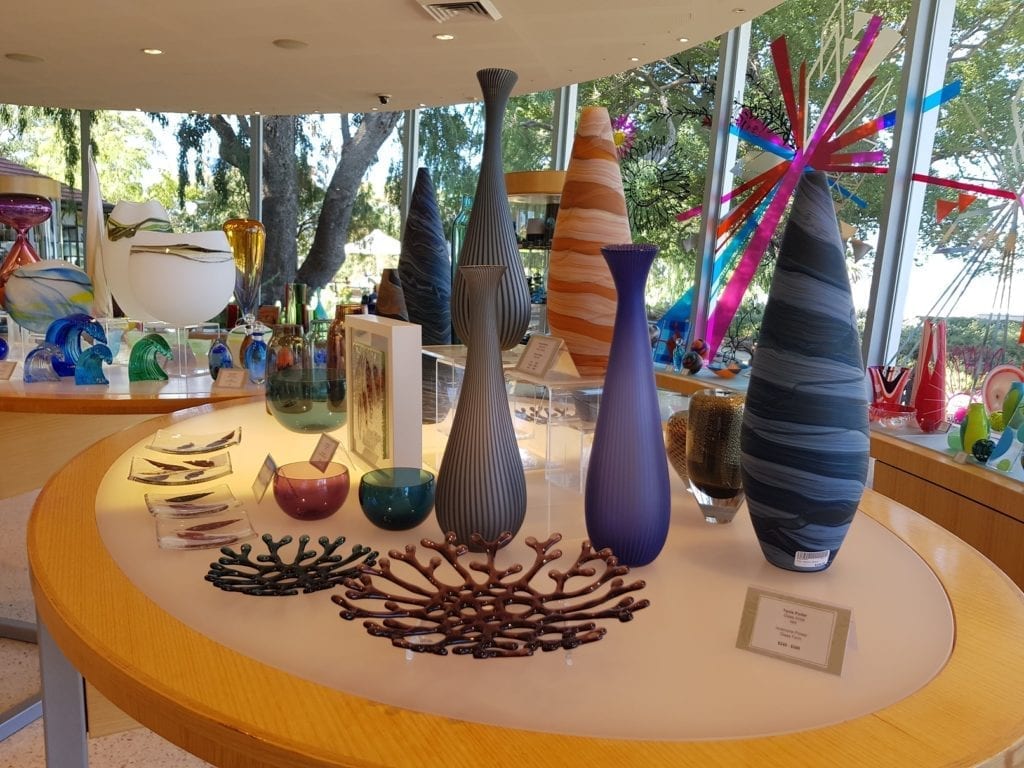 Restaurants and Cafes
There are plenty of dining options at Kings Park. From fine dining at Frasers, to a kiosk selling snacks on the go. There are also several casual cafes – the Botanical Café at the main Fraser Avenue Precinct, Zamia Café at May Drive Parklands and Sticky Beaks Café at the grandchild friendly Ivey Watson Playground.
Lotterywest Federation Walkway
The unique Lotterywest Federation Walkway is found in the Botanic Gardens. The 620-metre long glass and steel arched bridge, makes for a pleasant walk through the canopy of Karri, Marri, Tingle and Jarrah trees. After you've walked west over the bridge, continue through the park, past the meandering streams.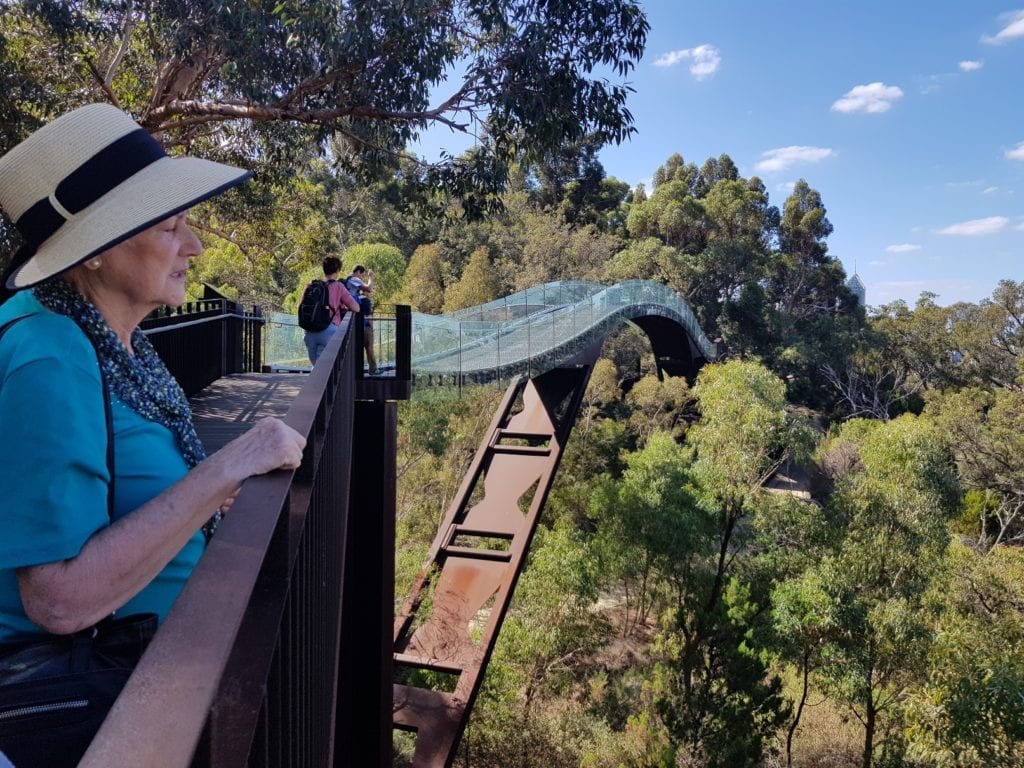 Boab Tree
The ancient boab tree was transported over 3,200 kilometres, from Warmun in WA's Kimberley region, to Kings Park in 2008. Since then, the 750 year old tree has continued to flourish and has a fascinating story. It can be found at Two Rivers Lookout, at the end of Forrest Carpark.
The DNA Tower
The DNA Tower in Kings Park, represents the double-helix molecule. The spiral staircase, with lookout enjoys views across Kings Park and the Swan River. It's the highest view point in the park and on a clear day, you may even see as far as the Indian Ocean and Rottnest Island. The 15 metre tower has 101 steps to the top platform. The DNA Tower is found at the Forrest Drive end of the Broadwalk Vista.
Free Guided Walks
Volunteers lead free guided walks, starting at 10am, 12 noon and 2pm daily from outside the shop, Aspects of Kings Park. Brochures are also available at the Visitor Information Centre if you wish to enjoy a self-guided walk.
May Drive Parkland
The lush golf-green lawns of May Drive Parkland are a popular spot to throw down a picnic rug. There's plenty of barbeque facilities, as well as a small lake full of Stromatolites (living rocks), and playgrounds that include a large wooden play structure with elevated walkways, as well as a giant crocodile and dinosaurs. Zamia Café overlooks the lake and serves snacks, meals and a range of sweet bites to enjoy with a cuppa. There is also a takeaway kiosk, perfect for an ice cream treat. In summer, the Moonlight Cinema is also found here.
Playgrounds for Grandkids
If you have young grandchildren, the Ivey Watson Playground is a wonderful place to take them for imaginative play. Best for children 6 and under, there is a firetruck, aeroplane, small maze, a pirate ship and even a castle with a throne! Stickybeaks Café is found here which offers a selection of food and drinks.
The Rio Tinto Naturescape is a unique play space for kids that love to get their hands dirty! So be prepared with a change of clothes, as the kids will get dirty and wet! Here they can paddle in creeks, build dams in streams; climb towers, build cubby houses with sticks and more.
Saw Avenue Natureplay and Variety Place are perfect for family picnics. The unique picnic furniture and play elements are created from recycled timber in Kings Park.
The May Drive Parklands is also a popular spot with children. There is a large wooden structure, with slides, fireman's poles and there are lots of dinosaurs and prehistoric animals to find too.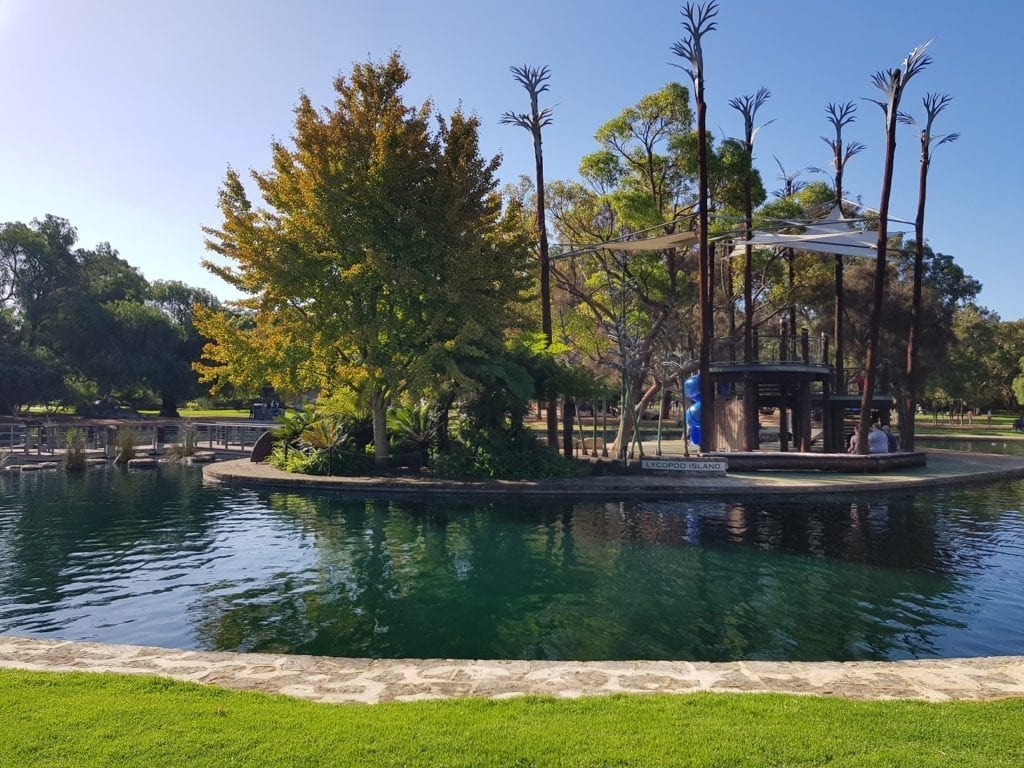 Kings Park in Perth offers something for everyone with its abundant natural bush, parkland perfect for walks and picnics, as well as events and concerts. It's very accessible for those with wheelchairs and walking frames. There are many flat, sealed pathways, as well as ACROD parking and disabled toilets throughout.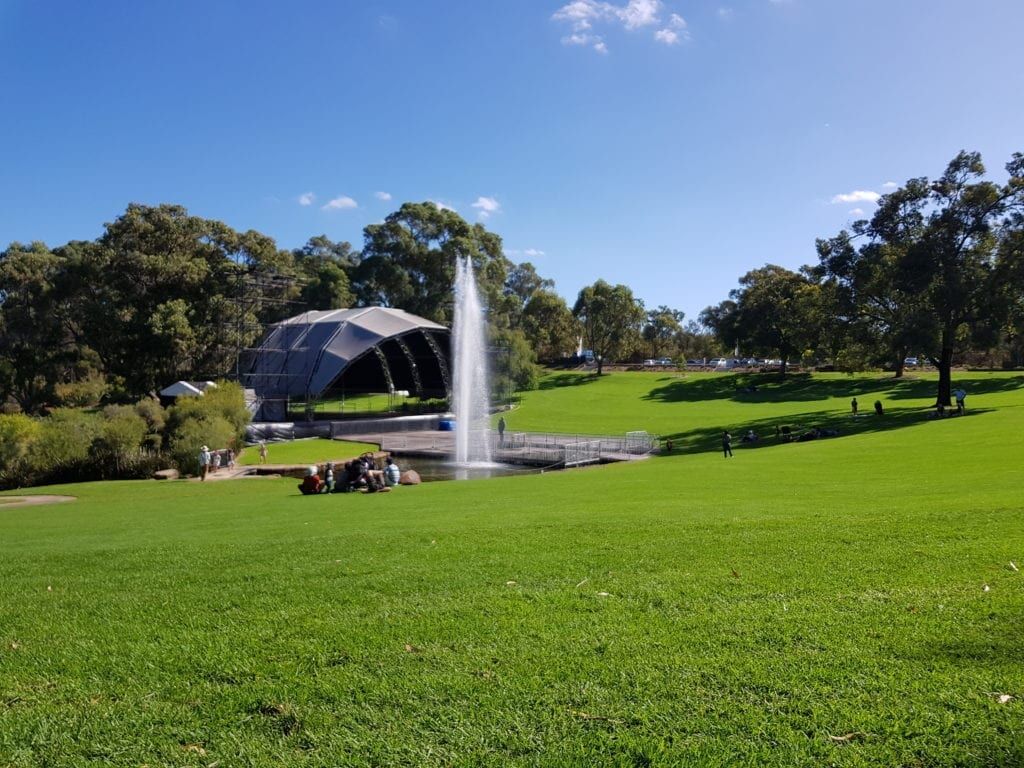 For more information, visit the Kings Park website.
Find more things to do in Perth here.