Lake Joondalup in the northern suburbs is Perth's largest freshwater lake and is part of Yellagonga National Park. Our seniors' group decided to walk around the lake to enjoy the views, the sunshine and the wildlife.
There was plenty of sunshine and a fair amount of wildlife but views of the lake were few and far between.
Starting at Neil Hawkins Park, the clockwise walk took our party three and a half hours to complete the 16.5km loop.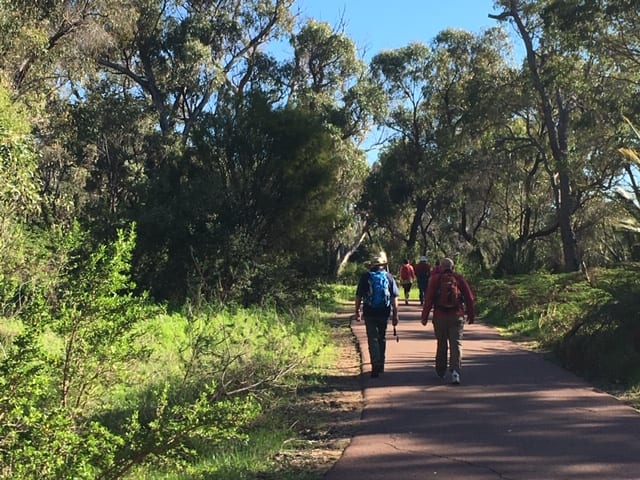 Neil Hawkins Park is a lovely area for families to picnic or have a barbecue. There is also a large play area and toilets. As well as the always-welcome sight of a mobile coffee van nearby.
Lake views from the park are stunning but for most of the way around, the lake is hidden by overgrown trees and vegetation. There is also on-going construction work which necessitated walking along parts of Wanneroo Road and Burns Beach Road. More signs are needed to point out the detours, as our group was not the only one to find it confusing.
The lake loop is very popular with cyclists – speed racers as well as families enjoying a day out. Cyclists, please take note that the bell on one's bike is there for a reason – please ring the bell to warn walkers of your approach!
The wetlands are habitats for the oblong turtles, frogs, snakes, ducks and swans. Kangaroos bounded along – too many to count and there were lots of ducks, frogs and swans but no turtles and thankfully, no snakes.
Every member of our group found the walk hard on the feet as the entire loop is walked on a hard surface. Meanwhile, the seniors would have appreciated a few benches to rest aching limbs and toilets along the way would have been really good. As it was the group made use of the toilets at Leapfrogs Café/Wanneroo Botanical Gardens and had lunch sitting on a wall at one of the many play areas along the way. The play areas were all well set out, especially the Wanneroo Rotary Park play space which would be a great place to take grandchildren.
This would be a difficult walk in the summer months as there is not a lot of shade available.
Address: Neil Hawkins Park, 200 Boas Avenue, Joondalup
Cost: Free
Facilities: Very few on the actual walk. Neil Hawkins Park: Plenty of parking, toilets, barbecues, children's play area, picnic tables and shaded benches.
Website: trailswa.com.au/trails/lake-joondalup-circuit/