If you love the sea there's a wonderful new tour operating from Rottnest Island. Rottnest Cruises' Wild Seafood Experience is an interactive tour where the crew take you out on their boat to catch Western Rock Lobsters (crayfish) and then eat them as part of a delicious seafood lunch.
The family owned charter company have recently started their luxury boat tours. After earlier taking the ferry over from Hillarys, we boarded the modern at the Thompson Bay Duel Jetty. Here the friendly, chatty crew greets you with a drink (beer, wine, soft drink or water) and seafood canapes. Once the group is assembled, we cruise over the ocean to the area where their cray pots are found, enjoying the beautiful and scenic Rottnest coastline along the way. Once we're out on the open ocean, it gets a little choppy, but there's seating if you don't have your sea legs! It's also essential to take sun cream, flat shoes and sunglasses.
If you would like, you can have a go at pulling the crayfish pots, with the help of an electric winch. We're told it's been a good season so far, and that we should find some tasty Western Rock Lobsters! Its lots of fun and the group found plenty of crayfish for lunch (and even a cod!).
We also learn a lot, as we need to determine if the Western Rock Lobster is able to be kept – whether it's big enough and also if it's male or female – females with eggs are thrown back into the ocean.
While the bounty of crayfish was being cooked on the barbeque, the boat was moored in Parakeet Bay. Our view from the table was breathtaking!
The Seafood Lunch
We begin the three-course seafood feast with a platter full of fresh seafood to share – prawns, crab, marinated octopus and freshly shucked oysters. Next we enjoy a fresh fish and slaw tacos, there were plenty of tasty salads and bread too.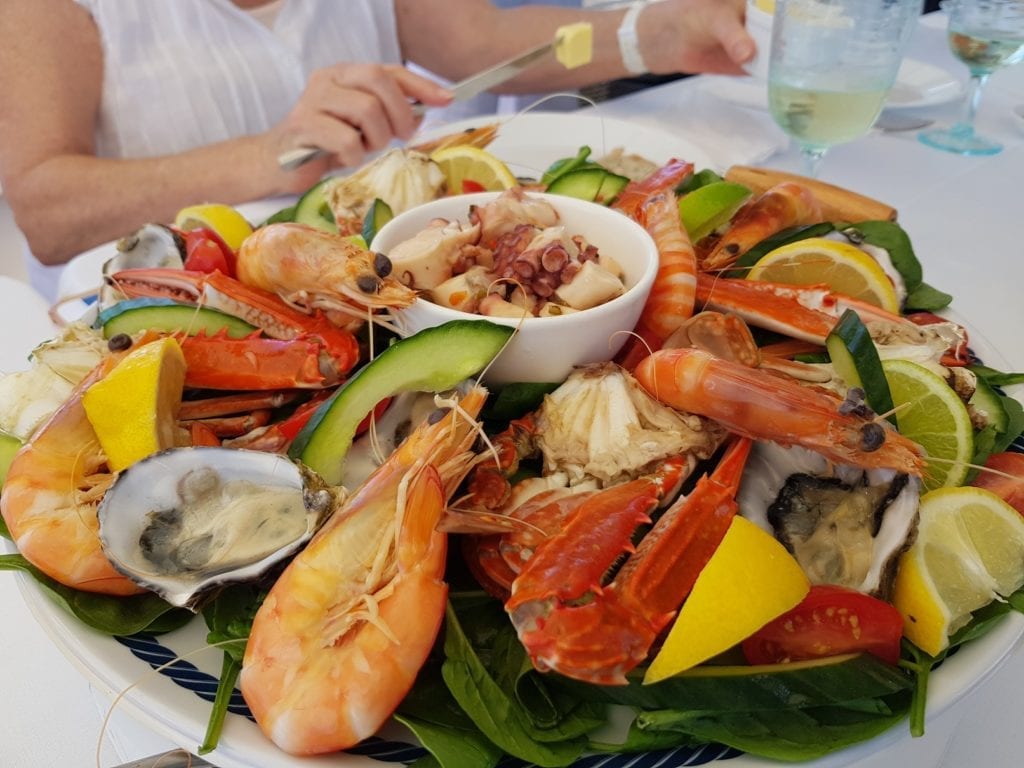 Then it was time for the main event – the barbequed western rock lobster. It had been cooked in herb butter, making the flesh even more delicious and tender. Most definitely the freshest and tastiest crayfish I have eaten. There's half a cray guaranteed per person, plus you might be lucky to get a little more if there's a good catch that day.
We finish our lunch with something light and sweet – strawberries dipped in chocolate and chocolate cake.
The Rottnest Cruises Wild Seafood Experience is a must for food lovers. We thoroughly enjoyed the two and a half hour cruise – the other people on the tour were so friendly, as were the lovely crew. We had such a laugh and a magical, unique experience.
Tours operate daily from Rottnest Island. Introductory cost (until Feb28 2019) is $175 per adult. Includes 3 courses, canapes and unlimited beverages. 
More information on their website.
Find more things to do in Perth here.