Found at the busy Fremantle Port, the WA Maritime Museum showcases Fremantle and Western Australia's rich past as a coastal city and port. The working port, built by CY O'Connor, was where I first set foot in Australia in the 1950's as a "10 Pound Pom", so it's a very special place for me too.
The modern Museum is home to galleries and exhibitions that explore WA's diverse relationship with the sea. From fishing boats, leisure boats and sailing boats, visitors to the Museum will discover that there is so much to see. I visited the Museum with my history-loving husband and grandson.
The welcome walls outside the museum are covered in the names of families that immigrated to Australia from all over the world – including my own parents and six brothers and sisters.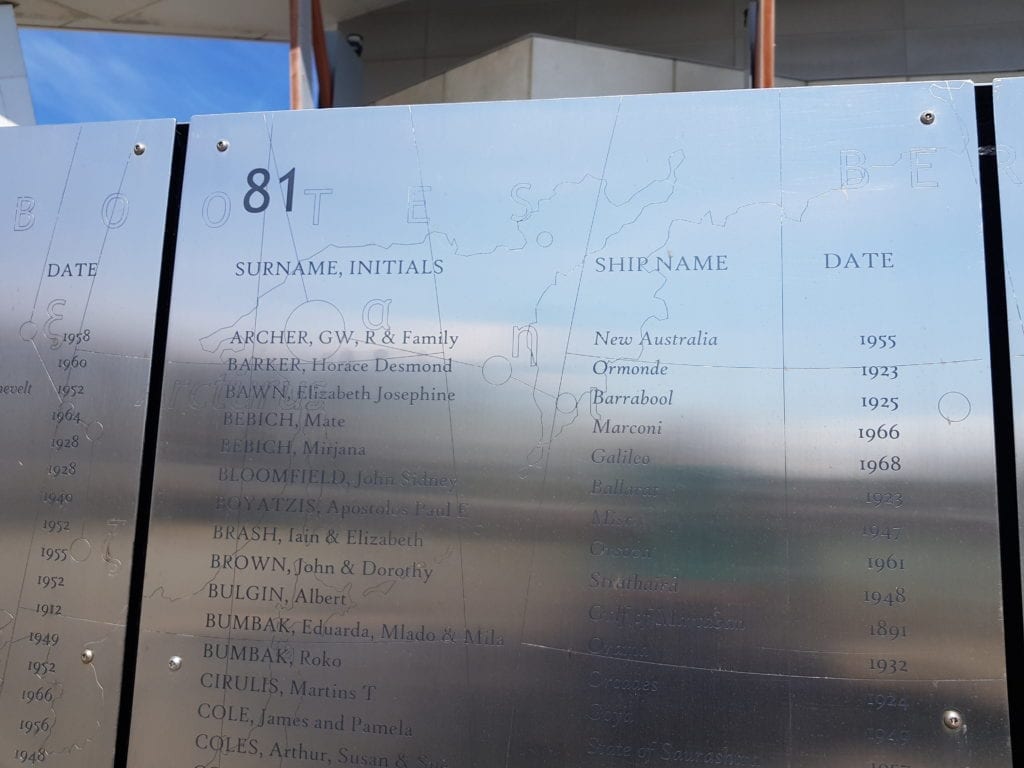 Being a Maritime Museum, I had expected lots of boats to be on display, but what I was surprised to find was just how much boats are used in everyday life for a whole manner of things. You can even climb aboard one of the old ferries that was used as a pleasure craft on the Swan River. Grandkids will love pretending to be the captain at the wheel of the boat.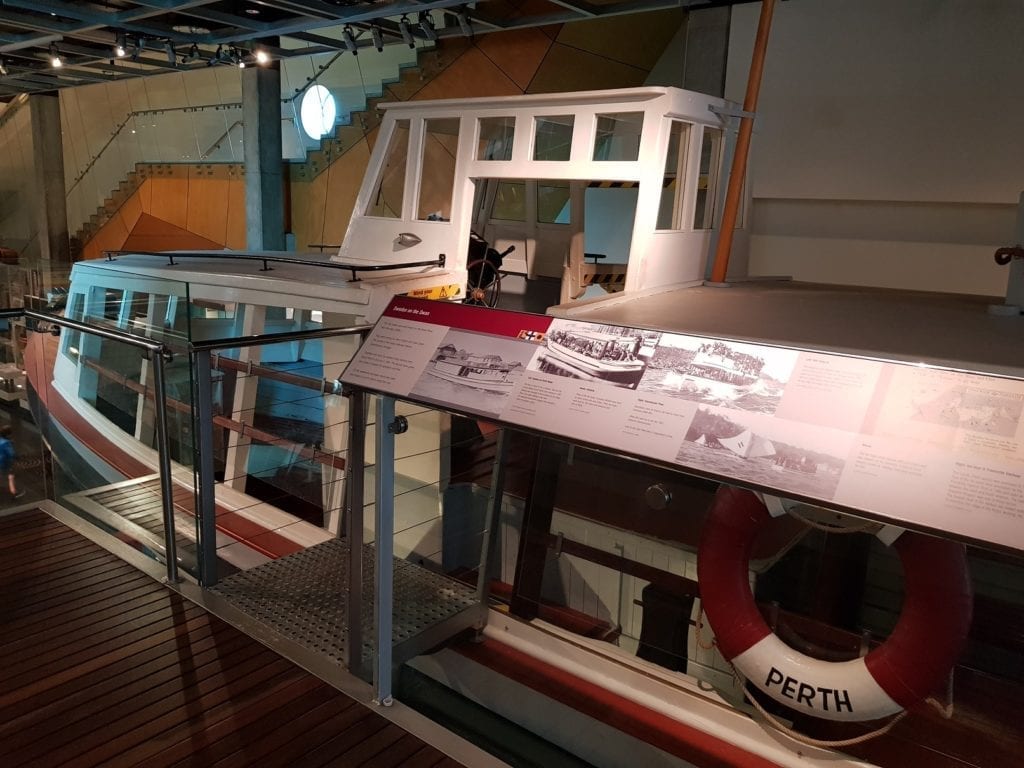 Jon Sanders' Parry Endeavour is on display and many iconic vessels from WA's maritime history. One of the many highlights of the Museum is viewing the winning America's Cup yacht, "Australia II". I was lucky enough to come face to face with the shiny Americas Cup when it visited Fremantle in the 1980's.
A preserved Megamouth Shark is found in the main hall. The huge beast is one of the world's rarest sharks (only 9 have been found worldwide). This shark at the museum was discovered in Mandurah in 1988.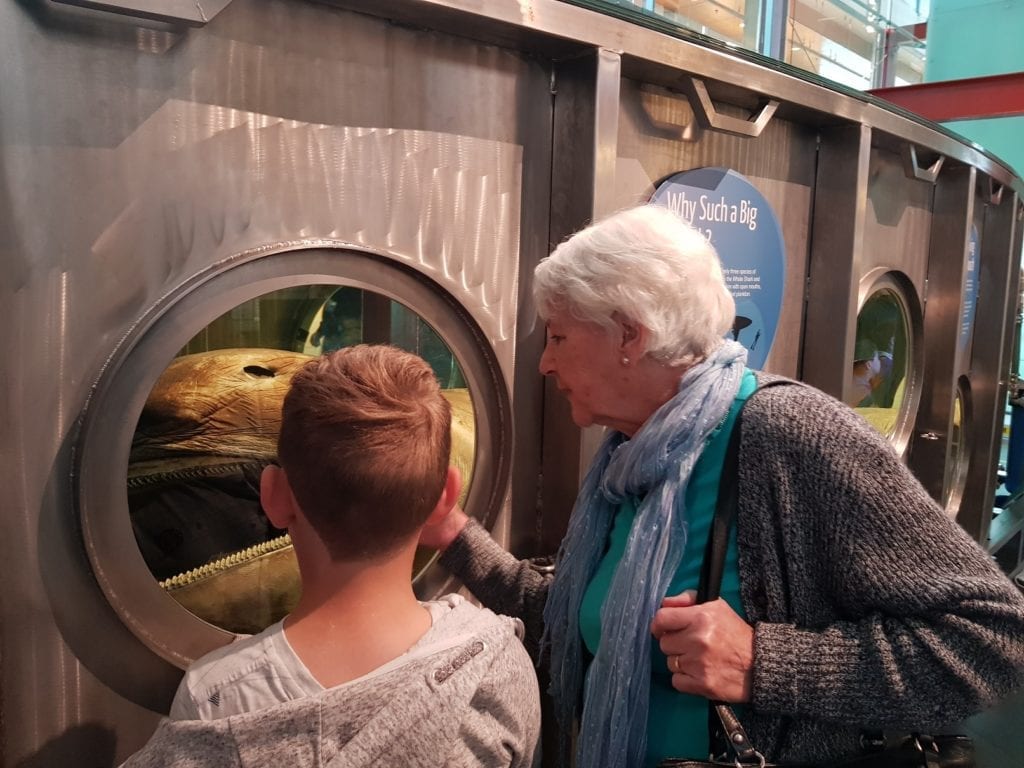 There are several themed galleries around the WA Maritime Museum including:
'Hooked on Fishing' looks how the fishing industry in WA has changed over the years and stories from Fremantle's Fishing Boat Harbour.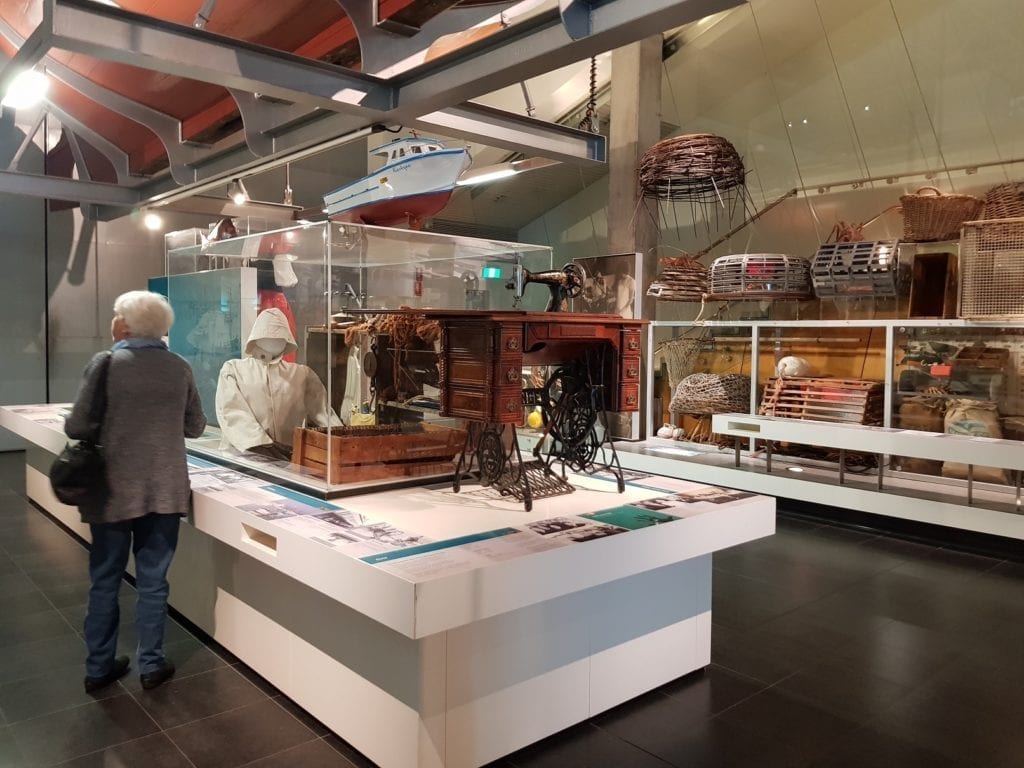 'Swan River' which includes an old ferry, shows how the landscape of the Swan River has changed throughout the years.
'Naval Defence' about the importance of Fremantle and the Royal Australian Navy in times of war and peace.
'Indian Ocean' examines the trade routes that have linked people of the Indian Ocean.
'Cargoes' which looks at what has come through WA's ports over the years – including livestock, goods and of course people, and what impact this has had on Western Australia.
For the adventurous (and nimble) there's separate tours of an Oberon class submarine — HMAS Ovens. Tours leave every half hour and bookings are advised. The guided tours reveal interesting facts about living and serving aboard the 89-meter long vessel. Sixty three naval officers served aboard the vessel, living amongst pumps, controls, sensors, tactical equipment and torpedoes in extremely cramped conditions.
In the foyer of the WA Maritime Museum is a Caffissimo café. It serves drinks and light meals. There's tables inside and on the deck outside overlooking the port, making it a good place to do a little boat-spotting.
Cafe opening hours (Mon to Fri: 9.30 – 4pm, Sat: 11am – 4pm, Sun: 9.30 – 4.30pm)
We all very much enjoyed our visit to the WA Maritime Museum. It's a wonderful way to spend an hour or two when visiting Fremantle.
The Details
Address: Victoria Quay, Fremantle,
Ph: 9431 8334
Website: museum.wa.gov.au/museums/maritime
Opening times:
Open daily: 9.30am – 5.00pm
Open ANZAC Day 1.00pm – 5.00pm
Closed: Christmas Day, Boxing Day, New Year's Day and Good Friday
Please note: due to heat and wind, submarine tours are not always available during summer. Please call ahead to confirm submarine tours are running on the day of your visit.
Parking: ACROD parking and drop off area.
Wilson paid car park $1.80 per hour (max 4 hours).
Admission Prices
Adult tickets are $15 for Museum entry and $15 to tour the Submarine.
Concession: $7.50 or $15 for combined entry.
Children: Free (up to 15yrs) and $7.50 for a submarine tour.
Family pass (up to 2 adults and 3 children) $30.
On the second Tuesday of every month, you can enter the museum by paying a donation.
Find more things to do and places to dine in Fremantle.